New York State
Jeff Pravato is the GOP's great red hope on Long Island
Could Republicans knock off Democratic state Sen. John Brooks?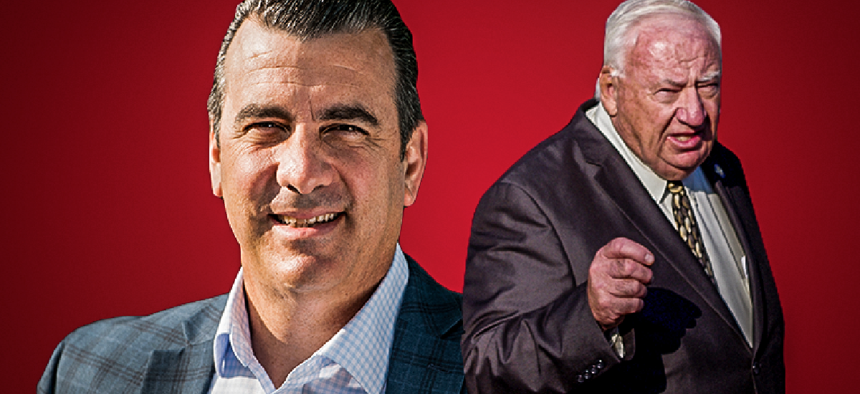 Seventeen days before the 2018 election, Massapequa Park Mayor Jeff Pravato, the Republican nominee to represent New York's 8th state Senate District, implored around 150 people in a half-full catering hall in Seaford to understand what was at stake in November.
"This election is the most important election in New York state history, this is it, this is it," he told the crowd to scattered applause. "It will decide the balance of Albany between one-party rule, which we saw in '09 and '10, which was a bad movie, and protecting Long Island values the way that we learned we like to live our life on Long Island." Pravato's sense or urgency seemed sincere as he delivered his closing argument at a "Women and Families for Jeff Pravato, Peter King and Julie Killian" rally on that Saturday afternoon.
As Republicans play defense in a slew of state Senate districts in Nassau and Suffolk counties, Pravato's attempt to unseat state Sen. John Brooks has become hugely important for the party.
In an otherwise catastrophic year for Democrats, Brooks' 300-vote win in 2016 was a welcome surprise for the party, even if intercine state Senate politics ensured his election didn't add up to Democratic control of the chamber. Republicans called the win a "fluke," driven by the late-fall corruption indictment handed down to then-Oyster Bay Town Supervisor John Venditto, the father of Republican incumbent Michael Venditto.
The 8th District sits on the south shore of Long Island, stretching from Roosevelt across the border between Nassau and Suffolk counties into Amityville and Farmingdale, and has experienced changing demographics and the tensions that accompany it.And so, even with a number of opportunities for Democrats to win a Republican-held seat and take a majority in the state Senate, Republicans are hoping to flip this district to help them prevent that.
Enter Pravato, a former member of the Massapequa Village Board and the town's mayor since 2013. The 49-year-old Pravato, a former Wall Street trader who speaks with the stereotypical confidence and hand movements (occasionally rapping the table he was sitting at during an interview to emphasize points) of a lifelong Long Islander.
Pravato told City & State that he feels his message is resonating in the borders of the 8th District. "The energy I see on the Republican side, independent side, blanks, Conservatives, everyone is energized for me. We're knocking on a lot of doors, we're talking to a lot of people. People want to see me go up there, they see what I've done in my village," he said. He went on to question the effectiveness of the "big government" New York Rising program to help Massapequa Village residents continue to rebuild after Superstorm Sandy.
Fear of big government is a message that could resonate in a district where Pravato said voters care about "taxes, taxes, taxes." Hempstead Town Councilwoman Erin King Sweeney, acting as the rally's master of ceremonies, also hit that theme. She told City & State the voters in the 8th District valued "safe streets, low taxes, someone who's accessible to the people and brings home money from Albany." And Alison Giangregorio, a rally attendee who gave poor marks to how Gov. Andrew Cuomo was handling the state's Office for People With Developmental Disabilities, gave a similar answer before the rally started, saying that people in the district valued "family." "We need our taxes more reasonable, we need safe schools," she said.
The talk of safety encompassed a couple of hot-button issues during speeches from Pravato and other Republicans during the rally. The governor's decision to restore voting rights to felons, including sex offenders, was one of a few actions slammed as "unbelievable" by Pravato in asides during his speech. The presence of MS-13, whose gang murders have made a big enough impact to draw President Donald Trump to Bethpage to discuss efforts to fight the gang, was also a prominent theme. While Bethpage is not in the 8th District, murders in Massapequa Park and Roosevelt – which are in the district – have been linked to the gang, and they require a stronger response, according to Pravato.
Pravato's commitment to limited government does not extend to crime. "The governor needs to take the handcuffs off the cops and let them put the handcuffs on the bad guys," Pravato told City & State, in order to fight both MS-13 and the district's drug problem. His specific ideas for fighting the scourges of gangs and drugs include using money seized by police in drug raids to fund the effort to fight gangs and compelling insurance companies to cover drug rehabilitation stays for longer than 28 days.
Pravato is an opponent of sanctuary policies for immigrants and he criticized Brooks for voting against a proposed bill that would have defunded cities that refuse to hand undocumented immigrants they arrest over to ICE. Asked if there's a conflict between wanting to work with immigrant communities, as he said he wants to on combating MS-13, and turning immigrants over to federal immigration officials, Pravato said that immigrant communities "don't want (gang members) in their community, so we need to educate them, and work together."
While endorsing nonpartisan ways of addressing the district's needs is good politics in an area where Democrats have about a 10,000-person registration advantage, the Republican rally to pump up voters for the likes of lieutenant governor candidate Julie Killian, Rep. Peter King, attorney general hopeful Keith Wofford and Pravato had its share of more partisan culture war rhetoric.
Opening speaker Anthony D'Esposito, a member of the Hempstead Town Board, said it was nice to be in a room full of "Americans" standing for the Pledge of Allegiance "and we need people in Albany, people in Washington who stand for our American values." King told the rally that the modern Democratic Party "is not the party of John Kennedy, it's not the party of Bill Clinton even. It's a radical left-wing party that's been taken over by activists who think its OK to release cop killers, call ICE thugs, look the other way on MS-13." King also referred to former state Attorney General Eric Schneiderman as "a child molester and pervert." (While Schneiderman was accused of violence and other egregious behavior by multiple women, he has not been accused of child molestation or anything directly related to it.)
But feeding red meat to the base might also be part of a winning strategy for Republicans in a district that Hillary Clinton won by fewer than 3 percentage points in 2016 and that elected Republicans to the state Senate for decades before Brooks won.
Beyond the energy in the room that afternoon, it was seen in the plethora of "Pravato for state Senate" signs in front of homes and all along the grassy medians of Sunrise Highway on the 3.5-mile stretch between Seaford's Memorare Caterers and the Merrick LIRR train station, where John Brooks spoke to canvassers that afternoon.
One house along the way did have signs for Brooks, King's congressional opponent Liuba Grechen Shirley and state Sen. Carl Marcellino's Democratic challenger Jim Gaughran. Sitting on the stoop of the home was Gia Furfari, who said she'd done some phone banking for local Democratic candidates.
"It seems like we have a chance," she said, when asked about the energy of Democratic voters in the district, though she said she was hopeful more voters in their 20s and 30s would show up at the polls.
One factor that may help Brooks is Gov. Andrew Cuomo's coattails. Cuomo beat Rob Astorino there in 2014 even while Venditto beat Democrat David Denenberg for the state Senate seat. Cuomo's support for down-ballot Democrats on Long Island may help Brooks, but Cuomo's turn leftward in his second term and in the 2018 campaign may dampen his popularity in the moderate suburbs. Recent polling put Cuomo's lead in the suburbs at 52 percent to 45 percent over Republican Marc Molinaro, a small margin for a down-ballot candidate in an area prone to ticket splitting. Many voters who back Cuomo, in light of his moderate fiscal record, may prefer a Republican state Senate to act as a check on the Democratic Party's more progressive impulses.
On the other hand, Democratic turnout in this year's September state primary hit record levels as 1.5 million people voted in the contest between Cuomo and Cynthia Nixon, and the district skews less white than the rest of Long Island thanks to the inclusion of majority non-white and overwhelmingly Democratic cities like Freeport and Roosevelt.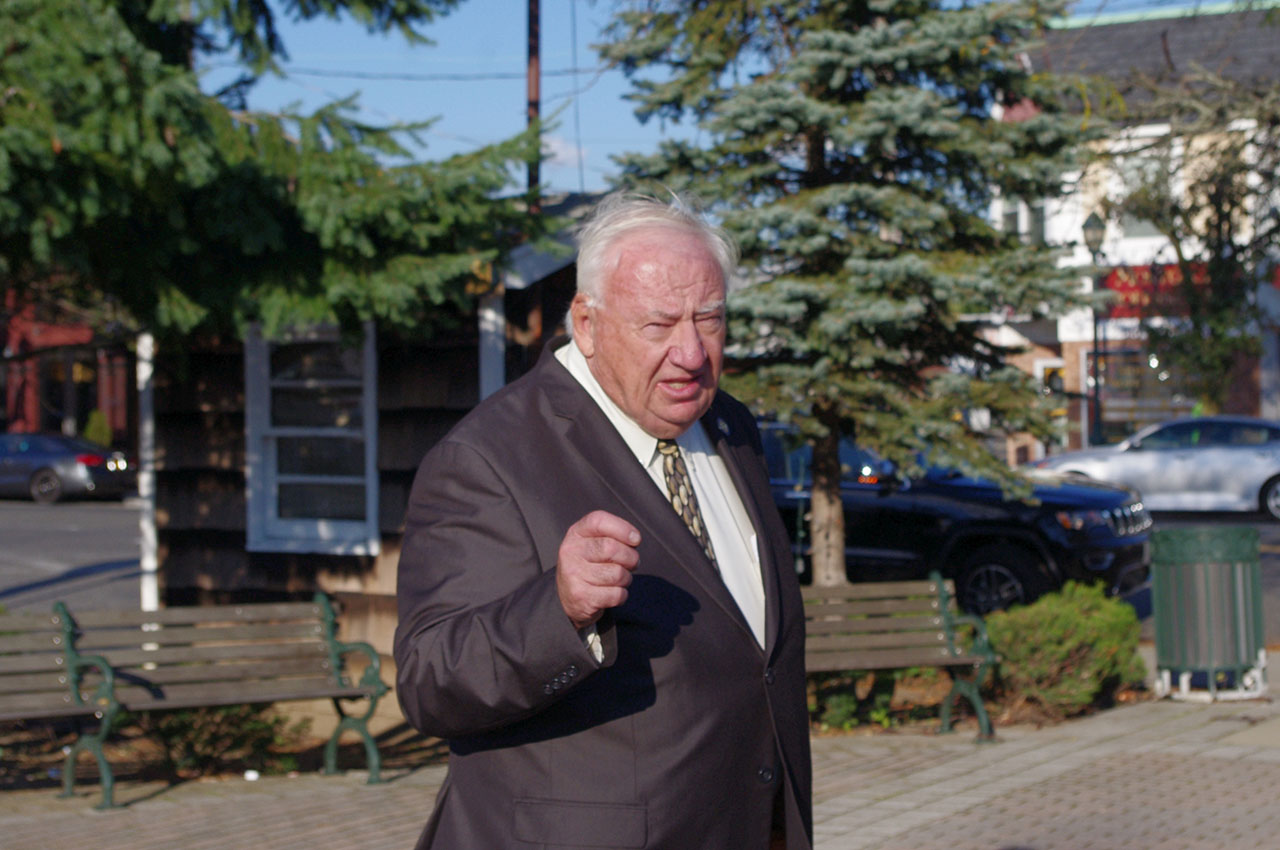 Brooks, a 68-year-old volunteer firefighter, former insurance executive and former risk manager for Nassau County, addressed a crew of canvassers along with Nassau County Executive Laura Curran and U.S. Rep. Kathleen Rice, both fellow Democrats. Speaking hoarsely, with a voice lost to what he ascribed to non-stop campaigning, Brooks told his canvassers "the Republicans can't get over the fact that they lost. They're supposed to own this seat, it belongs to them."
Turning the issue of high taxes against the Republicans, Brooks mentioned that the cap on SALT deductions in the GOP's new federal tax law would mean "an $18 billion tax hike on New York" and would be especially hard on Long Island.
Unlike some Democrats, Brooks is happy to talk taxes, since that gives him an opportunity to bring up his bill that would decouple property taxes from school funding in areas where property taxes cover at least 50 percent of school aid.
"The new tax law basically says the way we do things as far as (the federal government) is concerned, is wrong," Brooks said, explaining that if the federal tax law isn't changed, the state would have to examine different ways of funding education – starting with his bill. And a Democratic state Senate, Brooks said, gives his proposal the best chance of passing.
Comparing the loud but fruitless post-budget session this year – in which the GOP-controlled state Senate was a bottleneck for many initiatives passed by the Assembly and supported by Cuomo – to a future Democratic state Senate, Brooks predicted that "if (Democrats) get the majority, we're going to start to get things done in January."
Seemingly familiar with the Republican accusation that those things getting done would "cater to the city," Brooks said that he has never met Mayor Bill de Blasio and that "he won't tell me what to do," before the question of New York City even came up. Brooks also pointed to a family history of Long Island residence dating back to the 1600s as proof of his commitment to the island above everywhere else.
While Pravato blankets all of Nassau County with an ad that starts "de Blasio and his New York City allies, they're never satisfied, they always want more," Democrats are insisting that if they win control of the state Senate, it won't open the floodgates to liberal legislation that favors the city over the suburbs.
"For us to achieve a majority, we're going to add members from the suburbs and upstate, it's a mathematical certainty," said state State Sen. Michael Gianaris, who is leading the Senate Democrats' election efforts. "Our leader is suburban, so I don't know why they might try to disrespect Andrea Stewart-Cousins by not recognizing her role as the leader, and the district she represents."
To the suggestion that a Democratic majority wouldn't only focus on New York City, King Sweeney said, "I'm not willing to take that risk."
And for Republicans, who are clinging to the state Senate as their only statewide toehold, the hope is that Long Island voters will be unwilling to take that risk, either.