New York City
Odd ballot lines flourish with New York's system of fusion voting
It's not just the Working Families Party. Your ballot is likely to include at least one odd-sounding party.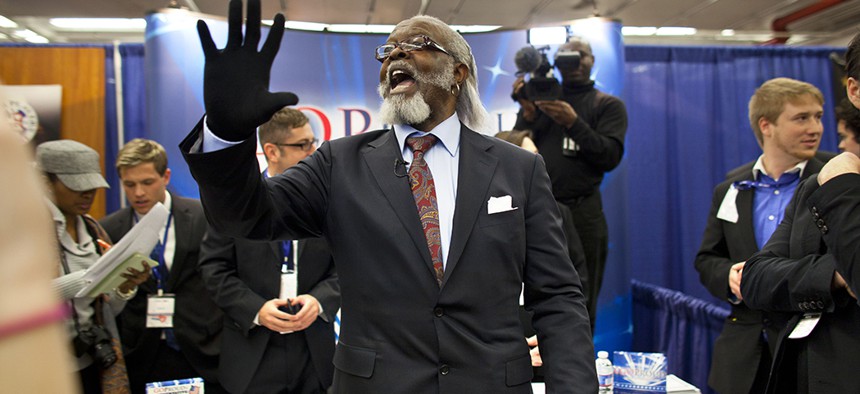 Though most people tend to think of U.S. politics as a two-party system, that isn't the whole story. Green Party and Libertarian Party politicians pepper local elections, even if these third parties don't exert much influence. And in New York, two dozen or more party designations have appeared on ballots in a single year. Some of those parties – like the Working Families Party and the Reform Party – have been around for multiple election cycles, building familiarity with New York voters. Others, meanwhile, are a little more offbeat – and ephemeral.
The reason is that New York is one of eight states that allows "fusion voting," in which independent third parties can back a candidate who is already appearing on another ballot line, and allows candidates to total their votes from multiple ballot lines. This year, for example, Gov. Andrew Cuomo is listed as the Democratic, Independence and Women's Equality Party candidate, and he just accepted the Working Families Party nomination as well.
Critics of fusion voting argue that the practice defeats the purpose of independent ballot lines. "If it's a real party, they should have, as their standard-bearers, people who are members of their party," said Jerry Goldfeder, an election and campaign finance lawyer at Stroock & Stroock & Lavan LLP. "Otherwise, why even have the party?" The Green Party, Goldfeder pointed out, traditionally nominates its own candidates.
On the other hand, Goldfeder said, fusion voting allows parties to build coalitions and come together over shared support for certain platforms or policies. "Sometimes it works well," he said, referencing the 1960 presidential election, when John F. Kennedy received New York's electoral votes, beating Richard Nixon only because he had the cross-endorsement of the now-defunct Liberal Party, in addition to the Democratic Party. "Sometimes it's confusing to the voters and makes a mockery out of party membership," he said.
There are currently eight recognized parties in the state: the Democratic Party, the Republican Party, the Conservative Party, the Independence Party, the Green Party, the Working Families Party, the Women's Equality Party and the Reform Party. The WFP typically cross-endorses with Democrats, as does the Women's Equality Party. The Conservative, Independence and Reform Parties often cross-endorse with Republicans, though not always.
Anyone can create a new party through the independent nomination process – as long as enough people sign on. A candidate has to obtain 15,000 signatures from registered voters to get on the ballot line with a newly created party. In order for this new party to survive and receive automatic ballot access in the state, a candidate for governor needs to receive at least 50,000 votes on that line, thus ensuring that the party will be on the ballot for the next four years. For example, Cuomo created the Women's Equality Party in 2014 and exceeded 50,000 votes on that line, establishing the party at least through this year's statewide election.
The Women's Equality Party sounds like it has a normal enough goal – that is, until you look at its track record. The WEP was founded by Cuomo's allies in 2014 to drum up female voter support during his race against primary challenger Zephyr Teachout, a woman. Obviously, women's equality doesn't mean blindly supporting all women over men, but backing Cuomo over Cynthia Nixon this year also sent some mixed signals.
In November, New York ballots will also include party lines like the Libertarian Party and the Serve America Movement, which has former Syracuse Mayor Stephanie Miner as its candidate for governor. But there are even stranger party designations that have crossed the ballot both this year and in recent elections. These are a few of the most interesting third parties.
 
Tax Revolt
In 2009, Republican Edward Mangano added some extra ammo to his successful challenge against Nassau County's incumbent county executive by running on a ballot of his own making – the Tax Revolt Party. This fall, three state candidates, plus Rep. Pete King, plan to run on the TRP line, proving that the party – and Nassau County's revolt against taxes – is still going strong.
 
Stop de Blasio
It's not unusual for challengers to campaign by speaking out against incumbent politicians and their policies. It's a little unusual to name a party after that very purpose, though. The Stop de Blasio Party will put forth a long shot candidate for the 28th state Senate District this fall. Peter Holmberg, a Manhattanite who is also running on the Republican, Independence and Reform ballot lines, has a platform of state tax relief, tort reform and, quite clearly, opposing the mayor.
 
Friends of Diane Neal
No man is an island, but this actress-turned-political-candidate is slated to appear on her own ballot line this November. Diane Neal, a mainstay on TV shows such as "Law & Order: Special Victims Unit" and "NCIS," is running in New York's 19th Congressional District, but a series of court rulings on whether or not she had sufficient signatures for an independent ballot line has left some doubt over whether she'll actually appear on the ballot – though the most recent ruling affirmed her candidacy. The upside of Neal's ballot line? There's little chance her supporters will vote for the wrong person when "Diane Neal" is both the party and the candidate.
 
In Maio We Trust
Like Diane Neal, state Assembly hopeful Danniel Maio has the rare honor of having a party named after himself this fall. Unlike Neal, however, Maio has added establishment support from the Republican and Reform parties. What's unclear is if the ballot line is a tongue-in-cheek reference to Chairman Mao – or perhaps mayonnaise – or simply the candidate himself.
 
Upstate Jobs
The Upstate Jobs Party built its ideals around Martin Babinec, the unsuccessful challenger for New York's 22nd Congressional District seat in 2016. With the narrow though complicated goal of creating innovative, sustainable private sector jobs, the UJP is taking a second shot this year with Onondaga County Comptroller Robert Antonacci II, who is cross-endorsed in the 50th state Senate District race by the Republican, Conservative and Independence parties.
 
No Homeless Shelters
The No Homeless Shelters party was founded by Slawomir Platta, a state Senate rival to Republican candidate Tom Sullivan in the 15th Senate District in Queens this year. Platta and his line were kicked off the ballot before the primary, demonstrating that a narrow platform may not make a great party.
 
Hudson Valley Happiness and Making the Impossible Possible
New York's 19th Congressional District might have had a much more unconventional looking ballot this fall, if two other independent candidates had filed sufficient petitions alongside Diane Neal. Luisa Parker, founder of the Making Impossible Possible Party, failed to get enough petitions, as did Dal LaMagna, founder of the Hudson Valley Happiness Party. It turns out a catchy, inspirational phrase does not necessarily secure a ballot line.
 
CD 21 Unites
Another new party that failed to get enough signatures this fall was CD 21 Unites, founded by Tedra Cobb, Democratic challenger for the 21st Congressional District. A more subtle party name than some of the others, to be sure, but still ultimately unsuccessful.
 
Rent Is Too Damn High
Jimmy McMillan is the perennial candidate of the Rent Is Too Damn High party – a party of his own creation that, despite being a relatable platform, has failed to propel him to the governor's office three times, in 2006, 2010 and 2014. McMillan failed to get enough signatures to appear on the ballot this fall, but this likely isn't the last we'll see of the Rent Is Too Damn High Party.
Powered By
NEXT STORY: New name for top NYC fundraising firm