New York State
Why Democrats have a chance to replace state Sen. John DeFrancisco
Sen. John DeFrancisco wanted to run for governor. Now Democrats want his district.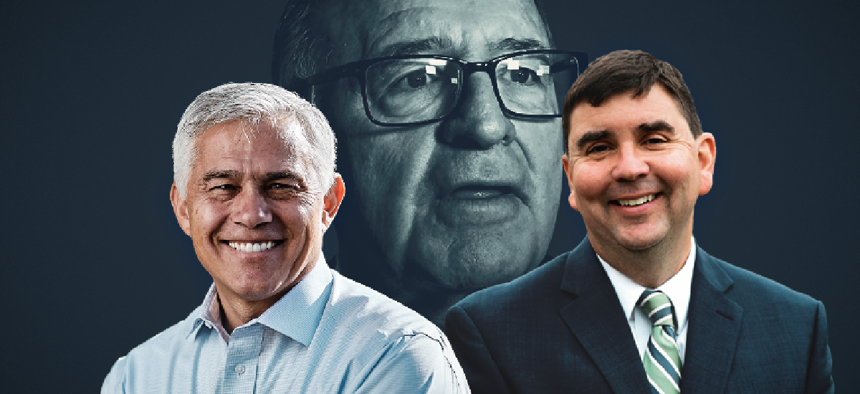 While many of the most competitive state Senate races are playing out on Long Island, where Democrats have large voter enrollment advantages, one race in a historically Republican Central New York district has emerged as a key battleground. Senate District 50, where enrolled voters are split almost evenly among Democrats, Republicans and independents, could prove to be a case study of the strength of Democratic populism and an indication of President Donald Trump has reshaped the political map – sometimes to his party's disadvantage.
The area, in the suburbs of Syracuse, has been represented for 25 years by state Senate Deputy Majority Leader John DeFrancisco. With DeFrancisco's retirement, the race to replace him pits Democrat John Mannion against Republican Bob Antonacci. Mannion, a high school science teacher who has been the president of his local teachers union, entered the race before DeFrancisco officially announced his retirement. Antonacci, the Onondaga County comptroller, ran unopposed in the Republican primary and has DeFrancisco's endorsement.
Republicans have a very slight voter enrollment advantage, but the district is effectively split evenly between the major parties. This is in stark contrast with most downstate battleground districts, where Democrats outnumber Republicans, often significantly, despite the many of those suburban areas historically voting mostly for Republicans – especially in the state Senate.
While the 50th District has had a Republican in the state Senate well over half a century, it voted for Democrats in each of the past three presidential elections. And the congressional district of which it is a part, District 24, has flipped back and forth between the two parties. Now held by Rep. John Katko, the seat is considered competitive once again this year.

Although state records on voter registration by district do not go back to when DeFrancisco was first elected, in 2002, following a redistricting, the 50th District was significantly Republican – there were nearly 20,000 more active registered Republicans than Democrats. However, over the years, the number of registered Democrats slowly increased, leveling the playing field between the two parties. In 2011, the district had almost equal enrollment of Democrats and Republicans.
When the next round of redistricting occurred in 2012, the majority of the city of Syracuse was removed from the district, and with it, a chunk of Democratic voters. Republicans regained an advantage of over 6,000 voters – not nearly the edge from a decade ago, but still far more than before redistricting.
However, the number of Democrats in the district began once again to increase to the point that the slight Republican advantage now is almost negligible. This election represents the first time since beginning of available state records that the seat has been open when registration has been this tight.
DeFrancisco's retirement seems to be what made Democrats think they have a shot at winning his seat. Initially, the state's leading Democrats did not target the district. While Gov. Andrew Cuomo personally recruited candidates Monica Martinez, Anna Kaplan and Lou D'Amaro on Long Island, Mannion was not recruited to run, nor did the party have a preferred alternative candidate in the primary.
But other Democrats have pitched in with significant contributions, suggesting that some in the party believe, surprisingly perhaps, that one of the few districts with a Republican registration advantage is actually one of their better pick up opportunities. The Democratic Senate Campaign Committee took an early interest in both the race and Mannion. It has already given Mannion $147,000 and spent $270,000 on his behalf, the second highest sum so far this cycle.
The Senate Republican Campaign Committee, on the other hand, has so far transferred $76,000 to Antonacci and spent only $32,000 on his behalf, which is on the low end of their allocations. Additionally, outside spending has largely benefited Mannion. New York State United Teachers, the state teachers union, has spent nearly $500,000 either in support of Mannion, or in opposition to Antonacci.
The extent to which outside groups are spending on Mannion is more than just an indicator of interest in the race. Significant outside spending on candidates has historically given the receiving candidates a leg up in tight races. A recent example would be the 2016 state Senate race between now-state Sen. Elaine Phillips and Adam Haber for the empty District 7 seat. Phillips received the lion's share of outside spending in a very closely watched race, which some observers believe put her over the edge for her narrow victory. Mannion now finds himself in a similar position to benefit from spending his opponent is not receiving.
Scott Reif, a spokesman for the SRCC, said that the committee has been active in the race on behalf of Antonacci, and that it has put more money into the race since the last filing period. He added that Antonacci has stronger overall fundraising when compared to Mannion. A large chunk of Mannion's money has come from the DSCC. However, Antonacci also transferred over $100,000 from his county comptroller campaign account into his state Senate account. Going into November, Antonacci has over $250,000 to spend, while Mannion has only $44,000.
Syracuse University political science professor Grant Reeher suggested that the disparity in partisan spending in the race may in part be due to a belief by Republicans that the seat is slightly safer compared to other seats they are defending. But he said it's probably mostly that Republican resources are spread thin protecting a large number of vacant and vulnerable seats, and may not be able to spend as much as they may want in a given race.
On the campaign trail, Mannion and Antonacci, who know each other quite well and have children in the same high school, represent opposites in more than just policy. Mannion is a soft-spoken, first time candidate running as an outsider, while Antonacci is outspoken and more combative, in the mold of DeFrancisco, with years of past government experience.
According to Utica College political scientist Luke Perry, Mannion is a prime example of the trend in this cycle of Democrats campaigning against career politicians, the kind of strategy that has traditionally been part of the Republican playbook.
Mannion told City & State that he believes the members of his district are looking for exactly that, a political outsider who can bring a fresh perspective to Albany. "I think we're at a crossroads when it comes to our governing and people absolutely are ready for someone who has not been corrupted by the political process," Mannion said. "We have a lot of problems, but some of those problems have to do with political incumbency or political ascendancy to a higher position."
Perry thinks Mannion has correctly read the mood of the electorate. "I think the fundamental question is, secondary to who people like from a partisan perspective, do you want someone with governing experience and do you think that speaks to competency?" Perry said. "Or do you want an outsider, somebody to come in and do things differently?"
Antonacci was not available to provide comment to City & State for this story.
State Sen. DeFrancisco disagreed with the idea that Mannion is a political outsider, telling City & State that he has met with Mannion many times before when he was lobbying on behalf of the interests of NYSUT, a politically powerful union whose PAC spends heavily in elections every year. "I understand that concept, but the insider/outsider is one factor, and I would hope Bob would mention the fact that it's a little misleading to claim you're an outsider when you've been advocating for a specific point of view your entire life," DeFrancisco said.
DeFrancisco also believes that his input in the race will have a large impact on the outcome. He has known Antonacci for most of his life, and has enthusiastically endorsed the candidate, appearing in an ad on his behalf and going out on the campaign trail. DeFrancisco said that as a popular, long-term legislator in the district, his word carries a lot of weight with constituents, adding that people have come up to him in public to ask for his opinion on the race.
"They wouldn't ask me what's gonna happen, or what my opinion is if there weren't going to at least somewhat rely on it," DeFrancisco said. "But I think it's been positive."

According Reeher, in a more average election cycle without national politics playing as large a role, DeFrancisco's input would likely have held a significant amount of weight and his heir apparent would likely pick up the seat had. Initially, Reeher said the feeling around the district was that Antonacci would win – he has significant name recognition, the support of DeFrancisco and shares a rhetorical style with the retiring senator that constituents have become accustomed to. Additionally, Antonacci has had some conflicts with local Republicans in his role as Onondaga County Comptroller, perhaps exemplifying an independent nature that would resonate with voters in the largely moderate district.
But Reeher thinks this year, with the amount of progressive energy throughout the state that arose after Trump's election, the election of DeFrancisco's chosen successor is not a given. He pointed specifically to a wave progressives elected during the Democratic state Senate primaries in September. Reeher said it was following those elections that political observers in the area began to recognize the strength of the progressive movement that started in 2016, and how it could impact Central New York.
"If there was any election year in which people are going to kind of wipe the slate clean in that regard, as long as it's not DeFrancisco running himself, it would be this one because of everything that happened in the last two years," Reeher said.
Powered By
NEXT STORY: How much of their sentence do corrupt politicians serve?