Andrew Cuomo
Cuomo meets Trump and new Democratic leaders
Rounding up the week's political news.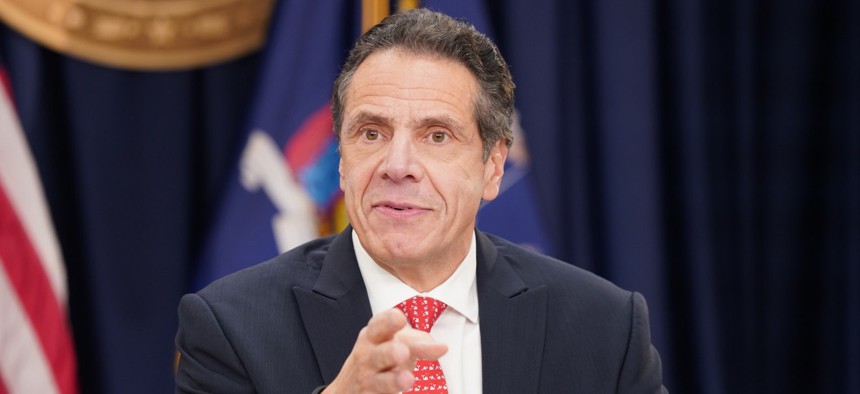 He's not running, no way, no how. Gov. Andrew Cuomo has definitively ruled out a 2020 presidential run … for now.
Too much to do as governor of New York, he told WNYC's Brian Lehrer. And with a new Democratic majority in the state Senate giving the party full control of the state government, Cuomo certainly should be able to get a lot done. But when he was describing the ideal Democratic presidential candidate, that theoretical person sounded a lot like how Cuomo would describe himself. If only he didn't have his hands full running New York, right?
"Three men" no more
The 39-member state Senate Democratic conference officially and unanimously elected state Sen. Andrea Stewart-Cousins as the next majority leader of the chamber, making her the first female leader in the state Legislature. And that means that no longer will key negotiations be left to "three men in a room." Although Democrats have said they plan to pass a series of progressive bills that have languished under Republican leadership, Stewart-Cousins said it is too soon to say which bills will be taken up first in January. However, she did indicate she supports renewing the state's millionaires tax, which is set to expire next year.
Two Queens boys get lunch 
President Donald Trump and Gov. Andrew Cuomo met for lunch on Wednesday to discuss funding for the long-stalled Gateway Program and its largest component, a $13 billion new rail tunnel under the Hudson River between New York and New Jersey. Although the two did not reach a deal, Cuomo emerged from the talk saying that it had been "productive" and that he feels confident that he and the president can reach an agreement. Trump also told the New York Post that he and Cuomo get along very well and that they like each other.
Jeffries takes no. 5 spot 
In a narrow victory, Democrats in the House of Representatives elected Rep. Hakeem Jeffries as their caucus chair, besting Rep. Barbara Lee by just 10 votes. Jeffries will take over the No. 5 Democratic position from fellow New York Rep. Joseph Crowley, who was ousted by Rep.-elect Alexandria Ocasio-Cortez over the summer. Jeffries is seen as a rising star in the party, and his new role could position him to one day become speaker, a position some had already projected for him.