Andrew Cuomo
Cuomo won more votes than any governor in NY history
2018 Midterm voter turnout was the highest in nearly 50 years.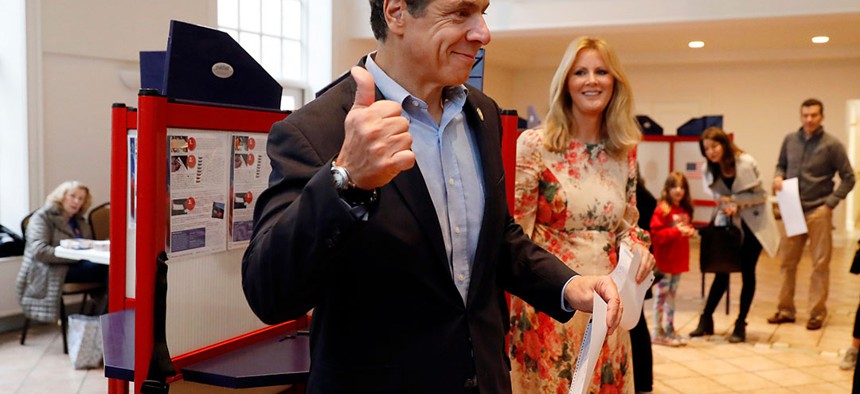 About 42 percent of New Yorkers who could vote Tuesday did, representing a modern high for turnout in a year without a presidential election. Bolstered by the turnout, Gov. Andrew Cuomo won more votes than any candidate for governor in New York history.
Based on preliminary numbers from the state Board of Elections, 5.79 million New Yorkers cast ballots in the race for U.S. Senate, where U.S. Sen. Kirsten Gillibrand easily won re-election with over 64 percent of the vote. It was the highest-turnout race of the day, with about 400 more votes coming in for that race than for governor, with 99.5 percent of precincts reporting, as of Wednesday afternoon.
The eligible voting population is based on numbers from the United States Election Project. According to the latest census figures, New York has a total population of 19.85 million, which means 29 percent of the state's total population voted, and 17 percent of the total population voted for Cuomo.
The whole country saw higher turnout, with voters energized by a polarizing president. Even though Donald Trump wasn't on the ballot, candidates like Cuomo and Attorney General-elect Letitia James ran on their opposition to the president's policies, beliefs and demeanor, which appeared to motivate Democratic voters, even in a state where none of the statewide races were particularly competitive. A Pew study found voter enthusiasm spiking nationally among Democrats over previous midterm elections, even as Republican enthusiasm remained relatively stable. National voter turnout has ebbed and flowed over the years, as voters respond to the candidates on the ballot and the national outlook, so there's no telling if this recent trend of high turnout will continue.
But this year's voter enthusiasm proved a boon for Cuomo, whose ticket with Lt. Gov. Kathy Hochul earned a total of 3.35 million votes, more than any gubernatorial ticket in the state's history. The 5.79 million voters who cast a ballot in the race between Cuomo, Republican candidate Marc Molinaro and three other candidates were the most to vote in any gubernatorial election since 1970, when 6 million New Yorkers voted and Republican Gov. Nelson Rockefeller won a second term.
Tuesday's 42 percent total turnout dwarfs the last two midterm years. Twenty-eight percent of eligible voters cast ballots in 2014, and 36 percent voted in 2010, when Cuomo was first elected. New York traditionally has low voter turnout compared with other states. It was 48th of 50 states in turnout for the 2010 midterms, and 49th of 50 in 2014.
But New York, like all states, has higher turnout in presidential years, when politics permeates the consciousness of even the most apathetic observers. As the New York Public Interest Research Group reported, 7.8 million voters came out in 2016, for 57 percent turnout.
Hard turnout numbers from yesterday, via @NYPIRG. Most New York voters in years, but not quite presidential. pic.twitter.com/ebJXvtmAww

— Jeff Coltin (@JCColtin) November 7, 2018
Though this year's race was Cuomo's best by sheer votes, it wasn't his best by percentage. Cuomo won 58 percent of the vote this year, after winning 54 percent in 2014, but he got 63 percent in his win over Republican Carl Paladino in 2010. The governor's family has performed even better in the past. His father, Gov. Mario Cuomo, won 65 percent of the vote on his way to a second term in 1986.
Gillibrand was the state's highest vote getter, with 3.732 million. State Comptroller Tom DiNapoli was a close second, winning 3.727 million. Cuomo got 3.35 million, and James got elected to her first statewide office with 3.45 million votes, for 60 percent of the vote.
Powered By
NEXT STORY: State Senate general election results 2018