New York City
How one mega-donor can affect the midterms
Billionaire Ronald Lauder is behind National Horizon ads targeting Democratic candidates online.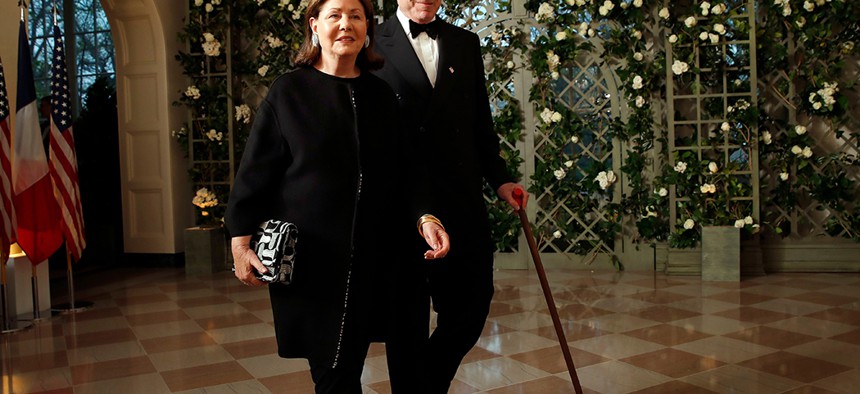 Ronald Lauder – chairman emeritus of Estée Lauder Companies and the president of the World Jewish Congress – has given to many candidates and causes over the years, but one in particular shows how the advent of super PACs since the U.S. Supreme Court's 2010 Citizens United decision created a new opportunity: to affect national and international politics with precision-guided investments in online ads that have popped up across social media in the 2018 midterm elections.
This story begins on Sept. 27, 2018, when the New York City billionaire donated $1.5 million to an organization called National Horizon, federal disclosures show. That gift made all the difference for the conservative super PAC, which raised just over $2.14 million for the 2018 election cycle, largely with the help of Lauder and $605,000 in contributions from the Club for Growth, an organization that advocates cutting domestic spending and taxes on the wealthy. By Oct. 17, all but $261,838 has been spent to oppose Democratic candidates in U.S. Senate and House races, according to data from the Center for Responsive Politics.
National Horizon is a Virginia-based organization nominally devoted to promoting individual freedom, but its real purpose appears to be helping Republican candidates win elections. It can't do that by donating directly to them, but, like any super PAC, it can raise unlimited sums of money to fund campaign activity of its own. Nearly all its money this year has gone to professional communications firms like Harris Media, a Texas-based company with clients that extend across the Republican Party, to the pro-Brexit United Kingdom Independence Party and the far-right nationalist Alternative für Deutschland in Germany.
In New York politics this year, Harris Media has produced hundreds of thousands of dollars worth of work in opposition to congressional candidates Anthony Brindisi and Antonio Delgado and U.S. Sen. Kirsten Gillibrand, as well as other efforts across the country attacking Democratic candidates including Texas Senate candidate Beto O'Rourke and embattled incumbent U.S. Sen. Heidi Heitkamp of North Dakota. The effect of National Horizon on the midterms is to allow super donors like Lauder to spread their money around with minimal effort and maximum effect.
National Horizon is just one among a total of more than 2,200 super PACs that are weighing in on the midterm elections by spending nearly $700 million, which is more than twice as much as they spent in the 2014 midterms. Donors – Republicans and Democrats – may not care what a super PAC does so long as it gets votes for the candidates that the donors support. That's why National Horizon pays for ads about MS-13, Nancy Pelosi, Abolish ICE, and the "BAD IRAN DEAL" to undermine support for Brindisi, Delgado and Gillibrand, even as Lauder's top issue is electing what he considers a pro-Israel American government. "(Super PACs are) going to spend the money in the most efficacious way to defeat a candidate or elect the one they want to elect, irrespective of the primary focus of the PAC," said David Magleby, a professor of political science at Brigham Young University and expert on money in politics. "Forming something like National Horizon makes sense if what you really want is to keep Republicans in the majority."
Regulations have not kept up with technological innovation as more and more money shifts from television and direct mail campaigns to Google, Facebook, YouTube and other online media. However, it's hard to tell exactly by how much, according to Anna Massoglia, a researcher at the Center for Responsive Politics. "The platforms have only recently made political ad information publicly available and (Federal Election Commission) disclosure rules governing digital political ad spending are limited," she said in an email. "For example, FEC disclosure rules may allow a group to simply report bulk payments to a consulting firm rather than detailing what that spending actually went to – and (this lack of transparency) is only increasing along with the rise in digital political ads."
Before the advent of online ads, races in largely rural areas like upstate New York presented problems for donors such as Lauder in the final days of the campaign. They could raise lots of money, but there were limited ways to spend it because the few TV and radio stations in such areas had already reserved all of their advertising slots. In the past, donors would turn to mailers, but now they have online ads, which allow "an advanced and more sophisticated ability to target (voters) through Facebook and Google and other platforms," Magleby said.
A donor like Lauder – who did not respond to requests for comment – also might be playing a longer game than just winning elections this year, whether it's pushing politicians to support his agenda or shaping the future presidential field. He's a hawkish Zionist who could be punishing Gillibrand for speaking well of pro-Palestinian activist Linda Sarsour, and first supporting but then opposing a bill that would impose fines and jail time to individuals and companies that participate in the Boycott, Divest, and Sanctions (BDS) movement against Israel. (Gillibrand has said that she changed her mind on the bill out of concern that it would impinge on free speech after meeting with the American Civil Liberties Union, which strongly opposes the bill, and that she still opposes BDS.) She has also recently poured cold water on expectations that she would run for president, just as National Horizon was pushing ads across the state asking what office she is really running for. Gillibrand did not respond to a request for comment.
A few ads from one super PAC is unlikely by itself to cost a popular incumbent like Gillibrand her seat. But in the case of tight races – just a few thousands votes won Heitkamp a Senate seat in 2012 – ads can rally voters just where and when they're needed so long as a well-placed ad on Facebook or Google has the right amount of punch to it. In 2012, this led Lauder to fund a group that placed ads warning right-wing voters of an impending Muslim takeover of the United States via a different super PAC. This time around, his investment in National Horizon could make the difference for Rep. John Faso, who needs every vote he can get in order to defeat Delgado, who has a slight lead in the latest poll.
But the heavy spending from outside groups can weigh a candidate down at times. While the image of MS-13 members flashing gang signs – which has appeared in National Horizon ads targeting Delgado – may help rally some Republican voters in support of Faso, he has been criticized for other ads run in support of his campaign that have highlighted Delgado's past career as "a big-city rapper." While that ad was run by the National Republican Congressional Committee – which is a political committee, not a super PAC – there is a common thread with National Horizon, which has made Delgado a top target of both in New York: Ronald Lauder. He has given tens of thousands to the NRCC over the years, including at least $33,900 this year.
Lauder has been a big player in Republican politics for decades, supporting candidates from Donald Trump to George H.W. Bush. Sometimes, the money has gone to Democratic candidates like U.S. Sen. Bob Menendez, but records show that National Horizon has been Lauder's biggest political expenditure, with more than $3 million going to the super PAC from Lauder since 2012. Lauder has also given thousands of dollars directly to Republican candidates this year, including to embattled New York incumbents like Reps. Claudia Tenney and Dan Donovan.
But super PACS solve a problem for time-strapped billionaires who want to exert influence over as many races as possible without too much fuss. "You essentially want a broker," said Magleby, and that's exactly what super PACs like National Horizon can be for rich donors who want to reach every Facebook, YouTube, Twitter and internet user they can.
Powered By
NEXT STORY: The lag in Latino political representation