Andrew Cuomo
New York's 2018 statewide general election results
The Democratic favorites won the races for governor, attorney general, comptroller and U.S. Senate.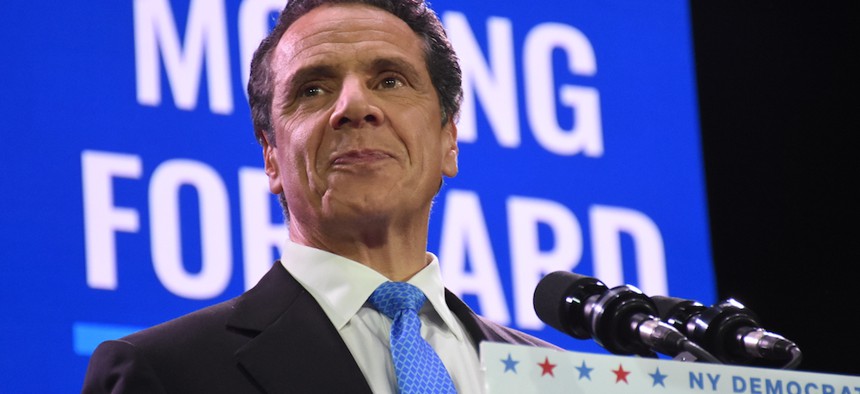 The Democratic favorites easily won the four races that all New Yorkers were able to vote in on Tuesday: governor (and lieutenant governor), state comptroller, state attorney general, and one of the state's two U.S. Senate seats.
Within minutes of the polls closing at 9 p.m., Gov. Andrew Cuomo and U.S Sen. Kirsten Gillibrand were declared the winners by The Associated Press. State Comptroller Thomas DiNapoli sent out a statement shortly after 10 p.m. declaring victory, while New York City Public Advocate Letitia James gave a speech declaring victory as well. 
We'll be updating the vote totals as the numbers continue to roll in.
GOVERNOR
Andrew Cuomo / Kathy Hochul (D, WFP, WEP, Independence): 57.90%
Marc Molinaro / Julie Killian (R, Conservative, Reform): 36.07%
Howie Hawkins / Jia Lee (Green): 1.65%
Larry Sharpe / Andrew C. Hollister (Libertarian): 1.57%
Stephanie A. Miner / Michael J. Volpe (SAM): 0.89%
With 15,453 of 15,529 election districts reporting.
Gov. Andrew coasted to a third term in office, rebuffing Republican Marc Molinaro, the Dutchess County executive, who consistently trailed by double digits in the polls. Molinaro had gained some ground on the incumbent recently, coming within 13 points of him in the latest poll from Siena College, but Cuomo capitalized on his strong name recognition, solid approval ratings and a huge fundraising advantage. 
In his victory speech, the governor continued to take aim at President Donald Trump – a key tactic for much of the campaign. "The president says make America great again? Well, he doesn't understand what made America great in the first place," Cuomo said. He also hit several Democratic talking points like raising the minimum wage, protecting immigrants and enacting policies that "raise all boats together." And in a line that would seem tailor made for a 2020 presidential campaign, he said, "We are not a nation of red states and blue states, we are a nation of red, white and blue states."
BREAKING: Democrat Andrew Cuomo wins re-election for governor in New York. #APracecall at 9:01 p.m. EST. @AP election coverage: https://t.co/miEWlbTVZW #Election2018 #NYelection

— AP Politics (@AP_Politics) November 7, 2018
COMPTROLLER
Thomas DiNapoli (D, WFP, WEP, Reform, Independence): 64.37%
Jonathan Trichter (R, Conservative): 30.67%
Mark Dunlea (Green): 1.10%
Cruger Gallaudet (Libertarian): 0.56%
With 15,453 of 15,529 election districts reporting.
State Comptroller Thomas DiNapoli dispatched his leading rival, Jonathan Trichter, a registered Democrat who got permission from the Republican Party to run as its candidate. DiNapoli garnered nearly two thirds of the vote and came out ahead of Trichter by about 34 points. "I want to thank New Yorkers for once more electing me to serve as State Comptroller," DiNapoli said in a statement. "With their renewed support, I will continue to guard the taxpayers of this state against waste and corruption, and push to make government more accountable, efficient and transparent. I want taxpayers to know there is someone in Albany on their side, advocating for people of all backgrounds and fighting for what matters."
ATTORNEY GENERAL
Letitia James (D, WFP, Independence): 59.65%
Keith Wofford (R, Conservative): 34.36%
Michael Sussman (Green): 1.16%
Nancy Sliwa (Reform): 0.43%
Christopher Garvey (Libertarian): 0.71%
With 15,453 of 15,529 election districts reporting.
New York City Public Advocate Letitia James defeated Republican Keith Wofford in the state attorney general's race, making history as the first African-American woman elected to a statewide post in New York. Wofford, who has posted some impressive fundraising numbers, trailed James throughout the race.
Democrat @TishJames has campaigned on a message of being a legal check on @realDonaldTrump. On Election Night, she promised to put the spotlight on the president using the power of the New York state attorney general's office. #NY1Politics pic.twitter.com/UPeOZoro5Z

— Spectrum News NY1 (@NY1) November 7, 2018
U.S. SENATE
Kirsten Gillibrand (D, WFP, WEP, Independence): 64.45%
Chele Chiavacci Farley (R, Conservative, Reform): 32.51%
With 15,453 of 15,529 election districts reporting.
U.S. Sen. Kirsten Gillibrand was immediately declared the winner in her bid for re-election against first-time candidate Chele Chiavacci Farley, the Republican nominee. Gillibrand, who's among a large number of Democrats eyeing a 2020 presidential run, apparently didn't feel threatened this cycle, spending far less on her race than in the past. 
BREAKING: Democrat Kirsten Gillibrand wins re-election to U.S. Senate from New York. #APracecall at 9:00 p.m. EST. @AP election coverage: https://t.co/miEWlbTVZW #Election2018 #NYelection

— AP Politics (@AP_Politics) November 7, 2018
Powered By
NEXT STORY: New York House general election results 2018