New York City
No talk of reform at Board of Elections
Committee holds seven-minute meeting after widespread Election Day complaints.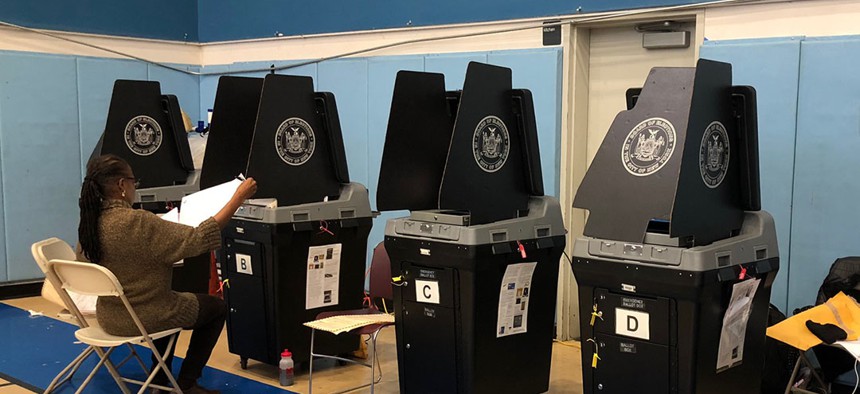 If members of the New York City Board of Elections were concerned about the broken machines and long lines on Election Day that turned some New Yorkers away from exercising their right to vote, they sure aren't showing it. The ten-member board's first public meeting since Election Day lasted just seven minutes and 20 seconds, and voters' woes weren't even mentioned – except for when a board member piped up to defend much-maligned BOE Executive Director Michael Ryan.
I will be live-tweeting from the @BOENYC meeting, the first one after last week's midterm misery. Expect fireworkspic.twitter.com/vNENlvLUcs

— Gwynne Hogan (@GwynneFitz) November 13, 2018
The meeting is over......

— Gwynne Hogan (@GwynneFitz) November 13, 2018
"There's a lot that's been going on in the press and I was very upset about it," Manhattan Democratic board member Alan Schulkin said, after asking to make a brief statement. "And I can tell you right now, Mike Ryan is not the problem. Mike Ryan is more knowledgeable than anybody I know about elections in Manhattan and in New York City than anyone else. … You could not find a better executive director than Mike Ryan."
Ryan himself blamed high-voter turnout and a two-page ballot which required the vote-reading machines to process even more paper than the higher-turnout presidential election. But leaders like New York City Comptroller Scott Stringer were quick to blame the BOE – it is, after all, the BOE that produced the two-page ballot and it could have been prepared for high turnout, which was widely expected. New York City Council Speaker Corey Johnson called for Ryan's resignation.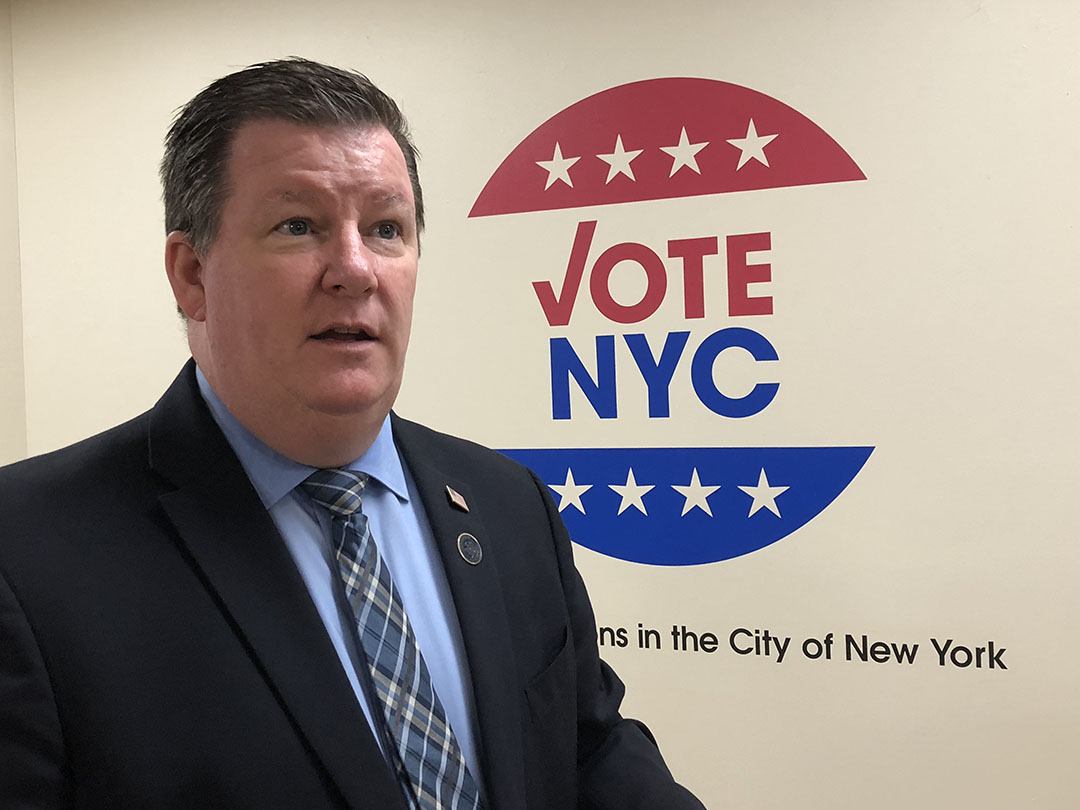 New York City seems to have problems every Election Day, most notably when 200,000 voters were purged from the rolls before the 2016 federal primary. A 2017 Scott Stringer report found that laws or internal rules were broken at more than half of voting sites. On Monday, Stringer complained that the BOE took 11 weeks to state it couldn't provide the answers to questions the comptroller had posed as to how they intend to reform. Many longtime voters who had not moved since the last election arrived at their New York City polling place to vote in the September primary – only to be told they were not on the rolls.
The Board didn't talk about those issues at its weekly meeting on Tuesday, but it will have to address them soon. The one action commissioners took at the meeting was approving board staff to attend two upcoming oversight hearings arranged by legislators. The Assembly Committee on Election Law and Subcommittee on Election Day Operations and Voter Disenfranchisement is holding a hearing Thursday morning in Manhattan. And the New York City Council Committee on Governmental Operations and Committee on Oversight and Investigations are holding a joint oversight hearing next Tuesday morning.
The board's ten commissioners seem not be feeling pressure for reform after a couple of county leaders, who appoint members to the board, spoke up in their defense. Bronx Democratic leader Marcos Crespo and Brooklyn Democratic leader Frank Seddio told the New York Post they oppose efforts to reshape the board. And Seddio flipped the blame on lawmakers, saying they needed "to give the board the tools it needs to make the election process function properly."
"Why isn't [the BOE] considered professional now?" Seddio asked the Post. "Even Michelangelo needed a hammer and a chisel to make his statues."
If Seddio needed any more evidence about the board's perceived weakness, maybe Tuesday's seven minute meeting held the answer.
Powered By
NEXT STORY: Does the NY GOP need new leadership?