Campaigns & Elections
Reports of broken scanners, long lines on Election Day
The NYC Board of Elections has a history of issues.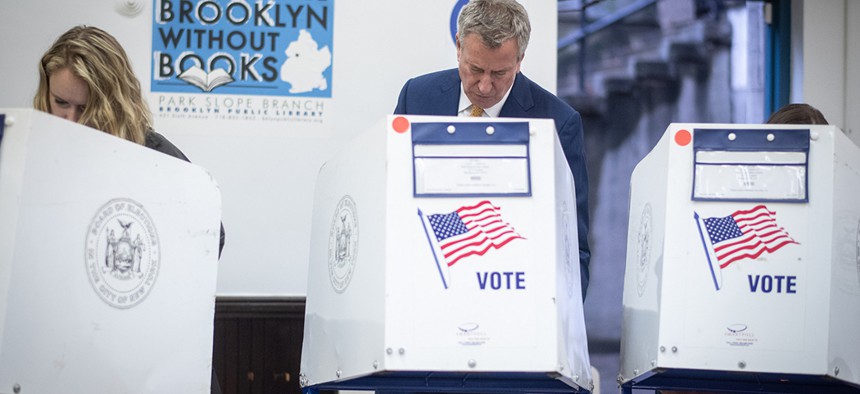 You can count on three things: death, taxes and the New York City Board of Elections infuriating people on Election Day.
The BOE Twitter account fielded dozens of complaints Tuesday morning about broken ballot scanners, long lines and polling places opening late.
Had been reported. Team dispatched at 8:43am

— NYCBoardOfElections (@BOENYC) November 6, 2018
Took 2 hours to vote at Brooklyn Library main branch poll site. Yes, huge lines (don't we want that?) but only one scanner working and a setup that made the process unnecessarily difficult. There's got to be a better way to do this.

— Michael Kurtz (@michael_kurtz) November 6, 2018
The most common problem seems to be broken ballot scanning machines. The Board of Elections did not immediately respond to a request for comment.
Poll workers complaining of scanners jamming because of improper ballot tearing. @WNYC #MidtermElections2018 pic.twitter.com/wFDxrvkdsW

— Jennifer Hsu (@jennhsu) November 6, 2018
Of course, Election Day problems are nothing new in New York City, where Mayor Bill de Blasio has been a loud critic of the system for years. He promised $20 million for better poll worker training and voter engagement in 2016, but the BOE, which is independent from the mayor, declined the money. So de Blasio tried to take matters into his own hands, focusing on democracy reforms in his 2018 State of the City address. But his new Democracy NYC office screwed up its first assignment, and had the Board of Election complaining after the office sent out mailers that made some voters question if they were registered.
Now de Blasio could get a second chance, if voters approve the second ballot proposal Tuesday, which would create a Civic Engagement Commission, that would essentially do things that the Board of Election is already supposed to do, like assisting voters with limited English proficiency.
But the commission would be a power grab, say some critics like New York City Comptroller Scott Stringer, who released an alarming audit last November documenting the breadth of Election Day issues in New York City. The report found that laws or internal rules were broken at more than half of the election sites surveyed, and that more than three quarters of sites were understaffed.
New York City has had trouble getting workers to polls, with 15 percent of scheduled workers not showing up for the 2015 election. That shrunk to a 7 percent no-show rate in 2017, but further attempts to incentive workers – like paying poll workers better – have failed to pass in Albany.
Voter complaints about poll workers reached a five-year high in the 2016 elections, with more than 720 complaints registered with the BOE, according to a de Blasio administration report. Voter turnout and the number of elections varies per year, but that far outpaces the 434 official complaints received in 2012, the last comparable year.
Had problems yourself? The Board of Election is accepting complaints by Twitter and by phone. The state attorney general's office is accepting complaints as well.
About 225 calls & emails to the AG's #ElectionDay Hotline so far. Not surprisingly, the #1 complaint is broken scanners; 40+ complaints re: poll sites w/ at least 1 scanner broken (if not all). As always, we're troubleshooting individual issues & looking into systemic problems. https://t.co/G95FQidF7b

— Amy Spitalnick (@amyspitalnick) November 6, 2018
Powered By
NEXT STORY: How to vote smart in judicial elections