Letitia James
Shooting in Pittsburgh, voting WFP and continued support for Crowley
Shooting in Pittsburgh, voting for Working Families Party and someone's still campaigning for Joe Crowley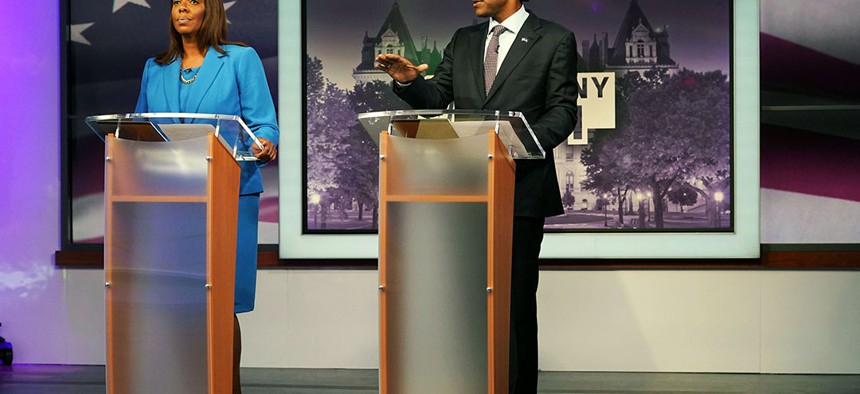 New York City Public Advocate Letitia James' downstate ignorance was on display during her debate with state attorney general opponent Keith Wofford. During the lightning round, moderator Errol Louis asked if James had ever eaten a Garbage Plate, a well-known dish from Rochester. James responded with confusion, clearly unaware of what a Garbage Plate was and therefore, perhaps rightly, puzzled by the question. Wofford, a native of nearby Buffalo, pounced on the opportunity, telling James "welcome to upstate New York." Wofford had even tweeted a picture of himself eating the Rochester speciality only days earlier. For her part at least, a spokesman for James said she looks forward to trying the famed Garbage Plate.
 
Anti-Semitic shooting in Pittsburgh
A week ago, a gunman entered the Tree of Life synagogue in Pittsburgh and opened fire, killing 11 and wounding three police officers. The suspected shooter, Robert Bowers, has been charged with 44 counts in an indictment that includes federal hate crimes. Bowers' social media was filled with anti-Semitic comments and conspiracy theories, with his most recent posting made just five minutes before the shooting, saying, "Screw your optics, I'm going in." In New York City, Brooklyn Borough President Eric Adams responded to the shooting by saying that he planned to carry his gun at any religious service and urged other legal gun owners to do the same.
Vote WFP – except me
After remaining largely silent since losing the Democratic gubernatorial primary, Cynthia Nixon indirectly offered an endorsement for Gov. Andrew Cuomo – on the Working Families Party ballot line. She urged her supporters to vote on the WFP line "top to bottom." However, she later specified she did not mean herself, even though her name will appear on the ballot as the WFP's nominee in Democratic Assemblywoman Deborah Glick's district. New York City Councilman Jumaane Williams made similar comments about voting for WFP candidates, although he also did not explicitly mention Cuomo.
"Knock it off" 
The drama in the 14th Congressional District is not over. Although Rep. Joe Crowley has said he supports Alexandria Ocasio-Cortez, who defeated him in the Democratic primary, and said he is not actively campaigning, some people evidently still want him around. Anonymous flyers circulated in the district urging constituents to vote for Crowley on either the WFP or Women's Equality Party line. So Crowley took to Twitter, once again, to say he is not running and to tell whoever is distributing the flyers to "knock it off."