New York State
The blue wave that swamped the state Senate Republicans
Democrats won an impressive majority in the state Senate. Can they keep it?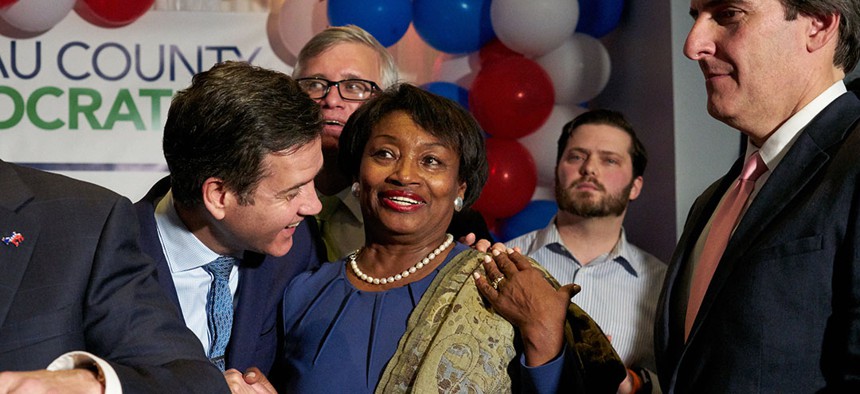 The much heralded "blue wave" has indeed come crashing down on New York. Although the exact number of seats Democrats managed to flip remained up in the air late on election night given the close nature of several races, they appear to have won at least five state Senate seats, giving them control of the chamber for only the third time in half a century. It also gives Democrats single-party rule in New York, which could mean some major shakeups for the state. But it also leaves Democrats with a lot to prove.
Now that the party has control of the state Senate, they are poised to pass many pieces of legislation that Republicans have, until this point, blocked from even coming to a vote. These include single payer health care, which has repeatedly passed the Assembly, and the Reproductive Health Act, which would codify Roe v. Wade into state law. Other items on the agenda include strengthening rent regulations, criminal justice reforms and changes to voting laws.
However, veteran Republican communications adviser John McArdle warned that Democrats may face similar difficulties as they did when they last had control of the chamber in 2009 and 2010. At that time, Democrats held a slim majority they promptly lost in 2010 when two Democrats on Long Island were voted out of office. The tenure was also marred with dysfunction that even led to a short-lived coup.
"It's going to be difficult for the Democrats to demonstrate that they can govern, particularly with a party that's clearly dominated by New York City interests," McArdle argued.
McArdle, who once worked for the state Senate Republican majority, suggested that a divide between progressive members who won Democratic primaries in New York City and new suburban Democrats who were elected on Tuesday may arise. He said that Democrats in more moderate districts may not get behind some of the more progressive priorities, like single-payer health care, that could endanger their re-election. "Will they be successful in passing a single-payer system for health care? God help us if they do," McArdle said with a laugh.
In reference to the coup that occurred in 2009 to give Republicans short-lived control of the chamber in the middle of Democratic rule, Democratic political consultant Bruce Gyory said that is unlikely to happen this time around given the far larger majority the party will have in 2019. In 2009, Democrats only had a one-seat margin, allowing a few disgruntled lawmakers to "wreak havoc." A larger Democratic majority also means that some Long Island or upstate Democratic senator could vote "no" on controversial legislation, although there's a chance they could still be blamed for the actions of their conference.
Yet Gyory offered an assessment similar to McArdle regarding the challenges the party faces moving forward. "The seminal challenge for the new Senate majority will be to harness the political energy of their entire conference so that those regional and ideological differences are respected and turned into a multiplication factor rather than one which continually divides the conference," Gyrory told City & State in an email. He referenced Democrats' success doing exactly this when they gained control of the Assembly in 1974, a majority that continued to grow into the solid blue wall it is today.
The considerable majority that will be held by Democrats in the state Senate next year also eliminates the Republicans' last leg to stand on in state government, banishing them from control of the chamber they have relied on for years. McArdle acknowledged that it was a tough night for the party, saying that this year offers different dynamics than in 2009 given the larger cushion Democrats now have.
However, he said that there is still ample room for a Republican comeback if Democrats fail to prove themselves effective in their single-party rule, or if they fail to represent interests other than those of New York City.
"The great opportunity is with unaffiliated voters," McArdle said, referring to the stagnating Republican enrollment in the state. "People are going to have to be convinced that single-party rule is not a good thing, as it wasn't 10 year ago."
Although history looms large on the new state Senate majority, it was likely not at the forefront of victors' minds last night as they basked in their newfound power. State Sen. Andrea Stewart-Cousins, who is poised to become the first female majority leader in the state Legislature in January, took the stage on Long Island to an ecstatic crowd, wildly cheering for her and the slew of candidates who declared victory on the island.
"You've got to forgive us for basking in the applause because we have won," she told the gathered supporters, clearly not yet considering any possible adversity the party may face. "We love it when we win, and we know that when Democrats vote, Democrats win."
Powered By
NEXT STORY: Five takeaways from New York's elections