Andrew Cuomo
The mystery tax breaks bringing Amazon to LIC
Gov. Andrew Cuomo has an incentives package for Amazon, but taxpayers may never know what's in it.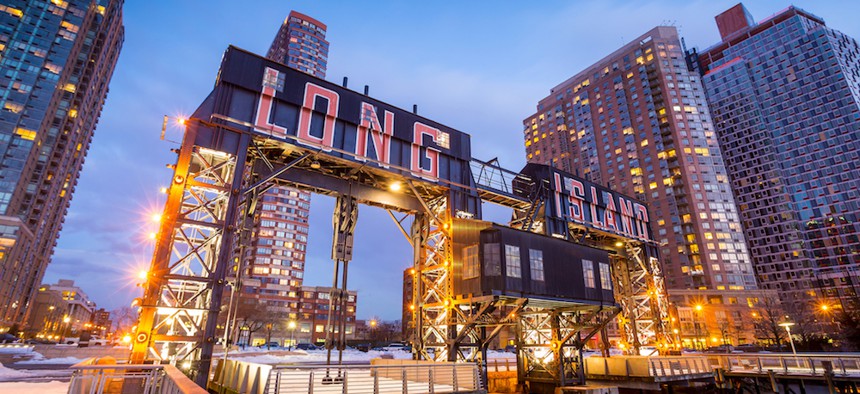 Gov. Andrew Cuomo joked that he's willing to change his name to "Amazon Cuomo," to bring the online retail giant's second headquarters to New York. But that's not the full extent of what he's willing to do: he also offered an unknown package of subsidies, which budget watchdogs consider no laughing matter.
Amazon's search for a location for its next main office may be coming to an end soon, as the company has reportedly decided to split its "HQ2" between Long Island City in Queens and Crystal City in Arlington, Virginia.
On Monday, The New York Times reported that the deal Cuomo offered Amazon could potentially include hundreds of millions of dollars in subsidies. Cuomo and New York City Mayor Bill de Blasio met separately with Amazon executives and the governor publicly touted his "great incentive package."
Critics say it is inappropriate for government officials to offer tax breaks that the taxpayer doesn't know about. "None of it has been made public," said Riley Edwards, a research associate at the Citizens Budget Commission. "The argument is that this is better for competitiveness, that the other places that are bidding to have this headquarters don't know what they're up against. But it really does the public a disservice to not have that information."
While the state Legislature is responsible for passing the state budget, the governor has the ability to offer economic incentives without making the details public. The governor controls the Empire State Development Corporation, the state's economic development arm, as well as the New York Power Authority and the Dormitory Authority of the State of New York, which provides construction and financing services.
"It's really outside of the state constitution and the checks and balances of the budget process, that the governor can act," said John Kaehny, executive director of Reinvent Albany. "It's really an example of the imperial governor, where the governor can do what he wants."
Though the details of Cuomo's offer to Amazon are unknown, Kaehny said there are a few ways that subsidies might be provided. The first is through the Excelsior Jobs program, which was actually created under state law and is available to all eligible businesses. Excelsior offers tax credits, including 6.85 percent of wages for each new job created and property tax credits, for firms located in certain distressed areas.
And then there are subsidies that don't already exist but can be created through the executive branch's ability to raise revenue through bonds. One possibility, Kaehny said, is that the governor could offer Amazon direct cash grants by issuing bonds through the Dormitory Authority and then directing them to Empire State Development, which formulates its own budget. "Functionally, state authorities could borrow money to give to Amazon in cash, without going through the [state] budget," Kaehny said. The governor's office did not immediately respond to a request for comment.
The plan to split HQ2 in two locations, which was first reported by the Wall Street Journal, would divide the $5 billion investment and 50,000 new jobs that Amazon promised in its call for proposals. In their proposal guidelines, the company stated a preference for locations with the potential to attract employees with strong technical skills as well as access to mass transit. Long Island City, a growing neighborhood just across the East River from Manhattan, would meet those guidelines. The neighborhood just received a $180 million infrastructure investment from the city, which some observers suspect was planned as part of the package to lure Amazon.
Critics of closed-door subsidy deals, like the one reportedly being made by Cuomo, say New York City's assets – its cultural institutions and amenities, its diversity and highly educated workforce, its great architecture, parks and public spaces, extensive mass transit and so on – should be enough to attract companies without giving them bribes.
"The way that it would make sense to attract a company like (Amazon) is by improving on (the city's attributes), not by making some kind of special deal so that one company gets a better tax rate than others, or that one company is somehow prioritized over others," said David Kallick, a senior fellow at the Fiscal Policy Institute. "Too few politicians are willing to stand up and say, 'I believe in our city and state, and think that we can win this based simply on the quality of the location as a place to be expanding.'"
Some politicians have pushed for more transparency in budgets and subsidies. The New York City Council, for example, passed legislation that requires more oversight of the Economic Development Corporation – the city's version of Empire State Development. Similar efforts have failed in the state Legislature. Earlier this year, a proposal failed for a "database of deals" cataloging all economic development grants, subsidies, and breaks given to businesses. The Procurement Integrity Act, which would give the state comptroller more oversight, also stalled.
Until then, it remains to be seen how much money Cuomo offered Amazon – and whether he's really going to rename Newtown Creek the Amazon River.