New York State
Who's trending in New York's top congressional races?
In the 19th and 22nd districts, incumbent Republicans are facing strong challenges from Democrats hoping to help flip the House.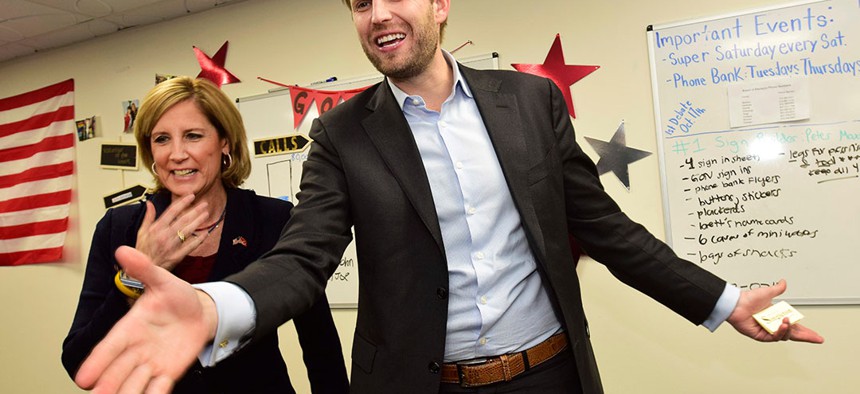 With the midterm election just days away, two of New York's tightest and most closely watched congressional races are playing out upstate, in the 19th and 22nd districts. In both races, incumbent Republicans are facing strong challenges from Democrats hoping to help flip the House.
In partnership with Global Strategy Group, we analyzed the impact of each candidate in an arena that is becoming increasingly important in elections: social media.
Check out the full breakdown below, and keep scrolling for the previous months' analyses.
---
Conversation driver
Rep. Claudia Tenney, the incumbent Republican representing New York's 22nd District, is outperforming her Democratic challenger, Assemblyman Anthony Brindisi, with over 4,000 more overall mentions on Twitter. The social media conversation in the 19th District shows an even wider margin, however, with Antonio Delgado racking up nearly 18,000 more mentions than incumbent Rep. John Faso.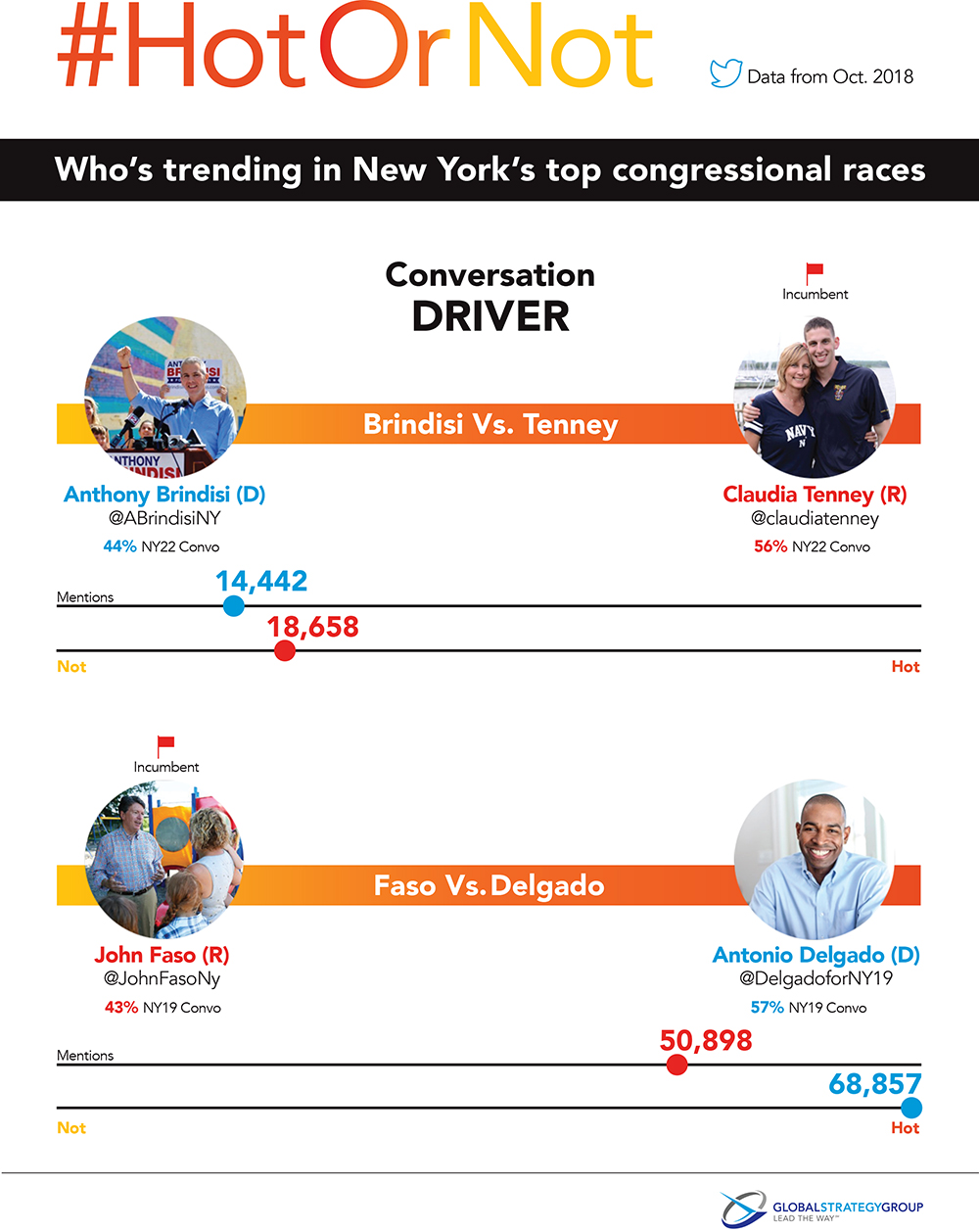 Follower growth
The Democrats in both districts are coming into Election Day with more follower growth than their opponents – Delgado, in particular, is blowing all three candidates away, with over 4,000 new followers, rounding his total to 13,800.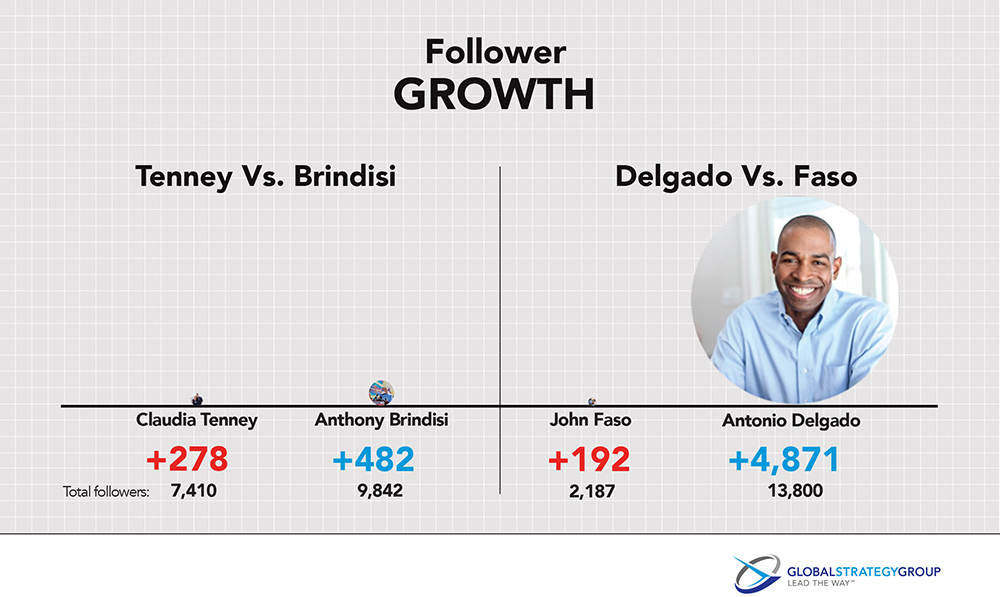 Most retweeted
Tenney comes out on top again for garnering more retweets than Brindisi – her tweet celebrating a campaign stop with Eric Trump racked up a few more retweets than Brindisi's best. Delgado also beat out Faso in retweets, his third victory over the incumbent. Maybe Delgado can thank his decade-old rap career, after all, for a surfeit of fans.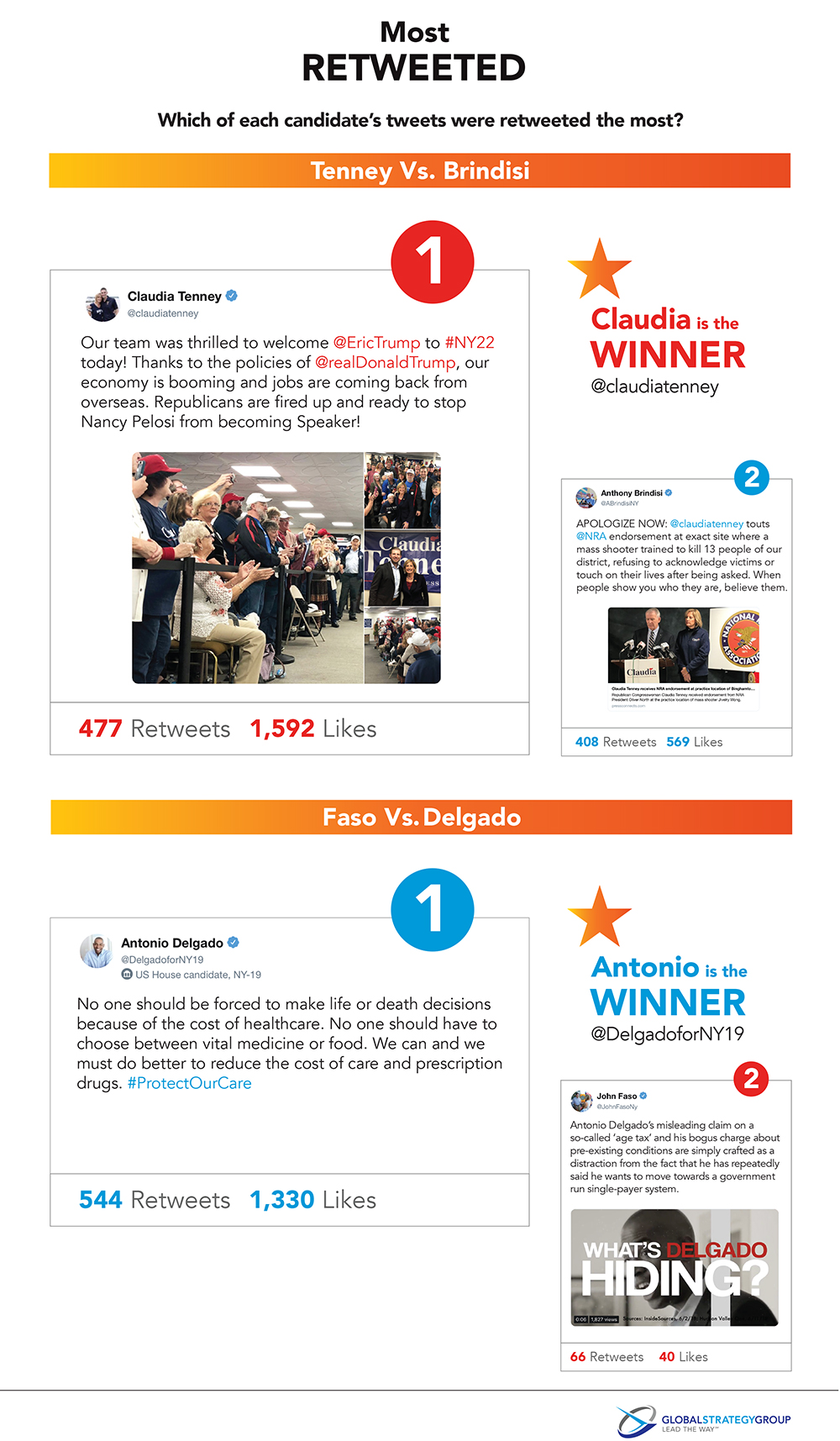 Trump-o-meter
Tenney – who has made a string inflammatory, Trumpian comments, like claiming most mass murderers are Democrats – is heading into Election Day carrying the president's endorsement proudly, with 5 positive mentions of Trump in her tweets in October. Faso actually mentioned Trump more times than Tenney, but some of those tweets weren't explicitly positive.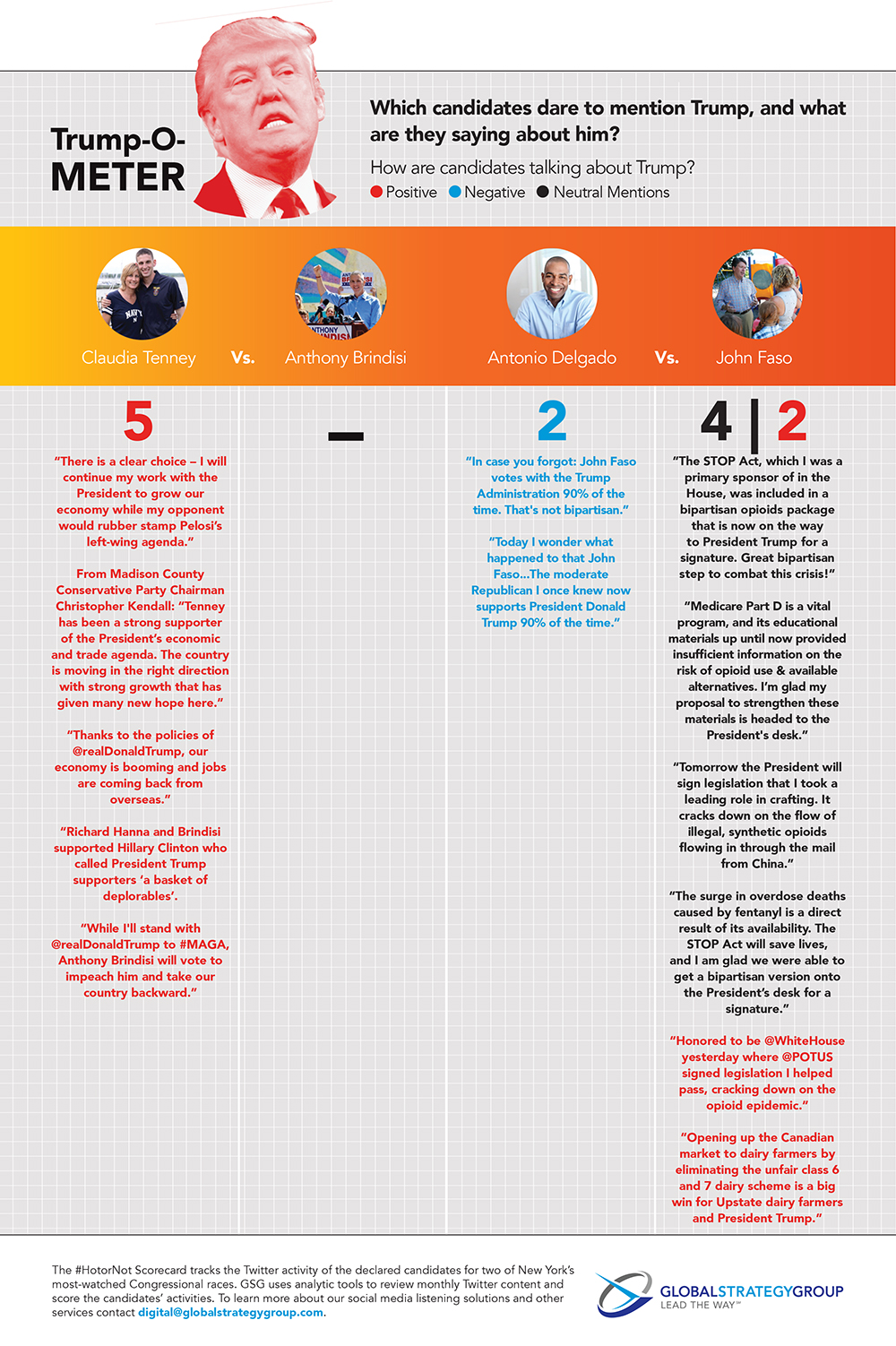 ---
September 2018
(Click to view larger)


---
August 2018
(Click to view larger)


---
July 2018
All eyes are on November's congressional races as Democrats fight to gain control of the House. Here in New York, two races in particular, in the 19th and 22nd districts, have been making headlines. In both cases, the Democratic challengers appear to winning the social media game.
To assess the social media buzz generated by each of the contenders for the House posts, City & State is partnering with Global Strategy Group to provide analysis based on Twitter metrics such as the most mentions, the increase in followers and the most retweeted tweets.
And in July, 19th Congressional District candidate Antonio Delgado was the clear winner, receiving nearly twice as many Twitter mentions as incumbent Rep. John Faso and increased his follower count by 1,328 – 14 times Faso's increase in the same month.
In the 22nd District, Assemblyman Anthony Brindisi performed more modestly against his incumbent GOP opponent, Rep. Claudia Tenney, in July. Brindisi slightly outpaced her in mentions and gained more followers, growing his Twitter lead over Tenney to nearly 2,000 followers.
Delgado's and Brindisi's most popular tweets outperformed their opponents' as well. In both cases, the Democrats were introducing their campaign videos, and the Republicans were attacking Gov. Andrew Cuomo.
Somewhat surprisingly, President Donald Trump has not made much of an appearance in either race so far, receiving only one mention per race.
---
(Click to view larger)


Powered By
NEXT STORY: Why Michael Bloomberg keeps helping Republicans