New York City
Will Democratic volunteers help swing the state Senate?
Progressive locals and NYC residents are canvassing hard on Long Island.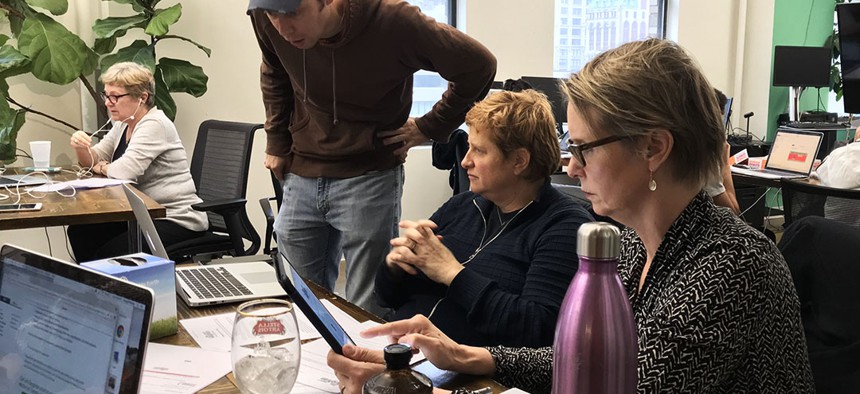 Narratives around the 2018 midterm elections have focused a lot on the idea of energized voters, as turnout has surged to in primaries and special elections across the country. New York is no exception, with most of the energy seeming to come from progressive activists who knocked off Rep. Joe Crowley in June and six former members of the Independent Democratic Conference in September. Those same activists, who are concentrated in New York City, are now engaged in efforts to flip the state Senate, supporting activists and campaigns on the ground in swing districts in Long Island and upstate New York.
This past weekend, many of those volunteers came together at ThoughtWorks New York, a co-working space near Madison Square that on Saturday was home to a postcard writing and phone and text banking operation to reach out to voters in swing districts. True Blue NY, an umbrella organization of volunteer groups focused on defeating the IDC and flipping the state Senate, identified 12 state Senate seats they hope to flip from Republican to Democratic and 120 progressives showed up on Saturday to call and text registered voters to urge them to vote for Democratic state Senate candidates.
It was only natural to focus on other state Senate races after the September primaries ended, according to one of the volunteers at ThoughtWorks on Saturday. "What we want is a Senate that can protect us, and 31-32 that's not going to do it," Livvie Mann, a volunteer with direct action organization Rise and Resist told City & State while phone banking for Jim Gaughran, the Democratic candidate in Long Island's 5th District. "So it was a really easy shift, and we went for the big thing, not just two more red to blue Senators, we're going to go flip for 40, that became the goal."
While Mann, who lives in Manhattan, said she wanted to get involved after volunteering for the Obama 2008 campaign but having done nothing political since then, she and other activists also said the primary challenges to former IDC members were pivotal for activating the kind of numbers they'd need for the general election campaigns outside of the city. "The outcome was phenomenal on primary day, so we wanted to carry it forward," said Susan Martin, one of True Blue NY's founders, who detailed how her own organizing efforts started with the discovery that the state senator in her Brooklyn district, Jesse Hamilton, had joined the group of breakaway Democrats.
Cynthia Nixon, the Manhattanite actress who challenged Gov. Andrew Cuomo in the Democratic primary, showed up at ThoughtWorks to call voters in Gaughran's district. She agreed with Martin's assessment, telling City & State that "there was a lot of excitement around taking out the IDC challengers and as you can see today, it's still there to take back the Senate."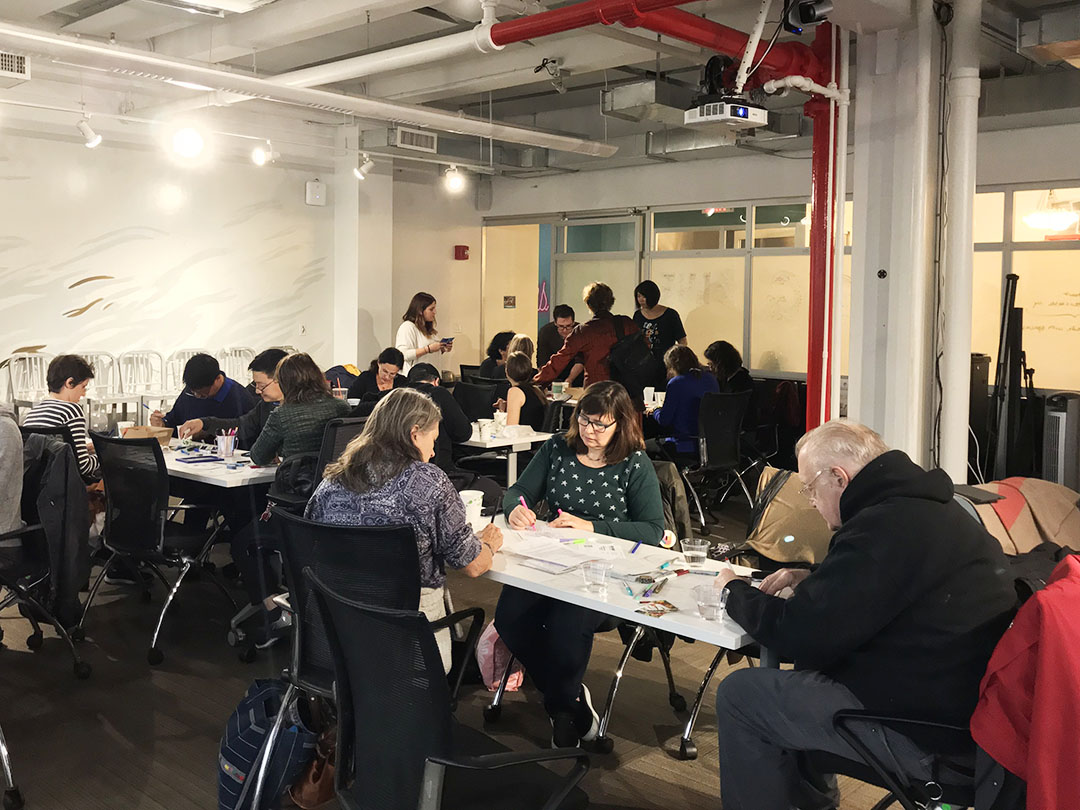 Saturday's event was the second in a three-weekend effort to do outreach from New York City to voters in districts where Democrats including Gaughran, Jen Metzger, James Skoufis and Anna Kaplan are running. Other veterans of the anti-IDC movement are helping those same candidates. Jessica Ramos, who defeated former IDC member Jose Peralta in Queens, has traveled to Skoufis' district to knock on doors in person, and her fellow IDC-toppler Alessandra Biaggi has phonebanked for Skoufis and Karen Smythe. Elsewhere, the online progressive organization Data for Progress has directed the energies of the progressive left to donate $55,000 to Gaughran and an additional $22,000 to a slate of eight state Senate candidates in swing districts around New York.
All the phone calls and postcards and money in the world doesn't replace old-fashioned door knocking, which political science studies have demonstrated are the most cost-effective form of get out the vote organizing. Make the Road Action, the political activity branch of immigrant and working-class community advocacy organization Make the Road New York, whose New York City branch endorsed Julia Salazar in her successful state Senate primary against Martin Malave Dilan, also has active membership in Nassau and Suffolk counties who are working on in-person voter mobilization. Those members voted to endorse Gaughran and John Brooks, both of whom they endorsed in 2016, and they are on pace to knock on 7,000 doors in the two districts on behalf of the candidates, according to Make the Road Action's managing director Daniel Altschuler.
Knock knock knock! Our members are knocking on doors every day on Long Island?

We're working to make sure that @liuba4congress replaces the ever-offensive Peter King in Congress, and that @Brooks4LINY wins his crucial re-election to the NY State Senate! #UniteTheVote pic.twitter.com/U3vs90gBmo

— Make the Road Action (@MaketheRoadAct) October 24, 2018
This weekend, part of the canvass operation focused on voters in the town of Glen Cove, a hilly North Shore town in Nassau whose Latino share of the population went from 20 percent in the 2000 Census to 27.9 percent in the 2010 population count. A Make the Road Action report from 2016 pegged the proportion of registered voters in the 5th district who are Hispanic at 4 percent, and registered voters who are people of color at 11 percent of the population.
Knocking doors on Sunday, Dora Escobar, a Make the Road Action member and Salvadoran immigrant who's lived in Freeport since 1982, explained the stakes of the canvas as she saw then. "We have to empower our community because sometimes they don't go to vote, because they don't have the information, they don't have the interest," she said. This year, Escobar said she noticed a change as she's knocked on doors. "Our community is more focused on the issues that concern us, like health, like racism. Sometimes (people) denigrate the Hispanic community." Escobar and her canvassing partner Ana Maria Archila found a mostly receptive audience for the message, including a man who told the pair that he'd just become a citizen and that he'd be voting for the first time. "We need to make the difference," he told them in Spanish, explaining why he'd be voting this year.
"One-hundred percent, it's more important than ever," another Glen Cove resident told Fernando Sosa, a Make the Road Action member, when Sosa asked him if he was planning to vote. Sosa too, said that he'd found a more receptive audience than usual while canvassing this year. "The rhetoric now with the Trump Administration is very strong, and people are really politicized," he said. Sosa's anecdotal findings are reflected in national trends: A recent poll by the National Association of Latino Elected and Appointed Officials Education Fund and Latino Decisions found that 65 percent of Latino voters had encouraged a family member or friend to register to vote or vote this year.
In addition to Trump, Long Island's immigrant community can remember the days of Suffolk County executive Steve Levy, who became a national anti-immigrant voice when he ran the county. Altschuler said he still sees anti-immigrant talking points coming from Long Island Republicans, something that he believes cost them an Assembly seat won by Christine Pellegrino as well as the Nassau County executive's race. "Anti-immigrant rhetoric backfired on [Republicans] in 2017, and we think it will continue to, especially with our good ground game," Altschuler said.
Of course, progressive and Democratic-supporting operations aren't the only GOTV operations hitting the streets. A spokesperson for the Elaine Phillips campaign said that the Republican incumbent in the 7th District had met 10,000 voters at their home since June, and volunteers had knocked on 30,000 doors in neighborhoods throughout the district, and that "the response has been very positive" from the community. President Trump is doing his part to wake up the GOP base, suggesting he'll take birthright citizenship out of the Constitution, promising a mysterious tax cut while Congress was out of session and sending an increasing number of U.S. troops to the Mexican border as a show of force against a few thousand asylum seekers. The Kavanaugh hearings were said to initially close the enthusiasm gap between Democrats and Republicans, but recent reports say it has swung more in Democratic favor nationally.
The organizational weight of the NYC Democratic Socialists of America, which got attention for their efforts to win primaries for Alexandria Ocasio-Cortez in June and Julia Salazar in April, but whose electoral work focuses on explicitly socialist candidates, is also not being brought to bear in the Long Island races. Those organizing efforts are looking closer to home, with GOTV campaigns for Ocasio-Cortez in a general election she is certain to win. Some individual members of the DSA are getting involved in competitive general election races though, such as Anne Flomenhaft, a former Bernie Sanders delegate and member of the steering committee of the newly-formed Nassau County DSA. While Flomenhaft said the organization is not yet endorsing candidates, she has volunteered for Democrats such as Gaughran and Assemblywoman Christine Pellegrino, and canvassers from the organization have gone door-to-door to talk to residents about legislation like the New York Health Act, which would create statewide universal health care.
Jeff Gold, a member of the Working Families Party who was at Saturday's event at ThoughtWorks and is a veteran volunteer on campaigns across Long Island, said he noticed a difference in this year's local work. "There are thousands of people who are new to this, who've never knocked doors on their own block, so I've been out for Brooks, (congressional candidate) Liuba [Grechen Shirley], Pellegrino, because I have friends who live in the district and want me to go door knocking with them," Gold told City & State. "I want to introduce them because the idea is to develop a base in every single district so that every single block is covered."
Mann also promised that members of organizations like Rise and Resist, a left-wing direct action organization, wouldn't be "taking vacations to Bermuda," after the 2018 election is done. "It does not end on November 6th," she said. "We're going to coalesce as many people as we can to go up to Albany on the first or second week of the session and just be there and say to these people we've sent up to this snake pit, 'We've got your backs.' And also to let them know, 'We're here,' they've got to stay with what they told us when they got our support as the grassroots when they got elected."
Powered By
NEXT STORY: How one mega-donor can affect the midterms