New York City
Crespo out at Somos, Davila taking over
Brooklyn assemblywoman Maritza Davila named to lead Somos, the New York Assembly's Puerto Rican/Hispanic Task Force.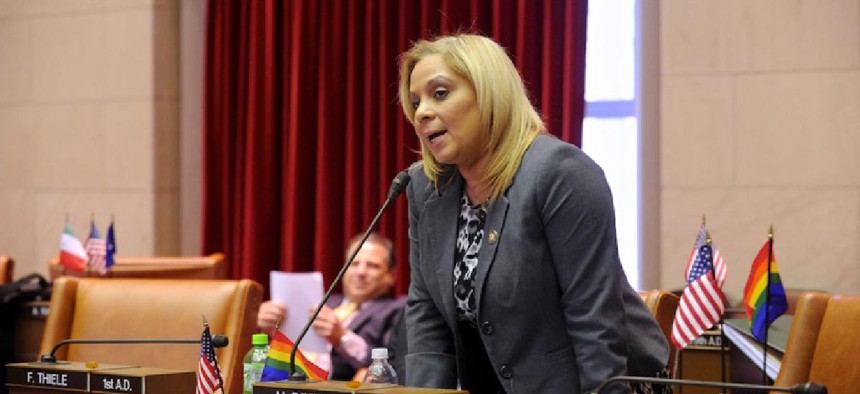 Assemblyman Marcos Crespo, the Bronx power broker who has served as unofficial host of the biannual Somos conference since 2015, is stepping down from the role.
In his place, Brooklyn Assemblywoman Maritza Davila has been named chairwoman of the Assembly's Puerto Rican/Hispanic Task Force. The chairperson's primary role is to organize the two Somos conferences, one the weekend following the November election in San Juan, Puerto Rico, and one in Albany in mid-March. The conferences are attended by a who's-who of New York political figures, but have earned scrutiny for their reputation as a days-long party light on work – and for organizers taking money from politically unpalatable donors.
Davila's new post was one of the dozens of leadership assignments for the upcoming legislative session announced Tuesday morning by Assembly Speaker Carl Heastie's office. You can see the full list here.
Davila told City & State on Tuesday that she was excited for the role.
"I really would like to take Somos to a new level, another direction which is inclusive to all Hispanics," she said. "But at the same time, we need to continue the work that Crespo already started with Puerto Rico."
Davila herself was born in Cataño, Puerto Rico, next to San Juan. She has represented parts of Williamsburg and Bushwick in the Assembly since winning a September 2013 special election to fill the seat vacated by the late Vito Lopez, who resigned amid accusations of sexually harassing several female staffers. The state later paid out more than half a million dollars in a legal settlement to two of his victims.
The Daily News called Davila Lopez's "hand-picked successor" in the 2013 race, but Davila told City & State she disagreed with the characterization, citing her three decades of work in the Bushwick community. "The community leaders were the ones that chose me," she said.
The prominent task force chairmanship is a step up for Davila, who chaired a subcommittee on affordable housing stabilization last session. Davila said she didn't apply for the Puerto Rican/Hispanic Task Force job and was surprised to get a call from Heastie's office asking her to take it. But Crespo had previously suggested he might be leaving the position soon.
"I think change is good every now and then. It's not like I have plans to walk away or anything like that," he told City & State in November. "(But) it's a very natural thing to start thinking about, OK, after Marcos, who will it be?"
Crespo is reportedly interested in clearing his plate to focus more on his role as Bronx County Democratic leader, and getting his ally Bronx Borough President Ruben Diaz Jr. elected mayor in 2021. But Crespo got another plum position in Albany when he was appointed chairman of the Labor Committee on Tuesday morning. Crespo didn't immediately respond to a request for comment, but seemed happy with the gig.
I'm grateful for the trust @CarlHeastie placed in me to Chair the NYS Assembly Committee on Labor. I also want to thank everyone for your support the last few years as Chair of The Puerto Rican Hispanic Task Force and the @SOMOSNEWYORK Conferences.

— Marcos Crespo (@MarcosCrespo85) December 18, 2018
Powered By
NEXT STORY: What Cuomo is avoiding