Carl Heastie
Most New Yorkers live on less than state lawmakers' part-time salary
Never mind $130,000, plenty of professionals make less than $79,500 for a full-time job.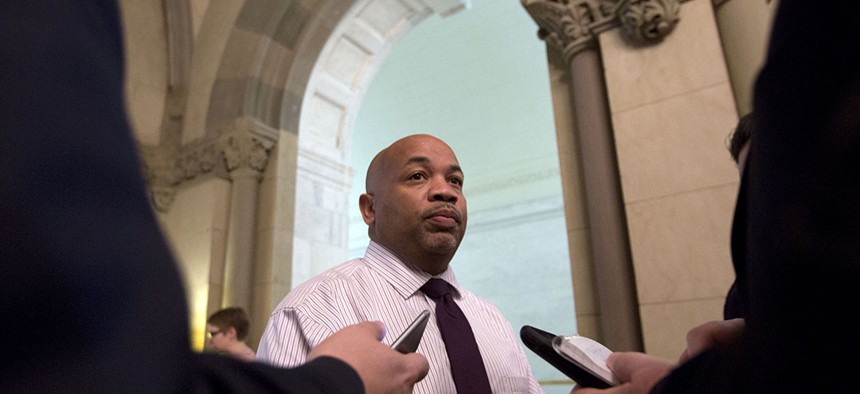 State lawmakers have been making complaining about their $50,000 pay raise, which would make them the highest-paid legislators in the entire country. Normally, people are grateful for 60 percent raises that make them the best-paid in their industry. And it's not as if New York's state Legislature is the best in the nation: it has one of the most corrupt state legislatures.
Some have said the decision by a state pay commission to couple the raise with a limit on outside income, effectively making legislating a full-time job, is unfair. These critics argue that legislators need outside income to supplement their salary. And some actually think $130,000 per year just isn't enough. Recently, Assembly Speaker Carl Heastie complained in a Twitter spat with New York City Comptroller (and legislative pay commission member) Scott Stringer that the raise did not include an automatic future "inflationary increase." 
But both of these arguments rest on a shaky premise: that the $79,500 per year that lawmakers received in their last raise in 1998 was not enough to constitute a full-time job already and that it became a problematically small salary over time.
First, $79,500 would be equivalent to about $123,991 today, according to the federal Bureau of Labor Statistics. So, except for a lag in recent years as the salary fell behind inflation, lawmakers have made and will again make over $100,000. Is that six-figure salary not enough to live on? Is it not enough pay to be considered a full-time job? That would come as news to most New Yorkers, where the median wage is $44,680 and the median household income is $62,765.
Even today, $79,500 is still a respectable full-time salary for many hardworking New Yorkers, let alone $130,000. Here are just some of the professions – including some in the government the state Legislature runs – whose median statewide income is less than lawmakers' current salary, based on the most recent statistics from the state Department of Labor.
Bailiffs – $69,370
Librarians – $64,620
Carpenters – $56,200
Electricians – $72,530
Legal secretaries – $58,900
Flight attendants – $42,330
Construction laborers – $43,280
Chefs and head cooks – $44,550
Insurance sales agents – $65,790
Civil engineering technicians – $60,260
Reporters and correspondents – $64,010
Paralegals and legal assistants – $54,080
Bus drivers, transit and intercity – $67,390
Subway and streetcar operators – $75,170
Zoologists and wildlife biologists – $68,800
Insurance appraisers, auto damage – $63,140
Computer network support specialists – $71,910
Child, family and school social workers – $52,280
Morticians, undertakers and funeral directors – $63,730
Automotive service technicians and mechanics – $39,100
Emergency medical technicians and paramedics – $40,890