IDC
No IDC NY calls on Stewart-Cousins to strip Democratic defectors of seniority
No IDC NY calls on Andrea Stewart-Cousins to strip seniority from Diane Savino, David Carlucci and Simcha Felder.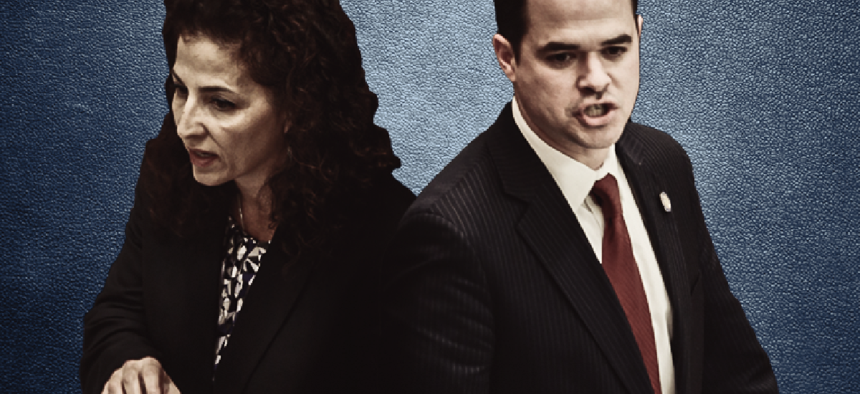 Some of the progressive activists who helped power New York Democrats to their largest state state Senate majority in a century are pushing the party to punish the remaining former members of the now-defunct Independent Democratic Conference as well as party-fluid state Sen. Simcha Felder.
In a letter sent to the state Senate Democratic leadership on Nov. 28, which has not been previously reported, the grassroots progressive organization No IDC NY asked incoming state Senate Majority Leader Andrea Stewart-Cousins and Deputy Majority Leader Michael Gianaris to strip seniority from state Sens. David Carlucci, Diane Savino and (should he join the conference) Felder and not allow them to chair any committees.
Calling for "ramifications" for the "political misdeeds" No IDC attributes to Carlucci and Savino – the two former members of the IDC who, unlike the other six, did not lose to their Democratic primary challengers – and Felder, the group asks that the defectors be placed below the 15 incoming Democratic freshman senators in terms of seniority and committee assignments. "If we fail to act now, nothing will prevent future senators from repeating the same unethical behavior that has held our state hostage for so long," the organization wrote to the Democratic leadership.
In addition, to reward those who were loyal to the Democratic Party when it was not in the majority, No IDC NY wants to see any potential Republicans who defect to the Democratic conference placed in seniority below the freshmen as well. They also ask that Carlucci be censured for his use of campaign funds through the Senate Independence Campaign Committee, the Independence Party-linked fundraising account that was ruled to be illegal this year.
"We believe that this letter is about doing what's right, both morally and politically," No IDC's chief strategist Gus Christensen wrote in an email to City & State. "The voters of New York spoke with a clear voice and rejected the IDC, and we think the leadership should listen and follow through."
While Carlucci and Savino rejoined the Democratic conference this spring, when the IDC agreed to fold, the fate of Felder – who went from hot commodity to cold oatmeal after the massive Democratic gains in the chamber – is uncertain at the moment.
The Democratic leadership, however, is apparently ignoring their base's feelings so far. Spokespeople for Stewart-Cousins, Carlucci and Savino declined to comment on the letter.
Perhaps the party is worried that infighting will divide – and thereby weaken – the caucus or risk provoking future walkouts, though No IDC begs to differ on that point. "Only in a place as broken as Albany could punishing 'Democratic' senators who spent years caucusing with the GOP and denying their own party its rightful control of the chamber be labeled as 'infighting,'" Christensen wrote.
Another consideration for Democrats is that – unlike most of their former IDC colleagues who lost their primaries – Carlucci and Savino are from moderate districts. Carlucci and Savino both beat primary challengers in September, and Savino went on to trounce her primary opponent, Jasmine Robinson, again in the general election. Felder is likewise from an idiosyncratic district that often votes Republican, and in which he holds great sway among the large Orthodox Jewish community there.
But Christensen said the group was undeterred and that more primary challenges would come Carlucci and Savino's way in 2020, when he predicted even more progressive energy than this past year. "I can say with complete confidence that whatever does or doesn't happen in the next 8 weeks, neither Savino nor Carlucci will win another election," Christensen wrote.
Read the full letter below:
NO IDC NY letter to Senate Democrats re Carlucci, Savino and Felder by City & State NY on Scribd
Powered By
NEXT STORY: Cuomo meets Trump and new Democratic leaders