New York City
Albany action, MTA madness and (un)popular presidential contenders
Progressives run the first week of Albany action, no one is running the MTA and there's plenty of unpopular presidential contenders running in This Week's Headlines.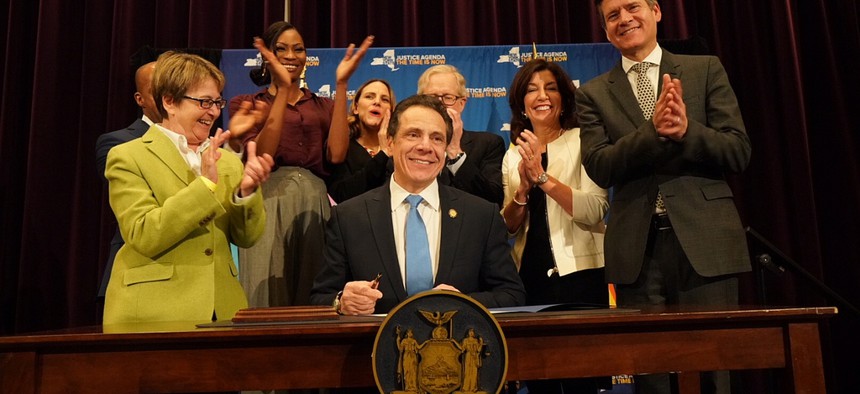 Is it really New York if an there isn't a corruption trial going on? This week kicked off the corruption retrial of former Nassau County Executive Edward Mangano after a trial last year ended with a hung jury. Mangano is accused of providing favors to admitted briber Harendra Singh in exchange for gifts, vacations and a low-show job for his wife, Linda Mangano. The previous trial lasted 11 weeks, and just a few days into this new one, there are already signs of fatigue. Perhaps the fresh jurors, who are not supposed to be informed about the first trial, will be able to come to a conclusion this time.
Progressives on the move
It was another banner week for Democrats in Albany, who continued to pass long-stalled legislation with their new majority in the state Senate. On Tuesday, they passed the Reproductive Health Act, codifying abortion rights into state law. Gov. Andrew Cuomo signed it into law the same day, which also happened to be the anniversary of Roe v. Wade. The next day, they passed the state DREAM Act, opening up state financial aid to young, undocumented immigrants going to college. It was renamed the Jose Peralta New York DREAM Act in honor of the late state senator who originally sponsored the bill. Additionally, the state Legislature passed a bill decoupling teacher evaluations from state test scores, and another that made the 2 percent property tax cap permanent.
MTA madness
Under pressure from the governor not to impose a proposed fare hike, the Metropolitan Transportation Authority board punted the issue by delaying the vote to February. While the MTA said the increase would provide needed funding, Cuomo questioned whether this was true and said any hike should be tied to service improvements. Another cause for MTA headaches are new reports that Cuomo's reversal of the L train shutdown will still cause significant service disruptions without many of the alternatives originally proposed for the shutdown. But one positive development for the agency is that the Metro-North Railroad and Amtrak have approved the Penn Station Access project, which will open up Manhattan's West Side transit hub to commuters from the northern suburbs and open four new Metro-North stations in the Bronx.
Get me Roger Stone
Roger Stone, a longtime confidant to President Donald Trump, was arrested and indicted on Friday as part of the special counsel investigation. Federal prosecutors have charged him with seven counts, including lying to Congress and obstructing the House Intelligence Committee's investigation into Russian interference in the 2016 election. The move is among special counsel Robert Mueller's most significant so far. White House spokeswoman Sarah Huckabee Sanders said the arrest has nothing to do with Trump and downplayed Stone's connection to the president.
Presidential popularity contest
U.S. Sen. Kirsten Gillibrand is the only New York Democrat so far to declare that she's running for president in 2020, but she's far from the most popular potential presidential contender from the state. According to a new Quinnipiac University poll, that distinction is held by former New York City Mayor Michael Bloomberg, who has yet to make a final decision about his presidential ambitions. After Bloomberg, New Yorkers thought Cuomo would make a good president, despite his insistence that he won't run. Gillibrand ranked third, with Rep. Alexandria Ocasio-Cortez and New York City Mayor Bill de Blasio rounding out the list in fourth and fifth.