New York State
New state senators aim for early wins with old legislation
Sponsoring bills give freshmen New York lawmakers early "wins."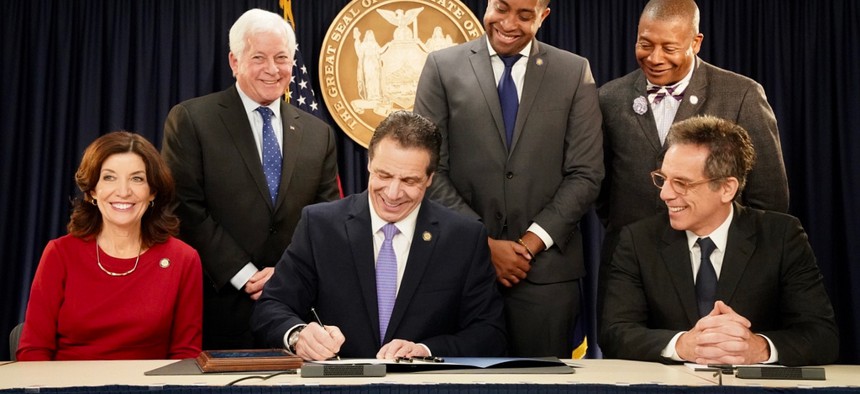 Not every state senator gets to start off a new legislative session by receiving a standing ovation, but that was the reality on Jan. 14 for incoming state Sen. Zellnor Myrie. The Democrat from Brooklyn sat in his red, cushioned leather chair in the state Senate chambers, while colleagues surrounded him to offer handshakes, hugs and smiles.
How did he earn these plaudits? The chamber had just passed a bill to implement early voting statewide and even some Republican lawmakers joined in as the Senate applauded Myrie for 22 seconds in recognition that he had just passed his first bill. It was the type of moment that could play well later on in campaign commercials and the campaign stump – the idea that on Day One, Myrie made big things happen for his constituents. "I have a feeling," state Senate Deputy Majority Leader Mike Gianaris said on the Senate floor, "We are going to be doing this a lot this year, because we have some many new members."
By the end of the following week, fellow freshman senators Julia Salazar and Jen Metzger also saw prominent legislation pass with their names at the top. While these bills – the Comprehensive Contraception Coverage Act and the "Boss Bill" respectively – dealt with expanding access to contraception, they were similar to Myrie's bill in two fundamental ways: they all passed by large margins and none of them were originally sponsored by the new senators. Instead, they were submitted by someone else in the previous legislative session: state Sen. Brian Kavanagh, for the voting reform bill, and Republican State Sen. John Bonacic and state Senator Liz Krueger for Salazar's and Metzger's, respectively.
Lawmakers swapping bill sponsorships isn't new. But it has reached an unprecedented level in the Senate this year through the combination of a hefty backlog of old bills blocked by the previous GOP majority and a 15-person roster of newly elected Democrats. In a legislative session when Democrats have passed a slate of high-profile bills, not a single new Assembly Democrat has sponsored any of them, while in the Senate, the list of new lawmakers with nominally big achievements to their names keeps growing. These bills have given the newcomers early legislative achievements, fodder for later campaigns, and have helped cement unity between the Senate leadership and the senators who helped it win their strongest hold on the chamber in more than a century.
"It's relationships," said political consultant Jake Dilemani, who has worked with Myrie, state Senate Majority Leader Andrea Stewart-Cousins and other Democrats in the past. "It's Andrea and it's Gianaris starting the year off on the right foot, trying to build a strong united conference that they can maintain for not just the next two years, but also after that."
New state senators are sponsoring bills big and small – and not always from the left. By sponsoring a bill previously sponsored by state Senate Minority Leader John Flanagan that would cap property tax increases, for example, state Sen. James Gaughran will earn some political capital from Long Island voters. "Taxes, taxes and taxes," said Larry Levy, executive dean of Hofstra University's National Center for Suburban Studies, of the priorities of Gaughran's constituents. But Gaughran has not stopped there. He has also picked up a bill that was sponsored by Republican Assemblyman Andrew Raia. The bill, which requires "propeller guards on instructional vessels," might not generate headlines, but "politically, it's a no-brainer," to sponsor a bill that shields children from injury, said Levy.
Other freshmen senators are primed to benefit politically by reintroducing or modifying old bills. State Sen. Kevin Thomas found a bill to protect babies from the dangers of infant walkers that was proposed by Assemblywoman Amy Paulin last year. State Sen. Monica Martinez is the latest senator to seek a crack down on revenge porn, picking up a bill sponsored last year by Republican Sen. Phil Boyle. Stewart-Cousins handed off a 2018 bill abolishing the sub-minimum wage for tipped workers to state Sen. Jessica Ramos, while state Sen. Andrew Gounardes gets to sponsor a bill regulating physicians sponsored by his controversial 2018 Republican opponent former state Sen. Marty Golden. State Sen. James Skoufis is giving new life to a bill limiting the room temperatures of public schools, originally championed by the deceased state Sen. Jose Peralta. While it does not involve bill sponsorship, state senators Skoufis, Salazar and Alessandra Biaggi will also chair upcoming hearings on sexual harassment that will give them a large amount of attention early in their terms.
"The new members are the future and they want to get something done. Re-election is only two years away," political consultant George Arzt said. "The fact that they have sponsored a bill shows that they have the faith of leadership and I think that is really important to the voters – all you have to say is you sponsored this piece of legislation."
Overall, the number of bills passed by new senators is roughly in proportion to their representation among the majority conference. The notably high level of involvement of first-time senators in sponsoring legislation and helping to shepherd it through the committee process is one early sign that the new Senate majority is giving its new members opportunities to share in the limelight as Democrats aim to redefine the Senate in a more progressive image. "The new Senate majority is committed to breaking down barriers and hitting the ground running," Senate majority spokesman Gary Ginsburg said.
You'd expect notorious attention seekers such as state senators to refuse to hand over their bill, and the credit that comes with it, to a freshman. When asked whether he had ever witnessed lawmakers jealously guard bill sponsorships in the past, Democratic state Sen. Brad Hoylman said he had, while declining to provide specifics. However, he added that the members who are excited to finally win the majority want to protect it.
Some senior lawmakers could be reluctant to give up the sponsorships of favorite bills, and the credit and attention that goes with it, to new senators. When asked whether he had ever witnessed lawmakers jealously guard bill sponsorships in the past, Democratic state Sen. Brad Hoylman appeared to acknowledge that he had. "I laugh," he said, chuckling. "But at the end of the day you got to take a step back and see the big picture," Hoylman said. "There's enough credit to go around."
Three weeks into the legislative session, the opportunity for freshman lawmakers to say they had an immediate impact on legislation has been limited to those whose bills got the greenlight from Senate majority leadership. For the time being, new senators who have yet to sponsor bills, new or old, have yet to publicly share any dissatisfaction. "They were already being sponsored," said Sen. Rachel May. "I just want to pass ... the DREAM Act and voting rights."
Many of the new senators have gotten bill sponsorships through the committee assignments they received and discussions with conference leadership. Myrie got his chance to sponsor the early voting bill during discussions at Senate Democrats' December retreat in Albany. That is where he expressed his interest in taking on the bill, in part because he was the newly-appointed chairman of the Committee on Elections. "We had the opportunity to express to the leadership the things that we were passionate about," Myrie said. "I felt that early voting would be a great place to start." Kavanagh stepped aside as Myrie added some minor tweaks to the bill and got ready to debate the legislation on the Senate floor. "I was really nervous because this was going to be the first thing that the conference was going to tackle," Myrie said.
Although he did not come up with the idea of bringing early voting to New York, as the sponsor of the bill, Myrie had to defend it on the floor against Republican attacks. Although the outcome of the vote was never really in doubt, Myrie went through the motions of explaining the bill's merits and how he thinks it would open up the democratic process so that more people can vote. While he got recognition from his colleagues once the legislation passed, Myrie's true reward might still await him when he runs again in 2020. Mixing metaphors Myrie said, "many of us are really taking the ball in the ninth inning and getting it across. It's going to be significant to go back to the people in the 20th district and say look I'm doing what you voted for me to do."
Correction: A previous version of this story mixed up two bills sponsored by Democratic state Sen. James Gaughran that were previously sponsored state Republican Sen. John Flanagan and Republican Assemblyman Andrew Raia.