New York City
Council bill aims to impose prevailing wage on all city-subsidized projects
Wage and safety bills would incentivize union labor, but critics fear higher price tag.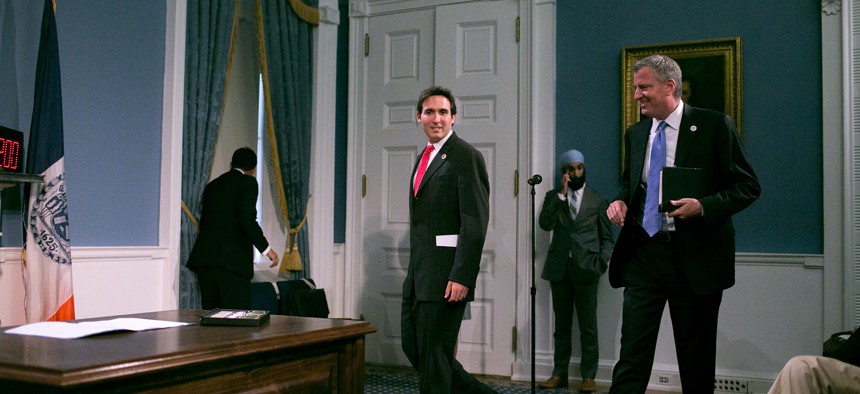 New York City Councilman Ben Kallos is reintroducing a stalled bill that would require all construction workers to get paid the prevailing wage on any projects getting city subsidies.
Under state law, any project built under a government contract must pay workers the prevailing wage. Kallos' bill would cast a much wider net, mandating the prevailing wage for not just direct government contracts, but for any projects getting grants, bond financing, tax abatements or any other sort of support valued over $1 million from the New York City government.
"The same rules should apply when the city is doing the work directly or when they're subsidizing somebody else to do the work," the Manhattan lawmaker told City & State.
Prevailing wages in the city are set by the New York City Comptroller's office, based on union-negotiated wages and benefits for each job class, and are usually significantly higher than the median wage for workers in the industry, according to a 2016 report from the New York City Independent Budget Office.
In practice, the bill would mean higher wages for the workers building the city-subsidized affordable housing projects that Mayor Bill de Blasio has put at the center of his agenda for a fairer city.
Critics like the Real Estate Board of New York, which represents developers, have spent heavily in the past to oppose efforts to expand the prevailing wage requirements, claiming higher labor costs would discourage private developers from building affordable housing.
Kallos countered that paying workers less than prevailing wage actually makes the affordable housing crisis worse by creating demand for housing at deeper levels of affordability.
"I'm disappointed to learn even the construction workers can't afford the affordable housing that they are building," he said.
But de Blasio has been sympathetic to REBNY's argument that higher wages could stymie construction, saying in 2015 that the only way to achieve his affordable housing goal "is with an appropriate wage level for the creation of affordable housing … but not at prevailing wage."
De Blasio's comments came when the prevailing wage bill was first introduced, in April 2015. More than half the City Council, 27 members, backed the bill, including now-City Council Speaker Corey Johnson, but it never passed and was killed when the last City Council session ended.
But the speaker's office wasn't quick to back Kallos' bill this time around. "These bills are going through the legislative process," City Council spokeswoman Breeana Mulligan said in response to a City & State inquiry.
Kallos plans to introduce the bill at the City Council stated meeting on Wednesday. He will also re-introduce a bill he sponsored last session that would require developers of the same city-subsidized projects to provide construction training and apprenticeships to workers. Kallos said the bill would build on Local Law 196 of 2017, which greatly increased safety training requirements for all city construction workers. But Kallos and others told City & State in November that law was being ignored.
"With so many lives at stake, we need to act," Kallos said.
Both bills seem to be intended to disincentivize developers from using non-union laborers. As a rule, union shops already meet the bills' requirements, providing prevailing wages and extensive training. Kallos is an ally to the Building and Construction Trades Council and worked as a union-side labor lawyer before joining the City Council. Kallos is already receiving the same criticism as the previous sponsor of the prevailing wage bill, former City Councilwoman Elizabeth Crowley. An anti-union critic accused her in 2016 of pushing the bill to benefit her labor union political donors.
"The building trades union is trying to manipulate the legislative process at the expense of the general public to make up for the fact that they cannot compete on the merits," REBNY President John Banks said in a emailed statement. "This proposed legislation will raise costs, limit job growth, reduce economic activity, and ultimately have a harmful impact on New York."
But Kallos framed it as a moral issue.
"To be honest, it will cost more money for us to build affordable housing units. But I think that's the right thing to do," he said. "I think the city has to be a responsible employer."
Powered By
NEXT STORY: Say hello to First Read Tech