Ethics
Cuomo's about-face on contracting oversight only goes so far
Gov. Andrew Cuomo omitted several proposed reforms and proposed a vaguely defined database of deals.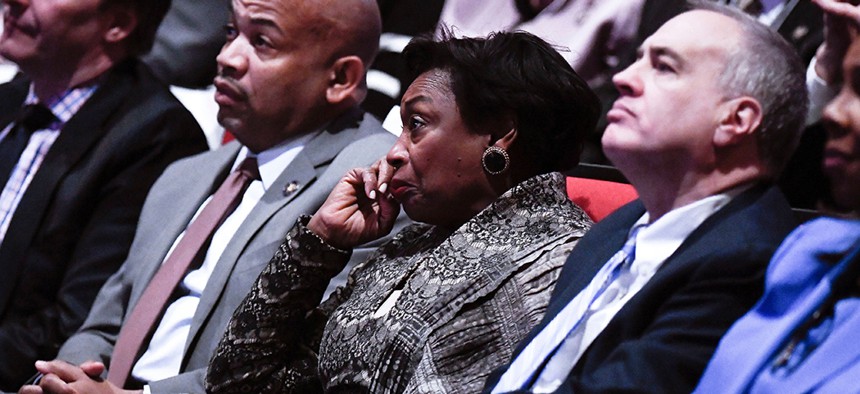 In Gov. Andrew Cuomo's joint State of the State and budget address, one surprise among a slew of ethics and good government reform proposals was contracting reform. However, the governor's contracting initiatives fall short of what lawmakers and good government groups have called for.
Perhaps the most notable contracting reform Cuomo included in his budget is returning the state comptroller's ability to review for certain state contracts before they are signed. The governor had previously stripped away that oversight power as part of his first budget in 2011. Specifically, state Comptroller Thomas DiNapoli will once again have oversight over State University of New York and City University of New York construction and construction-related contracts over $250,000, as well as expanding that to include SUNY research foundation contracts over $1 million. Additionally, DiNapoli's office will be able to resume pre-auditing of Office of General Services centralized contracts, which the governor revoked in 2012.
Calls for the return of these powers intensified following the Buffalo Billion bid-rigging scandal in 2016, which involved economic development contracts awarded by SUNY Polytechnic Institute to build tech hubs in Western New York. In response, the comptroller's office drafted legislation called the Procurement Integrity Act that would reinstate those powers – and it passed the state Senate in 2018, but failed to make it out of committee in the Assembly. Some critics claimed that Cuomo, who opposed the legislation, put pressure on Democrats in the Assembly not to take action.
However, the oversight powers included in Cuomo's budget only represent two of six sections of the comptroller's stalled Procurement Integrity Act. The other four measure that were not mentioned by the governor include prohibiting the awarding of contracts through state affiliated nonprofits like Fort Schuyler Management Corp., which was at the center of the Buffalo Billion scandal; increasing procurement transparency for both vendors and the public; stronger ethic requirements for procurement officials; and standardizing the contracting process for state authorities.
John Kaehny, who heads the good government group Reinvent Albany, said that while the governor's new budget proposal is a good first step, the four measures that were dropped are critical. "It makes sense as a whole, it's kind of an integrated package," Kaehny said. "So picking two of the things to do, and then not doing the rest, it's not the best solution." The governor's office did not respond to questions about whether the governor would support other pieces of the Procurement Integrity Act.
DiNapoli's legislation has not yet been re-introduced in the state Legislature and its future is not entirely clear, as his office is currently reviewing its own proposal to determine next steps. However, the comptroller's office applauded Tuesday's announcement, which constitutes a significant shift for the governor, who as recently as December defended stripping the state comptroller's powers. "This proposal is a positive step forward," DiNapoli spokeswoman Jennifer Freeman said in a statement. "Improvements to the procurement process will assure that independent checks and balances are in place to prevent abuse."
The reason for the governor's change of heart? According to Cuomo spokeswoman Caitlin Girouard, it's because the new agreement shortens amount of time provided to review contracts. The comptroller's legislation proposed 90 days, the amount of time afforded to the comptroller generally, while Cuomo's proposal restricts it to 30 days. The comptroller's office said in that 2018, contract reviews on average took only six days, despite having a 90-day window.
Cuomo also said during his address on Tuesday that the state Inspector General would for the first time inspect any state comptroller contracts exceeding $250,000 "to audit for fraud and hiring practices."
Kaehny suggested Cuomo finally bowed to political pressure following the recent convictions of former aides – including his former right-hand man, Joe Percoco – for their central roles in the Buffalo Billion scandal.
Restoring the comptroller's powers was not the only unexpected contracting reform Cuomo included in his executive budget proposal. He also said that he would direct Empire State Development, New York's economic development arm, to create a searchable database of economic development projects – an idea that good governments had coalesced around in the wake of the misspent upstate economic development funds.
"We were happy to see the governor include the database of deals in his economic development proposal, so while we don't think a lot of this economic development spending is a good return on investment, we're hopeful that we will get a good accounting on how this money is being spent," said Ron Deutsch, executive director of the budget watchdog group Fiscal Policy Institute.
Legislation that would have created such a database passed the state Senate last year, but stalled in the Assembly. "The Assembly's position was, 'We will not negotiate without the governor,' and the governor did not want to negotiate," said Assemblyman Robin Schimminger, who sponsors the Assembly's version of that bill. He added that the best way to create a database is through law, rather than a vague agency directive.
Cuomo not draft separate legislation mandating the creation of the database with clear guidelines and rules, as the Legislature's bills do. Instead, the only mention of the database exists as about eight lines in an appropriation bill that gives the state Department of Economic Development $500,000 to be used for "creating an online database for all economic development projects" while offering no other details.
Cuomo's spokeswoman Girouard called previous legislative proposals "overbroad and unwieldy." But Kaehny said without the details and guidance enumerated in those bills, there would be no standard by which the database must operate, potentially compromising the public access to the information. "There's no redress for the public at all if ESD lags and drags its feet on it, or does a really crummy job, and they just call it a day," Kaehny said. He added that the proposed legislation also crucially provides a uniform definition of a job, which does not exist and varies between different projects, making it difficult compare them.
Cuomo's proposals are only a very small portion of contracting reforms that have been proposed or recommended by good government groups. The Procurement Integrity Act and database of deal legislation were part of an 11-bill package that passed the state Senate last year. Other bills involved the reducing the appearance of pay-to-play, requiring financial disclosures from Regional Economic Development Council members and creating an independent budget office, similar to what exists in New York City.
However, contracting reform is not one of the state Legislature's stated priorities for the new session, with recent conversations about ethics centering on closing the LLC loophole and revamping the Joint Commission on Public Ethics. Now that Cuomo has staked out his position, it remains unclear what further actions the Legislature intends to take.
Powered By
NEXT STORY: Is New York prepared for a fiscal disaster?