New York City
Robert Cornegy officially files for 2021 Brooklyn borough president run
Learning from his speaker run, Robert Cornegy says he's jumping in early.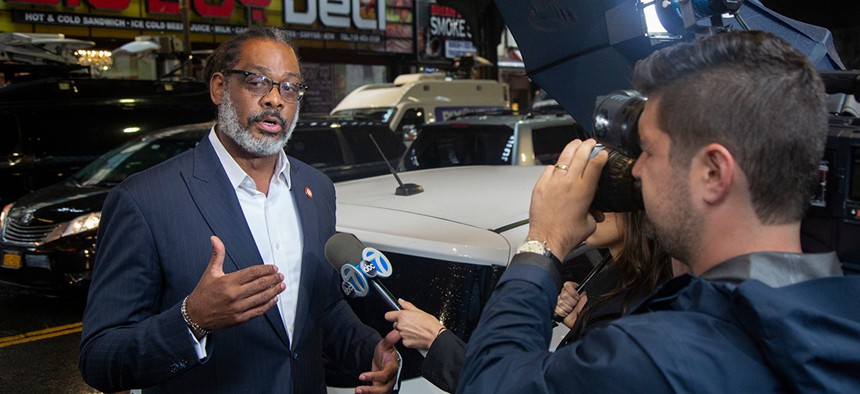 New York City Councilman Robert Cornegy has opened a campaign committee for Brooklyn borough president, making him the first majorcandidate to throw his hat in the ring for the top job in the largest borough.
The race ultimately is likely to pit him against some of his colleagues. City Council members Laurie Cumbo, Rafael Espinal and Mark Treyger are all rumored to be interested in the office.
Nearly 40 City Council members will reach their term limit in 2021, which is expected to lead to some crowded Democratic primaries in the races for mayor, borough president and other offices. But most potential candidates are waiting to officially declare their intentions. Lamor Whitehead-Miller, a formerly incarcerated preacher, is the only other candidate to have already declared for Brooklyn borough president ahead of the expected September, 2021 primary.
Cornegy, a Democrat, was first elected to the City Council in 2013 and represents Bedford-Stuyvesant and northern Crown Heights. Cornegy told City & State he's jumping into the race early after learning from his losing 2017 campaign for City Council speaker. The winner of that vote, Corey Johnson, began his campaign for speaker years before the vote. "(Johnson) worked really hard, really early," Cornegy said. "And there were some people who said to me, 'Listen, if we had known that you were interested – you make a compelling case.'"
So now in the borough president race, "I want to make that case – still compelling – and make it early," Cornegy said.
A borough president's job is largely ceremonial, but it has served as a stepping stone to citywide office for past officials such as former Mayor David Dinkins and Comptroller Scott Stringer, thus making it - much like the highly coveted New York City public advocate's job - an appealing position for many ambitious politicians.
Other City Council members are eyeing the borough presidency in other boroughs. City Councilman Steve Matteo, the Republican minority leader, has opened a campaign committee to run for Staten Island Borough President. City Councilman Jimmy Van Bramer is raising money for a run in Queens – a seat that City Council members Costa Constantinides, Donovan Richards and Paul Vallone may also be eyeing. City Councilman Ritchie Torres is weighing a run for Bronx borough president, and City Council members Ben Kallos and Mark Levine is looking at a run in Manhattan.
Powered By
NEXT STORY: No L train shutdown, Fair Fares and Cuomo's inauguration