Rumble in the Bronx
The borough's grassroots progressives broke through with stunning upset victories by Alexandria Ocasio-Cortez and Alessandra Biaggi. Can they keep the insurgency going?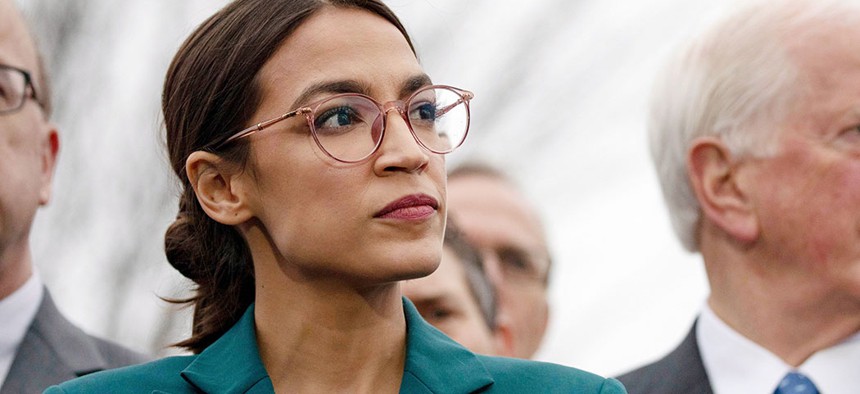 Progressive grassroots activists gained a significant foothold in the Bronx in 2018 with the election of Rep. Alexandria Ocasio-Cortez and state Sen. Alessandra Biaggi – and they say it's just the beginning. The grassroots community now hopes to capitalize on the momentum of their victories and establish the infrastructure needed to keep their outsider movement growing.
"The Bronx is where it's at," said Mia Pearlman, a co-founder of True Blue NY, a statewide coalition of local Democratic groups with the goal of keeping Republicans and conservative Democrats out of power in Albany. "That's going to be a very exciting place for grassroots politics, and to develop candidates."
A groundswell of volunteer-driven organizations emerged in the Bronx after the 2016 election, inspired by Bernie Sanders' presidential campaign, discouraged by a divided Albany in blue New York, or both. For many, believing that the Bronx Democratic Party leadership did not do enough to educate and involve its voters, their chief complaint is less about policy than procedure. "The leaders of the Democratic Party organization in the Bronx are, as a group, not committed to transparency and openness and activism at all," said Diana Finch, a Northeast Bronx Biaggi supporter and a veteran of Sanders' 2016 campaign. "Just try to look at their website. Try to find out information about the county committee. It's impossible."
So new groups dedicated to educating and activating a disengaged populace came together. Now, with electoral successes under their belts, these groups are expanding, plotting out future elections and establishing offshoots to focus on training the progressive campaign workers of the future.
In just two years, in a borough characterized by one of New York's most entrenched political machines, these activists have emerged as a force to be reckoned with. Unlike many of the progressive reformers who have battled machines in more gentrified boroughs, the activists aren't affluent white newcomers to the neighborhood. There are relatively few lawyers or marketing professionals among them. Most work for social service organizations or other local nonprofits, with a few local small-business owners mixed in.
They say they are committed to continuing the work of the previous election cycle into the next one and beyond, but how they will affect politics and policy, and whether they can replicate their startling success of 2018 remains an open question.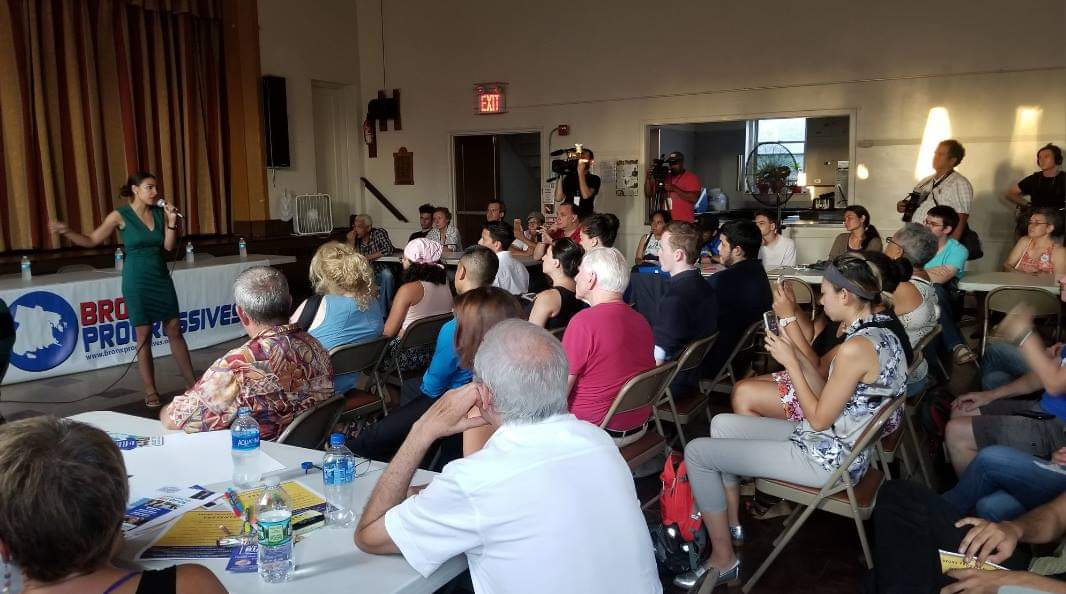 The Bronx, despite being New York City's poorest and least white borough, is not nearly as liberal as it may seem from the outside. And critics say it isn't welcoming of fresh blood.
Since the so-called Rainbow Rebellion of 2008, when the party's current leadership ousted Assemblyman Jose Rivera as party chairman, the demographic makeup of Bronx officials has better reflected the borough's. Still, critics argue, the new leadership, now a decade in power, can be insular and resistant to change. Until recently, Bronx Democratic Party Chairman Marcos Crespo opposed same-sex marriage, while socially conservative Democrats like New York City Councilmen Fernando Cabrera and Rubén Díaz Sr. still hold office. Choosing your own successor is common practice for departing elected officials in the Bronx.
That is why the victories of Biaggi and Ocasio-Cortez were such a shock to the system. The groups that backed Biaggi and Ocasio-Cortez before their primary victories did so when it meant going against deeply entrenched institutions and two of the most powerful men in the state. Losing meant ostracization and winning was hard to imagine. Ocasio-Cortez ousted Joseph Crowley, then the fourth-ranking Democrat in House of Representatives. Biaggi helped deliver the state Senate to Democrats by toppling Jeff Klein, who led the Independent Democratic Conference that caucused with Republicans – until a hasty reunification deal was struck in April 2018.
"It is because of hundreds, and I mean hundreds, of volunteers from around this district and many politically courageous organizations … it is because of all of you, I am standing here today," Biaggi said at the inauguration in her district on Jan. 6. "It took an entire community to unlearn the old ways of being to make this happen today. It took an entire community rediscovering their power and their voice."
Establishment support for Ocasio-Cortez was virtually nonexistent. Biaggi had a little more help with endorsements from liberal Democrats outside of the district, including New York City Council Speaker Corey Johnson and New York City Comptroller Scott Stringer, but not a single Bronx official backed Biaggi over Klein. Instead, powerful Bronx officials like Crespo, Borough President Ruben Diaz Jr. and Assemblyman Jeffrey Dinowitz endorsed Klein despite his inconsistent relationship with Democrats in Albany and the sexual harassment allegation that surfaced in January 2018.
"There's a reason the Bronx is what it is," South Bronx transit and housing activist Ramona Ferreyra told City & State. "(The Bronx Democratic Party) is male-led, condescending of a lot of women, extremely out of touch with the needs of the community and very selective in who they want to support."
Without the support of the party establishment, the progressive victories of 2018 came on the backs of volunteers with little power or influence – until now. Northwest Bronx Indivisible was founded in the wake of the 2016 presidential election and worked closely with the Biaggi campaign. The group will now transition to working with statewide organizations to lobby the upcoming state Senate health care hearings, co-founder David Knapp told City & State.
Bronx Progressives, a 150-member group focused on local organizing, emerged in 2016 from the New York Progressive Action Network, a coalition of progressive groups in New York state, and Our Revolution, the national progressive advocacy organization founded by veterans of Sanders' 2016 presidential campaign. The founders of Bronx Progressives themselves were Sanders supporters, including Finch and Samelys Lopez, a lifelong Bronxite who previously served on Bronx Community Board 7. "After that election, we decided to stick together to basically organize and promote a progressive, but more importantly grassroots, agenda throughout the Bronx," Lopez said.
Lopez remembers seeing Ocasio-Cortez around the Sanders' campaign's Bronx office, where the now-congresswoman was an organizer. Later, when they ran into each other at a New York Progressive Action Network conference, Lopez invited Ocasio-Cortez to join the group. Ocasio-Cortez did, and they've worked together ever since. In October, Ocasio-Cortez's campaign and Bronx Progressives held a forum on criminal justice that featured the candidate and activists like Black Lives Matter of Greater New York President Hawk Newsome. "She was basically talking about all the issues that we care about," Lopez said. "She's a movement candidate."
Bronx Progressives endorsed only one other candidate in the 2018 cycle: Biaggi. They made phone calls, knocked on doors and educated Bronx voters about the IDC and liberal state legislative priorities like the Reproductive Health Act. After the primaries, the Bronx Progressives went throughout the city and state to campaign for other progressive candidates, such as Andrew Gounardes, who knocked out a Republican state senator in Brooklyn, and Assemblywoman Christine Pellegrino, who ultimately lost her seat in Long Island.
Now, Lopez wants to organize around local issues like landlord abuses and bail reform, while working on getting more people involved in the civic process. That way, the next time an election comes around, voters will be more knowledgeable and already active. "We're going to keep getting people excited in participating in the political process," Lopez said, "because the more people you have invested and participating in it, the stronger our political ecosystem is."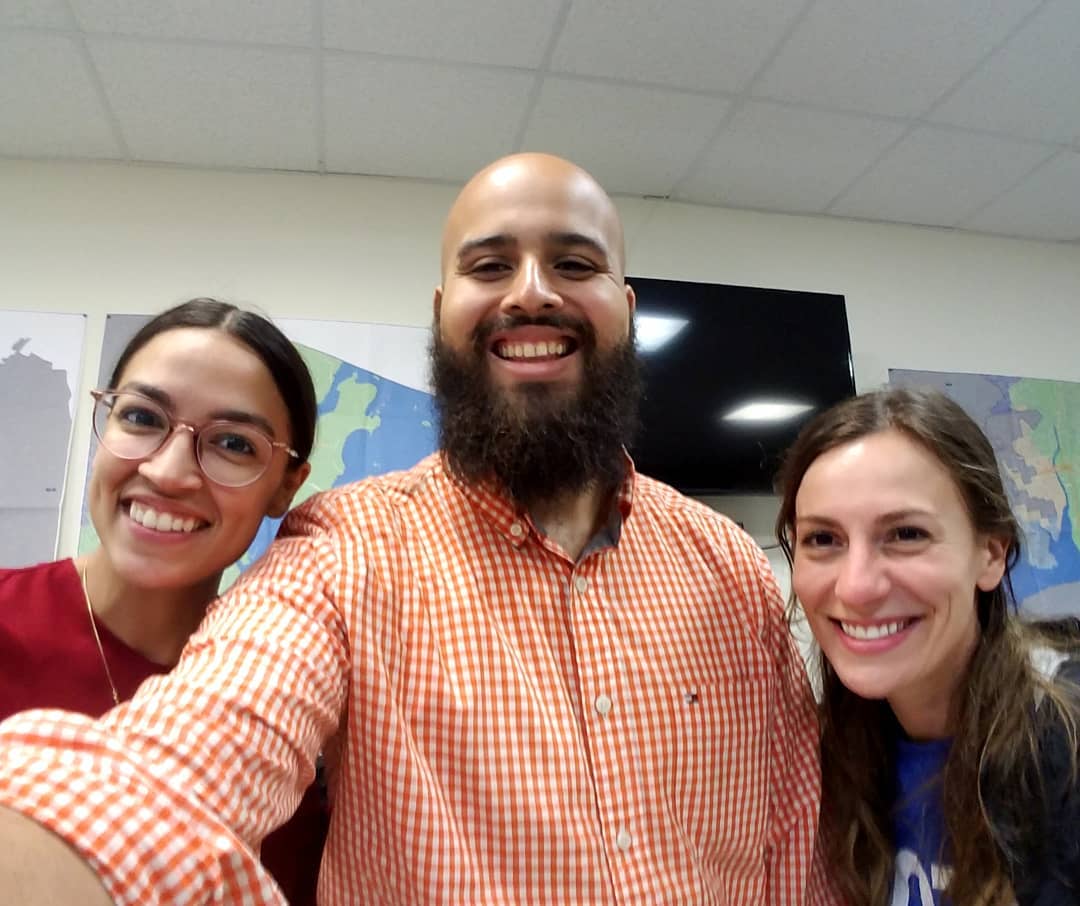 Like the candidates they supported, many of the activists that helped fuel the Biaggi and Ocasio-Cortez campaigns felt spurned by the Bronx establishment. In interviews with City & State, they said they now feel empowered by their successes in 2018 and plan on engaging more new participants in the often-overlooked, low-turnout Democratic primary elections.
Some are looking to change the machine from the inside out. Lopez's partner, Michael Beltzer, founded Local Democrats of New York in 2018. The group is focused on educating and training Democrats on how to get involved with their county committees and community boards. Beltzer, a Parkchester resident and the owner of Bronx Beards, a line of beard oils, spent the past year training people to run for community boards, county committees and other elected offices. According to Beltzer, the Bronx Democratic Party has little interest in fostering an active and informed Democratic base, preferring instead to keep power consolidated among a chosen few.
In September, Lopez and Beltzer, along with others, disrupted a Bronx Democratic Party meeting with a series of motions and proposed amendments involving the committee's transparency and party rules. Their efforts earned them the public mockery of Dinowitz, the party's secretary, who emceed the meeting.
"They've always wanted to make it personal," Beltzer said of his often-antagonistic relationship with party leaders like Dinowitz and Crespo. Beltzer insists that he has no personal animus toward his adversaries, but is motivated purely by a desire to further democratize the county committee."It wasn't so much that it's the person. It's what's been going on with the power and where the power has been siding with. It hasn't been siding with the people in the community as much as it should."
In a last-minute effort, Beltzer and Lopez tried to get themselves elected to the party's executive committee, but were defeated by voice vote. Their allies who ran as vice chairs met the same fate. The one concession they did get was that the rules committee agreed to consider a series of amendments that would allow for more input from committee members, including a requirement that the county committee meet at least twice a year, as opposed to once every two years. Nearly four months later, Beltzer has heard nothing from the committee.
"The best way to get people educated and actually effective, is to have more meetings," Beltzer said of the 1,600-person committee. The more engaged people are, Beltzer argued, the better candidates the party will produce. "The way that they traditionally support candidates should be opened up to the committee's approval, but that's not happening," Beltzer said. "Right now the county leader just decides … these are the people we're going to endorse and then they get all the money."
While Beltzer works at democratizing the institution from the inside, other veterans of the 2018 campaigns are working to build structures outside of the official Bronx Democratic Party. Ilona Duverge is planning on launching a "movement school" with ambitious aspirations.
Born in the Dominican Republic and raised in Scranton, Pennsylvania, Duverge got involved in Bronx politics at 19. While studying forensic psychology at the John Jay College of Criminal Justice, Duverge worked on Randy Abreu's unsuccessful primary challenge to New York City Councilman Fernando Cabrera in 2017. Cabrera's conservative views reflected poorly on the Bronx, Duverge thought. Cabrera's anti-LGBT stance and 2014 trip to Uganda, where he praised the Ugandan government's internationally condemned anti-LGBT laws, stood out as particularly egregious in her mind. Abreu, a lawyer who worked for Democrats on the House Judiciary Committee and in President Barack Obama's U.S. Department of Energy, is a progressive who is now working on the "Green New Deal" for Ocasio-Cortez.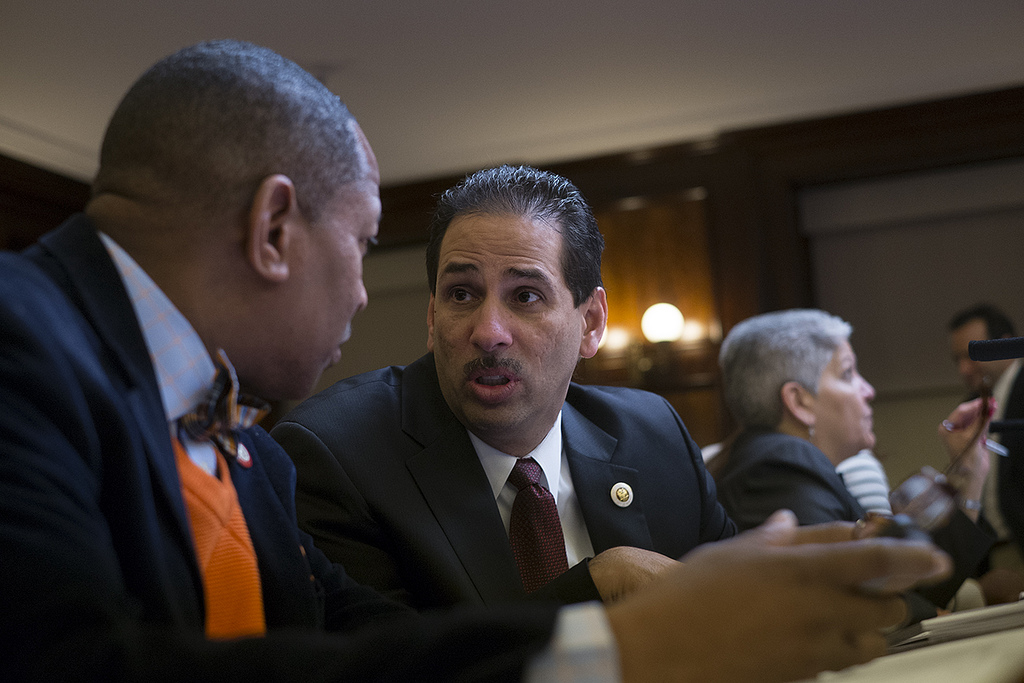 After Abreu's campaign, Duverge linked up with Ocasio-Cortez, running Bronx field strategy for her challenge to Crowley leading up to the June congressional primary. After that victory, she migrated to the Biaggi campaign for the September state primary, before once again returning to the Ocasio-Cortez campaign as deputy organizing director at the end of the election cycle.
She was proud of her successes but walked away with concerns about the talent pool of campaign operatives native to the Bronx. "I kept thinking to myself, Ilona Duverge from Scranton, Pennsylvania, should not be running field in the Bronx," Duverge, now 21, told City & State. "Campaign leadership staff is very male and very white. It just didn't sit right with me the fact that some white guys from Brooklyn were trying to tell us how to run a campaign in the Bronx."
Duverge is starting a 501(c)(4) nonprofit called Organize for Justice, a sister organization of Justice Democrats, the left-wing group that recruited Ocasio-Cortez and other progressive candidates for congressional seats across the country. Within Organize for Justice, Duverge plans on running a movement school to help train organizers on how to be campaign managers, field directors and communication directors. Her goal is to train 10,000 activists in 2019, beginning with "10 intensive boot camps in New York City," according to a draft proposal obtained by City & State. "I want to forge that path for other people because I'm not trying to build more followers, I'm trying to build more leaders," Duverge said. "And I want those leaders to come from these communities."
New York City Councilman Ritchie Torres, a young progressive with aspirations for higher office, was frequently cited by grassroots activists as an example of an ideal Bronx politician. In turn, he was equally complimentary of the progressive movement in the Bronx. "The Bronx has emerged as a bastion of progressive thought and activism," Torres told City & State. "Biaggi's victory reshaped politics in New York state. (Ocasio-Cortez's) victory has reshaped politics in the United States."
Despite his kinship with the progressive grassroots, Torres does not see the county committee as the bogyman some in the activism community do. "As a Bronx elected, who is known to agitate, who is known to cause trouble … I have never had to face resistance to advancing the causes I care about," Torres said. "I'm not clear that your standing with the county organization is predictive with how closely you cooperate with advocates on the ground. It depends on the individual."
In response to questions from City & State for this article, Bronx Democratic Party Political Director Daniel Johnson said elected officials' "progressive values and deep commitment to our communities" had brought prosperity to the borough, citing "billions of dollars in infrastructure investment," low unemployment figures, education aid increases in the state budget and "record funding for public projects." Johnson did not address specific questions about the inclusiveness of the party organization or the role conservative Democrats play in the party. "Despite the unfortunate agenda of a few who choose to sow division over unity, Bronx Democrats have worked together to bring unprecedented growth to our borough," Johnson wrote in an email. "Chairman Crespo welcomes all of his newly elected colleagues and he is looking forward to working with them and everyone else to continue delivering progressive change for the Bronx."
The Bronx has emerged as a bastion of progressive thought and activism. Biaggi's victory reshaped politics in New York state. (Ocasio-Cortez's) victory has reshaped politics in the United States." – New York City Councilman Ritchie Torres
Following their dramatically successful 2018, Bronx grassroots activists say they are willing to work with establishment and centrist Democrats to pass progressive legislation. No longer will a Republican majority in the state Senate, empowered by the IDC, be able to delay ethics reform or the Reproductive Health Act. If they can deliver on these and other issues, the incumbents can make peace with the insurgents. "It's a new day and we need to enter this giving people the benefit of the doubt," said Pearlman, of True Blue NY.
But those who stand in the way of their agenda may face primary challenges. "I'm interested to see how it plays out over these next two years, to see if they get that courage and learn from Alexandria and Alessandra," Duverge said, speaking generally of Bronx politicians aligned with the party machine. "Hopefully, other people start turning around or, if not, we're voting them out and I'm not sorry about it."
Biaggi seems to hold the same view. In her inaugural address, she called for the end of "cynical and dismissive leadership" and warned that those who did not heed the message might go the way of her primary opponent. "The time for intimidation and arm-twisting as the main way things are done is over," Biaggi said. "And those who rely on these methods, instead of good faith transparency, will find their time as public servants may come to an end very soon."
While most Bronx officials will have a grace period, some are already past the point of redemption in the mind of the Bronx activists and many are not willing to name names quite yet.
But some are. "Mark Gjonaj," Duverge said when asked who could next draw the ire of the grassroots. "He definitely, definitely has to go."
The New York City councilman's name came up more frequently than any other Bronx elected official in discussions with progressive activists. He is a centrist and too cozy with the real estate industry, they said. He's a real estate developer himself, and he accepted more money from the real estate industry than anyone else in the 2017 City Council elections. Gjonaj has floated the expansion of a federal program that would allow private developers to take over the operation of NYCHA buildings. In the past few months, it has been reported that Gjonaj used campaign funds for a lawsuit against the city, city funds to hire donors to renovate his district office and personal funds to go into business with the owners of a trash hauling company while proposing industry-friendly legislation.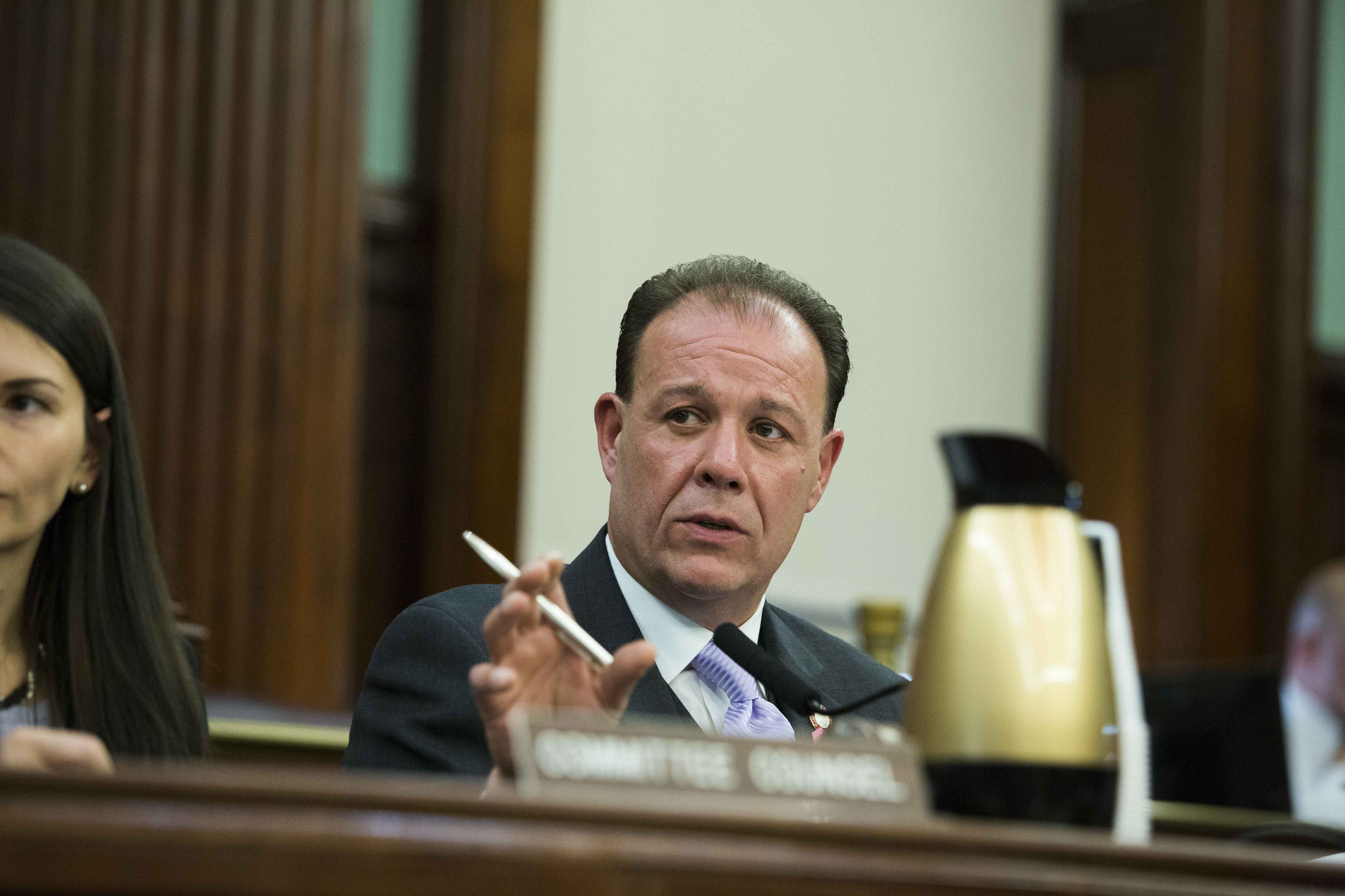 "As a Democrat, Councilman Gjonaj will continue fighting for the values of our party and community," Gjonaj's chief of staff Reginald Johnson told City & State in a statement. "With new majorities in both Congress and the state senate, he looks forward to advancing Democratic values and principles to keep our community cleaner, safer and better."
Activists who spoke to City & State took particular exception to his actions during the Klein-Biaggi primary. Gjonaj and Klein are longtime friends with an intertwined political, personal and financial relationship that stretches back decades, as City & State documented in a profile of Klein last year. In a now infamous video, Gjonaj can be seen yelling "Shame! Shame! Shame!" through a bullhorn outside of a Biaggi campaign event last August. At the time, Gjonaj told Gothamist he was upset about Biaggi's support of a proposed pedestrian safety improvement plan that was opposed by local groups.
"Gjonaj is a creature of Jeff Klein and the IDC and the worst elements of the Bronx machine that was in deep cahoots with the IDC," Democratic operative Gus Christensen said. Christensen is the chief strategist for the progressive grassroots organization No IDC NY that helped recruit and support the primary challengers to the eight IDC members in 2018. "He's corrupt. He's a harasser. Why is this man serving the people of the Bronx?"
Activists also identified New York City Councilman Rubén Díaz Sr. – a Pentecostal minister who is vehemently opposed to same-sex marriage and abortion – as a potential target. Despite his district's overwhelming support of Hillary Clinton in the 2016 presidential election, Díaz Sr. supported no candidate and has praised President Donald Trump. When asked if his views on abortion and same-sex marriage would hurt him in such a deeply blue district, Díaz Sr. was unconcerned, arguing that his personal popularity and record of delivering for his district's needs have been demonstrated by his electoral success and will continue to protect him. "They overwhelmingly voted for me too," Díaz Sr. told City & State. "I'm the one that's helping people. I'm talking to people to protect the community and to help the community."
Gjonaj and Díaz Sr. won't go down easy. And not every year will be as successful as 2018 was for progressive grassroots activists. But a new era of organizing has dawned in the Bronx and those who are driving it plan on sticking around for the long haul.