New York City
Session begins, de Blasio's big speech and Queens DA to retire
New York's 2019 Legislative Session begins, Bill de Blasio gives his big speech and the Queens DA will retire.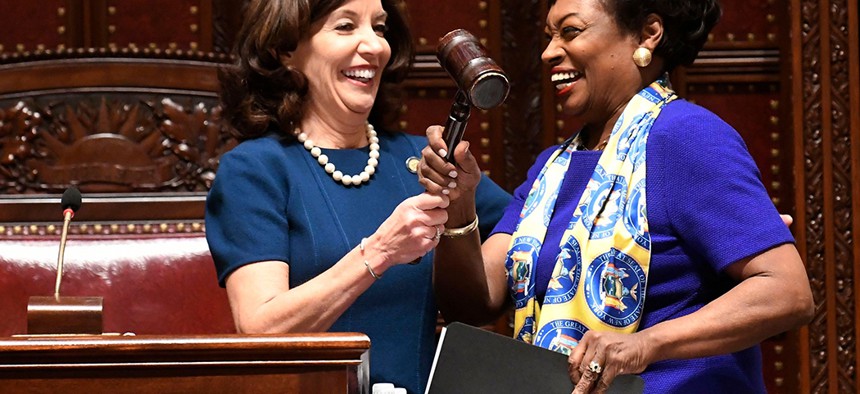 Despite his comparisons to Big Bird, New York City Mayor Bill de Blasio is not, in fact, a large yellow bird. But now, he is now a large yellow cartoon. De Blasio made an animated cameo on "The Simpsons," reimagined as one of the show's trademark yellow characters. And it just so happens the long-running show is one of the mayor's favorites, so he was very excited to see himself on the small screen. His cameo was short – only about six seconds – but de Blasio still got to voice an entire line he can play for friends and family in perpetuity. Of course, the joke was about his height.
A day of firsts
The state Legislature met for the first time in Albany on Wednesday, officially ushering in the new Democratic majority in the state Senate. Andrea Stewart-Cousins made history when the chamber officially elected her state Senate majority leader, making her the first woman to lead a chamber in New York state government. As expected, she laid out a progressive agenda in her first address to colleagues. The adoption of new rules drew criticism from Senate Republicans, who took issue with the newly revamped Ethics and Internal Governance Committee, the makeup of other committees and minority conference funding. Both chambers of the state Legislature are slated to vote on Monday on a number of bills intended to improve ballot access.
The state of New York City
New York City Mayor Bill de Blasio gave his annual State of the City address on a chilly Thursday morning. His speech had a markedly local tone, despite starting the week with two proposals – expanded health care access and mandatory paid vacation – that gained national attention. He emphasized addressing income inequality and promised to help protect workers and tenants. One new proposal involved renaming the city Department of Consumer Affairs as the Department of Consumer and Worker Protection, expanding the agency with programs targeting nontraditional workplaces. He also created a new Mayor's Office to Protect Tenants. In addition, de Blasio promised to increase city bus speeds by 25 percent within the next two years, expand prekindergarten for 3-year-olds, bring NYC Ferry service to Staten Island and create a universal retirement system.
Previewing progressive proposals
De Blasio previewed his State of the City by unveiling two landmark proposals earlier in the week. On Tuesday, he announced on MSNBC that he would guarantee access to health care to all New Yorkers, including the uninsured. The program will be called NYC Care, effectively an expansion of and publicity campaign for existing services already offered through the city's public hospital system. De Blasio also announced through The Washington Post that he will introduce new legislation requiring private companies give employees two weeks of paid time off.
Queens DA to retire
Longtime Queens District Attorney Richard Brown announced that he will not seek re-election. Although his announcement made it official, most expected the 86-year-old to retire at the end of his term. Several candidates have already announced their runs, including Queens Borough President Melinda Katz, New York City Councilman Rory Lancman and former judge Gregory Lasak. Brown was known for his tough-on-crime approach, a style that separated him from the city's other district attorneys, who in recent months and years have taken softer approaches to low-level drug offenses and subway fare evasion.
The L train and the MTA
Although Gov. Andrew Cuomo wants the Metropolitan Transportation Authority board to quickly approve his new plan to fix the L train tunnel and avoid a service shutdown, New York City Transit President Andy Byford said he would not be "steamrolled." He promised a thorough review of the plan to ensure its safety and efficacy. Byford later took to the radio to assure New Yorkers that he is still on Cuomo's side and is glad there is an alternative to a shutdown. While the studies and discussions continue, Cuomo said he wants to "blow up" the MTA and rebuild it from scratch.
Comings and goings
As the new year gets underway, both the Cuomo and de Blasio administrations have been shuffling their staffs. In New York City, Meera Joshi announced that she would step down after a tumultuous tenure as head of the Taxi and Limousine Commission. In Albany, the position of state operations director was divided among several staffers, with former state Senate GOP staffer Kelly Cummings handling infrastructure, Adam Zurofsky managing state policy and agencies, and Michael Kopy tasked with emergency management. Additional state appointees include Michael Schmidt as tax and finance commissioner, Letizia Tagliafierro as state inspector general and Linda Lacewell as superintendent of the state Department of Financial Services.