New York
The end of the state Senate subcommittee
The state Senate's two existing subcommittees and the three additional subcommittees that had been announced last month are being upgraded to fully-fledged standing committees.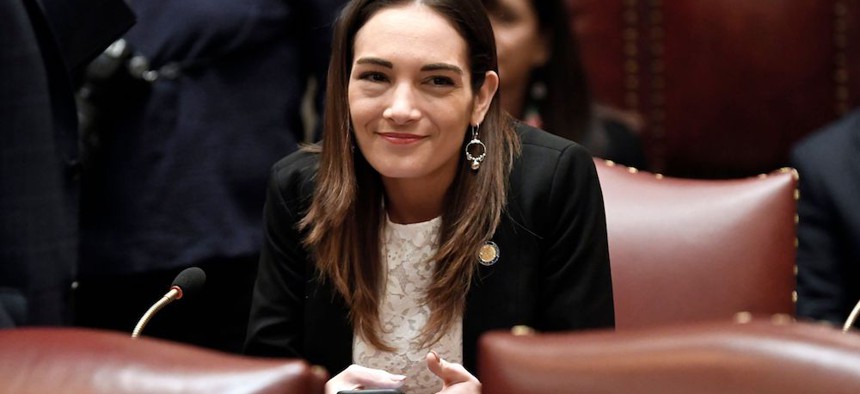 Titles can carry a lot of weight in Albany, and during the first week of the new session, five state senators got a big promotion. The five state Senate subcommittees that were announced for the new session have now been upgraded to fully-fledged standing committees, thanks to a provision in the Senate rules changes adopted on Wednesday.
When new state Senate Majority Leader Andrea Stewart-Cousins last month announced the committee assignments for the 2019 session, five Democratic state senators were given subcommittees to chair: state Sen. Diane Savino would lead Internet and Technology and state Sen. Brian Benjamin would head up Revenue and Budget, while three newly elected lawmakers also got subcommittee posts: John Liu heading New York City Education, Monica Martinez on Domestic Animal Welfare and Julia Salazar on Women's Health.
"These five subcommittees have been upgraded to full committees due to the important work they do for the residents of New York State," Senate Democratic majority spokesperson Gary Ginsburg confirmed in an emailed statement.
Two of the five planned subcommittees existed in some form last session, including the New York City Education Subcommittee and the Subcommittee on Internet and Technology – though the latter is a renamed combination of last session's Science, Technology, Incubation and Entrepreneurship Committee and a task force on technology and innovation.
But three committees – on women's health, revenue and budget, and domestic animal welfare – are entirely new. They never existed as subcommittees, though that is what they were referred to when Stewart-Cousins unveiled committee chairs in December. In the new Senate rules, the announced Revenue and Budget Committee is changed to "Budget and Revenues" and Women's Health is changed to "Women's Issues."
For the subcommittee chairs, the rules change means shedding less prestigious titles and playing on the same field as their Democratic colleagues. "I'm absolutely thrilled," Salazar said. "I'm really glad to see leadership taking this step and elevating our subcommittees to be standing committees. Specifically for my committee, it demonstrates that leadership and the legislature is finally going to really prioritize women's health. I think that keeping it as a subcommittee would've, at the very least, kind of perpetuated societal tendencies to minimize women's health, and so I think that elevating it to the standing committee will hopefully have the opposite, positive effect."
In this case, a shift from subcommittee to standing committee makes no difference in what the senators are paid. While legislators in leadership positions have in the past received stipends – known as "lulus" – for the extra work they put into chairing certain committees, a special pay commission moved to cut back those stipends late last year. None of the five new committee chairs will receive a stipend.
Salazar, not being privy to the decision-making process to write this change into the new rules, said she wasn't certain why what was first announced to be subcommittees were being elevated to full standing committees, but she guessed that it had something to do with a lack of clarity about the powers of subcommittees.
"I think that it was partly due to ambiguity about the purview and role of subcommittees, and in order to avoid that ambiguity and make sure that all of us would be able to equally exercise power in the positions that we earned, I think that they may have motivated it," she said.
While the Committee on Domestic Animal Welfare will likely never be accorded the same attention as say, the Finance Committee, the elevation to full committee standing offers at least a hint that the subjects of these committees might be taken more seriously. "The fact that now there will be a committee that's actually dedicated to women's health, to discussing issues and legislation that directly impact women, I think that that in and of itself is a big difference beyond the symbolism of it," Salazar said.
Martinez, a new state senator, echoed Salazar's enthusiasm. "I look forward to serving as chair of the Domestic Animal Welfare committee to protect survivors of domestic violence and stiffen penalties on animal abusers," she wrote in an emailed statement. "Through the efforts of this committee, we will keep our communities safe and improve the quality of life for all residents."
Earlier this week, City & State spoke with state Sen. Diane Savino about how she planned to lead her then-subcommittee on internet and technology. While Savino said the demotion to a subcommittee didn't bother her – she previously served as vice chair of the Finance and Codes committees as a former member of the now-defunct Independent Democratic Conference – she was concerned that technology issues weren't being taken seriously enough in the Legislature. "I'm excited about this development and thank Majority Leader Stewart-Cousins for recognizing the importance of the work that will be done in this committee," Savino wrote in an emailed statement on Friday. "We know that industries like the gig economy will have a drastic impact on our state, and that government oversight will be especially important."
John Liu, the new state senator and former New York City comptroller, prioritized education issues during his campaign, but lost out to chairing the Education Committee to state Sen. Shelley Mayer. Now, as chair of the Committee on New York City Education, Liu may be able to draw more attention to issues he cares about, like prioritizing funding for public schools in the city and considering the issue of school discipline reform.
"This session has just begun with some settling whenever there are such dramatic changes in the makeup of the body," Liu wrote in an emailed statement. "Nonetheless, the education issues are of such paramount importance that a great deal of consensus is being built, regardless of committee, subcommittee, caucus or conference structures."
As Liu alludes to, the elevation of the state Senate subcommittees may be mostly symbolic, but champions of underappreciated issues argue that symbolism matters. "Even as a symbolic change, it's really significant because it sends a message to the public about what our priorities are," Salazar said about her committee devoted to women's issues. "It hopefully changes narratives about the importance of women's wellbeing in our society and sends a message to the patriarchy."