Andrew Cuomo
Think lawmakers have a say in the state budget? Think again.
How Cuomo amassed even more control over the state's multibillion-dollar spending plan.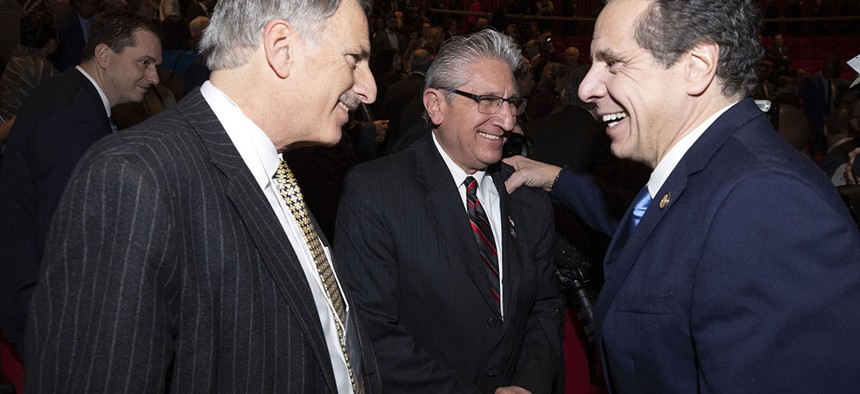 For the next two months, New York's 213 legislators will hold budget hearings, stage press conferences and push for a New York state budget that funds their priorities, but their efforts can only do so much. When it comes to determining what gets into the state budget, one man – Gov. Andrew Cuomo – holds nearly all of the leverage.
From the perspective of many Democrats at least, the governor appears to be wielding his budget power for good. The $175 billion proposed state budget that Cuomo unveiled on Jan. 15 includes a litany of legislative proposals aimed at making good on his claim to be advancing the "most progressive agenda this state has ever seen, period." This includes legalizing recreational marijuana, codifying Obamacare in state law, reforming the criminal justice system and passing a "Green New Deal."
However, any legislators – or voters, for that matter – who do not like what they see in the spending plan's many proposals, big or small, have limited options to pursue changes.
This would be true in any year, thanks to advantages in the state Constitution and court rulings that favor the governor. This year, there is the fact that Democratic majorities in both houses of the state Legislature are eager to make good on the progressive platforms that got them elected, especially since they have their strongest hold on state government in over a century.
Finally, since only the governor can add items to the spending plan, lawmakers either have to pass Cuomo's package of progressivism or risk failing to meet the April 1 budget deadline. In any year, this would generate bad press and risk the ultimate passage of some legislation. But in 2019, it is personal for lawmakers – if they fail to deliver an on-time budget, they could lose out on a $10,000 pay raise.
For new lawmakers, the budget process will offer them a crash course in the political realities of Albany, according to former Assemblyman Richard Brodsky, a longtime critic of the existing budget process. "There is going to be a rude awakening," he said. "This system is un-American and the new people in Albany are a smart, reform-minded and sincere group of people." So many progressive priorities on the table also makes it easier for many lawmakers to lose sight on how passing them in the budget could ultimately undermine their own power, according to Brodsky. "The governor has promised interest groups that he would carry their water," he said. "The governor is a hero to the people that share that view and that makes it less likely to ask: 'Do we really want to run the government this way?'"
As in many states, the governor in New York each year takes budget requests from agency heads and then packages them into an executive budget that is submitted to the state Legislature. Lawmakers deliberate the merits of the budget and hold hearings, then use a conference committee process to reach a budget agreement. The appropriations bills are voted on to become law – except for any items that the Legislature adds. If the governor does not like such proposals, he can simply use his line-item veto to remove them. This in effect means that the state Legislature is forced to either pass or delay the governor's budget proposal, because lawmakers cannot legally change anything except to reduce spending levels or strike out items.
A 1927 state constitutional amendment established the current process, but over the subsequent decades more give-and-take was allowed in budget negotiations. That all changed with the landmark 2004 state Court of Appeals decision in Silver v. Pataki, which reasserted the governor's dominance of the process. In subsequent years, governors learned how this power could be used to pass more than just fiscally-minded ideas to keep the government running. Gov. David Paterson was the first executive to push a Legislature to force through a budget by threatening to simply place his entire proposed budget into any "extender" that would go before lawmakers to keep government operating if the budget deadline were missed.
Cuomo has capitalized on the expanding institutional powers. With Democrats now in control of the Legislature, he has doubled down on this strategy of ramming through policy measures in the spending plan, demanding passage of his "Justice Agenda" that he aims to pass within the first 100 days of his third term, including voting reforms and anti-discrimination protections for transgender people.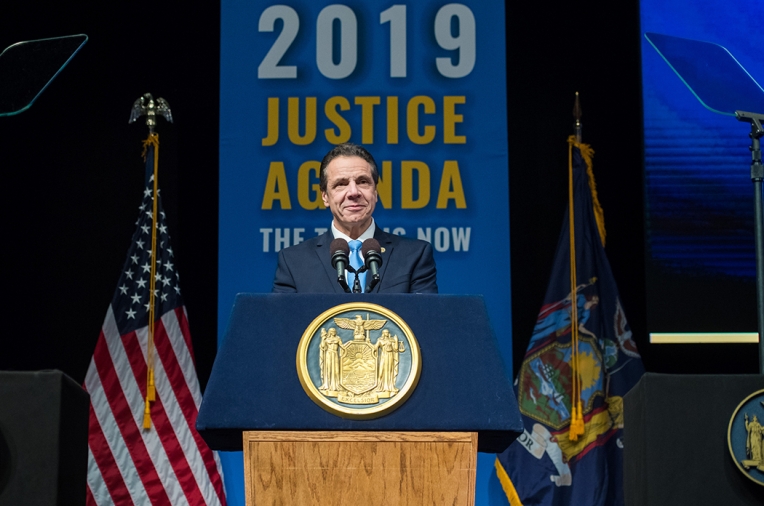 Add to this a controversial condition of the legislative pay raises agreed to late last year, and it is clear why Cuomo's advantages have increased. Last year's budget created a commission to ultimately granted state legislators their first pay raise in 20 years, but it came with conditions. The commission recommended that lawmakers have phased in salary increases reaching $130,000 in 2021, but it made each raise contingent on the timely passage of the previous year's budget, among other conditions. Assuming that ongoing litigation does not nullify the conditions of the pay raise, lawmakers now have a powerful personal incentive to pass the spending bills on time – historically one of the few ways they could apply political pressure to alter the budget was to delay it – and to accept Cuomo's proposals without too much opposition.
The only real option to put a check on the governor's budget power would be to pass a state constitutional amendment. This would require for two successive legislatures to pass a proposed amendment – the governor does not need to sign off – which would then go to voters as a referendum. Although no such proposal has been introduced, some lawmakers signalled they are open to the idea in principle. "Any branch of government should be balanced by another branch," said state Sen. Alessandra Biaggi when asked if she would be open to a constitutional amendment to grant the Legislature additional budgetary powers. "That's the whole point of checks and balances." Representatives of Stewart-Cousins and Assembly Speaker Carl Heastie did not respond to requests for comment on whether they would push for a constitutional change to the budget process.
A recent editorial in the Times Union pointing out the governor's sweeping powers argues that one-party rule in Albany actually presents a unique opportunity for such a dramatic move since it would be a Democratic Legislature working with a governor of its own party. "Lawmakers could quite credibly say it's nothing personal or even political," the Times Union writes. "It's just democracy."
Lawmakers could opt to support an amendment that largely keeps the current budget system in place, while offering the Legislature additional powers. Or lawmakers could push for an amendment that would vastly expand legislators' power. Five states – Arizona, Colorado, New Mexico, Oklahoma and Texas – have legislative budgeting systems, which give more power to lawmakers rather than a governor. Such an idea gaining traction appears unlikely, but legislative budgeting has one virtue that the current system does not: It places the power of the purse among many elected leaders rather than largely with one person.
Democrats may be in control of state government now, but if and when their political fortunes change, they may wish that they took action in 2019 to curb the budgetary powers of the governor, according to Brodsky. "The drive towards unfettered executive power is not unique to New York, but it is more intense," Brodsky said. "Sooner or later, this state is going to elect a Republican governor."
Powered By
NEXT STORY: What is Kirsten Gillibrand's path to victory?