New York State
What is Kirsten Gillibrand's path to victory?
Experts weigh in on New York Senator Kirsten Gillibrand's chances in the 2020 presidential race.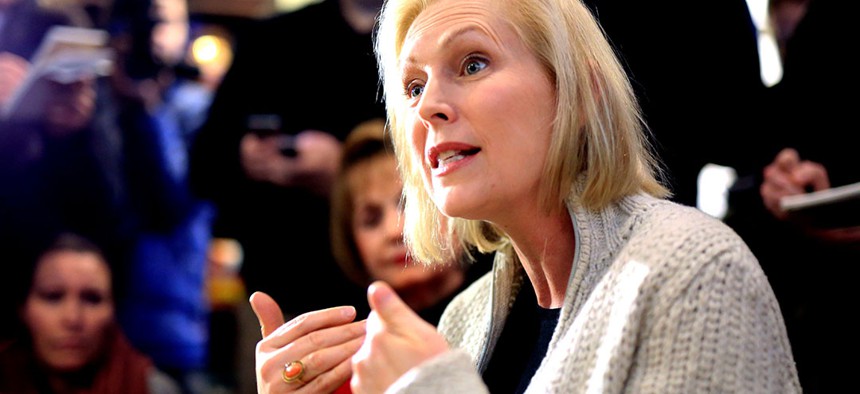 Just over a year before the Iowa caucuses, U.S. Sen. Kirsten Gillibrand has jumped into the race for president. During her announcement on "The Late Show with Stephen Colbert," she hit on key themes – health care as a right, taking on institutional racism, addressing climate change – that may resonate with Democratic primary voters in 2020. But New York's junior senator has also faced questions about the more conservative policy views she has held in the past, particularly when she was a congresswoman representing an upstate district.
Earlier this week, we asked our readers what they think of Gillibrand's chances. Most (87 percent as of Tuesday evening) predicted that she would not prevail in the Democratic primary, while readers also said two other New Yorkers – President Donald Trump and former New York City Mayor Michael Bloomberg – have a better shot at winning in 2020 than Gillibrand. (A number of write-in votes were also cast for non-New Yorkers.)
As part of City & State's new weekly "Ask the Experts" feature, we're turning to the experts to offer their analysis: Doug Muzzio, a political scientist at Baruch College; Ken Fisher, an attorney at Cozen O'Connor and a former member of the New York City Council; Bruce Fisher, director of the Center for Economic and Policy Studies at SUNY Buffalo State; and Larry Levy, executive dean of Hofstra University's National Center for Suburban Studies.
---
What are U.S. Sen. Kirsten Gillibrand's chances in the Democratic presidential primary?
Ken Fisher: As the last three Democrats elected president looked improbable a year before their New Hampshire primaries, Kirsten Gillibrand cannot be ruled out for 2020, but it's not easy to see her path. She is not one of the top three – Biden, Sanders, Warren. Rather, like any one of a dozen next-tier candidates, she has to hope that the party is both impatient for a generational shift and that she can somehow break out from the rest. Despite her professional accomplishments, she does not have a compelling personal story, having grown up in a politically connected middle class upstate family, done a stint as a corporate lawyer, winning a Republican House district, and then appointment to the Senate. Nor does she have an uncontested lock on a particular demographic or ideological cohort. Rather, she offers a keen intellect and a pleasant demeanor, with political views that continue to "flip" or "evolve" depending on whether one is a fan.
Larry Levy: In a crowded field her appeal to suburban voters could give her a base to work from. Her image is more moderate than most of the others and suburbanites are more comfortable with a so-called pragmatic progressive than some of the others moving harder to the right. Understand that in many states, suburbanites do not play the outsiders role in a Democratic primary as they do in the general election – where they are decisive – but there are enough Democrats in these places between city and country to make a difference with many candidates splitting up other bases.
Doug Muzzio: Between slim and none. A better shot at VP but true for everyone.
Bruce Fisher: Gillibrand is a cautious establishment Democrat asking party activists – most of whom agree on the 2016 Bernie Sanders platform – to choose her over Joe Biden, Kamala Harris, Cory Booker, Beto O'Rourke and Amy Klobuchar. It's crowded in Gillibrand's middle, it's even more crowded on the left, and Elizabeth Warren already has ground operations in Iowa and New Hampshire.
What is her path to victory?
Larry Levy: Through West Des Moines, neighborhoods just north of the the New Hampshire-Massachusetts border, and the suburbs of San Diego, Los Angeles, San Francisco and those of other smaller cities.
Doug Muzzio: No reasonable path. A great deal of good fortune. At least she has to win the "woman lane."
Bruce Fisher: She's a great candidate for a party that has super delegates. Since they're gone, she's going to have to convince centrists that Biden is too old, and that everyone else is too left. The Democratic party base is now farther left than her, but she's starting with insufficient name recognition or infrastructure to outlast Biden.
Ken Fisher: Gillibrand is overtly running a gender-based campaign, touting her status as a "young mom" focusing on fired-up women, whose initial entry to the national stage was calling out sexual abuse of women in the military, a broadly well-received precursor to the #MeToo movement. Touting her rural upbringing and values, she also claims the moderate mantle of one who can cross political divides, notwithstanding her steady drift left on guns, health care and immigration. She has been tactically shrewd, building a large online network, hoarding cash from her recent campaign and locating her headquarters in Troy, less than an hour from the New Hampshire border. She bills herself as a "fearless reformer who gets results," whose campaign launch video closes with Jon Stewart reciting her legislative accomplishments while observing that they were under the radar screen and out of the spotlight. What she will need is a viral moment commanding the nation's attention sufficiently to warrant a closer look as the front-runners stumble.
Does having Donald Trump in the White House make it harder for another New York candidate for president to succeed?
Doug Muzzio: No. Depends on the candidate. And the Electoral College calculation.
Bruce Fisher: She is a very strong vice presidential candidate, and being from New York, and knowing Wall Street, will help the ticket, which won't be led by her.
Ken Fisher: Trump's New York association is no obstacle to Gillibrand, or Bloomberg, de Blasio or Cuomo should they run, given his failure as a favorite son, but Alexandria Ocasio-Cortez's  is. Gillibrand will tout her small town upbringing but her gender will inevitably draw linkage to the social media savvy democratic socialist with big city sensibilities. Whether Republicans shift from attacking Nancy Pelosi's "San Francisco radicalism" to Chuck Schumer's "New York elitism" as control of the Senate moves to the fore remains to be seen, but given their deficits in an increasingly urban and diverse America, it's hard to see this as an appeal to swing voters. Regardless, the fact remains that three of the four Democrats from other than the eastern seaboard won and the two who were lost. Democrats focused on winning may remember that.
Larry Levy: Nah. If people don't like New Yorkers, they don't like New Yorkers and she wouldn't get them anyways. If anything, her early stands on behalf of women – who overwhelmingly dislike the president – provide a strong contrast to Trump.
Powered By
NEXT STORY: Meet New York's newest members of Congress