Jumaane Williams
A June public advocate primary unlikely to see same candidates
Jumaane Williams' win was too broad to suggest potential paths to victory for other Democrats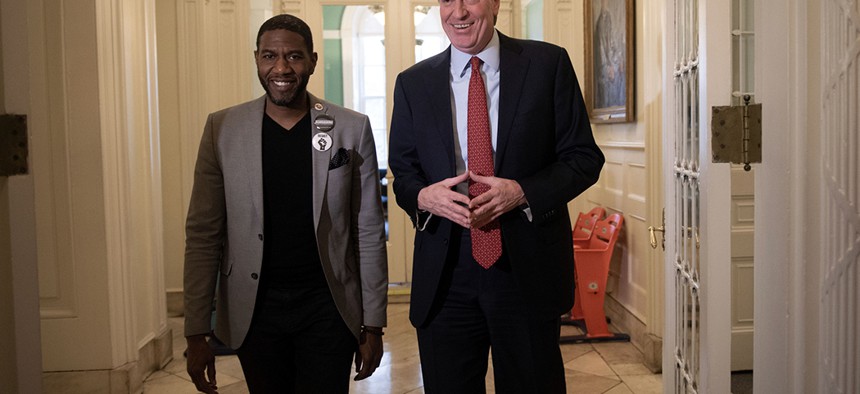 With the Democratic primary for public advocate set for June, does newly elected Jumaane Williams risk losing the office almost as soon as he has won it? The short answer: probably not.
Williams won fairly decisively with over 33 percent of the vote with 98 percent of precincts reporting in a 17-way race. His closest Democratic challenger, former City Council Speaker Melissa Mark-Viverito, only received about 11 percent. Although some pre-election analysis suggested the possibility of a tight race given the large number of candidates, and even a win by City Councilman Eric Ulrich, the only Republican elected official in the race, Williams pulled well ahead of his competition. Ulrich came in second with 19 percent.
Political consultant Jerry Skurnik told City & State that Williams seems to have successfully leveraged his name recognition following his failed lieutenant governor run. Although Williams lost that race, he came surprisingly close to unseating incumbent Lt. Gov. Kathy Hochul in the Democratic primary last year, including winning in New York City. He said that given William's election night numbers, he does not see a viable path to victory for any of the other Democrats in June. "It would be pretty hard for me to honestly tell one of the 14 other Democrats 'here's a path for you to beat him,' if it's just a two or three-person race," Skurnik said. "His victory was pretty strong – in a 17-person race, getting a third of the vote is pretty impressive."
When broken down borough by borough, Williams handily won his home borough of Brooklyn, which he represents part of in the City Council, as well as Manhattan, Mark-Viverito's home turf. According to a further breakdown by Steven Romalewski at the CUNY Urban Center, William outperformed Mark-Viverito in all but one Assembly district in Manhattan, which was the East Harlem area she represented during her time in the City Council. Skurnik suggested that she suffered more from a split vote, with two other Latino candidates – City Councilmen Ydanis Rodriguez and Rafael Espinal – on the ballot, than Williams did. But adding Rodriguez and Espinal's vote totals to Mark-Viverito's still leaves her far short of Williams' share of the vote. And Williams also faced competition for black and Caribbean-American voters from Assemblyman Michael Blake, who came in fourth with 8 percent.
Additionally, in the three boroughs Williams did not win, Staten Island, Queens and the Bronx, he finished with the second-most votes – behind Blake in the Bronx and Ulrich in Queens and Staten Island. Fordham University political science professor Christina Greer said that his performance in each borough suggests that he won a broad coalition of voters despite the low turnout, which hovered at a little under 8 percent. "It's not like he only got, say, Caribbean voters in a particular part of Brooklyn," Greer said. "He sort of knocked it out of the park when you look at class, race, gender, ethnicity and borough." She agreed with Skurnik that a primary run by any of the other major candidates would seem unlikely and would be hard to justify to donors given William's margin of success in the special.
Mark-Viverito may have a slim chance at victory if she ran one-on-one against Williams and continued to emphasize the importance of having a woman and Latina in a citywide position, Greer suggested. But she said that the potential damage of another loss would likely be too great a risk for Mark-Viverito to take. "If she does come back, and she loses, I really think that that would say a lot about her future prospects for anything," Greer said. "Sometimes people get branded as losers, whether it's fair or not fair, but that's why you need to be strategic about the races you run." Mark-Viverito told City & State on election night that she had not made any decision about whether or not she would run again.
In a city like New York, which is predominantly Democratic, most elections are largely decided through primaries, which is why some, like the editorial board of the Daily News, advocated for results that would lead to a competitive primary. But New York also has notoriously low voter turnout during general elections and even more so during primaries. If one were to compare this special election to the 2013 public advocate primary, the last time the seat was open, Williams actually won by more votes than Letitia James did that year. Although she received 191,347 votes in the initial primary, the results led to a runoff election, when she got only 119,604 in total. While one cannot directly compare an open special election to a closed primary during a normal election year, Williams, with his 133,809 votes on Tuesday, technically received a larger number of votes. The turnout for this election is also greater than the 2017 public advocate primary, when just 393,869 voters cast a ballot. So, it's unlikely that a competitor could see a path to unseating Williams through drawing on voters who stayed home this time but will come out in June.
Powered By
NEXT STORY: Crowded field already forming for Williams' council seat