New York City
Jumaane Williams wins public advocate race, Eric Ulrich finishes second
Tracking the outcome of New York City's Feb. 26 public advocate special election to replace Letitia James.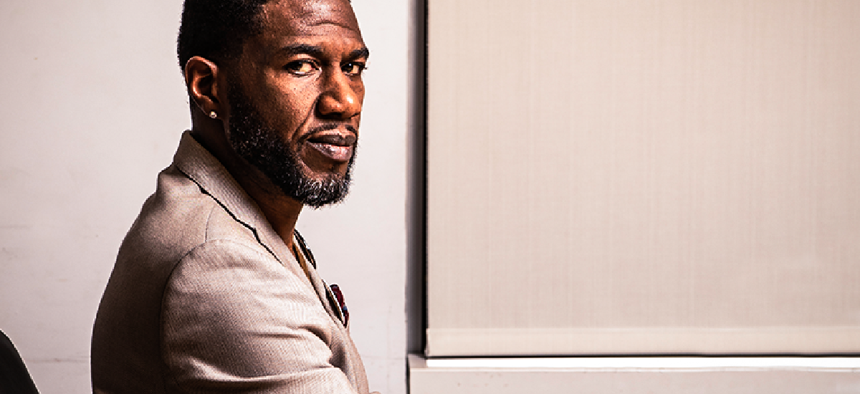 Jumaane Williams has been elected New York City public advocate, giving the Brooklyn city councilman a citywide platform for his liberal activist brand of politics. Williams decisively beat the crowded, 17-member field Tuesday night, winning nearly 33 percent of the vote as of 11 p.m., with more than 96 percent of the votes in.
Queens City Councilman Eric Ulrich, the only high-profile Republican in the race, came in second with nearly 19 percent of the vote. Rounding out the top five were former City Council Speaker Melissa Mark-Viverito at 11 percent, Bronx Assemblyman Michael Blake at 8 percent and Manhattan City Councilman Ydanis Rodriguez at 6 percent.
Williams celebrated Tuesday night at Cafe Omar, a nightclub within his council district in East Flatbush, Brooklyn, delivering a speech on stage surrounded by a elected officials from across the city. "Our voices together send a message loud and clear," he said. "The challenges that we face are great, but we can rise to conquer any hill."
Williams choked back tears as he spoke about his struggles growing up with Tourette syndrome, sometimes crying himself to sleep. "I got something to say to that young man who I think about often," he said. "His name is Jumaane Williams, and he's the public advocate of New York City."
Williams' public advocate campaign seemed to benefit from his profile-raising run for lieutenant governor in 2018. Williams ran against Lt. Gov. Kathy Hochul and, though he lost statewide, he actually won more votes than Hochul in New York City. Many of his backers in that race supported Williams in the public advocate race as well, including The New York Times, the influential Working Families Party and former gubernatorial candidate Cynthia Nixon, with whom he ran on a ticket against Gov. Andrew Cuomo last year.
The fact that Williams challenged the politically all-powerful Cuomo ticket last year speaks to the brand of politics he's cultivated since first getting elected to the City Council in 2009. Williams has been a productive legislator, passing more bills than almost any other member, while speaking out on progressive priorities like ending stop-and-frisk policing and strengthening protections for residential tenants. Williams appeared to be the front-runner from the beginning of the race, and fellow candidates weren't shy about bringing up past controversies, like his history of unsafe driving, his past personal opposition to same-sex marriage, and a 2009 arrest that never resulted in charges. But none of the negative stories seemed to stick to him, as Williams rode a wave of support to the public advocate's office at One Centre Street.
Williams' election brings some racial diversity to New York's slate of citywide elected officials. Williams is black, and his family immigrated from the Caribbean nation of Grenada. New York City Mayor Bill de Blasio, New York City Comptroller Scott Stringer and New York City Council Speaker Corey Johnson, who has been the acting public advocate, are all white men. Williams has also been public about his Tourette syndrome, mentioning the neurological condition which causes him verbal and physical tics, in his first television ad.
However, the election did not inject any gender diversity into the city's top elected leadership. Mark-Viverito, the former council speaker, was one of the frontrunners in the race, but ultimately fell far short of Williams. But in her concession speech, she called for women to follow her lead and run for elected office.
"Women in New York are no longer just fighting for a seat at the table," Mark-Viverito said. "We're demanding half of the seats. So every young woman who saw an aggressive, progressive Latina running for citywide office know this: It's your turn now."
The public advocate is first in line for the mayoralty if de Blasio were to leave office. But Williams insists he won't use the position to run for mayor. "To the mayor," Williams said Tuesday night, "I'm not running for your job. But together, we have to make sure that government is working on behalf of the people."
De Blasio, himself a former public advocate, released a statement congratulations Williams on his win, saying it's the office holder's job to hold "our entire city government accountable."
But before talk of any higher office, Williams will have to defend his seat this year. Another public advocate election will follow this year, with the primary in June and the general election in November.
It's unclear how many – if any – of the candidates who ran in this February special will run again. Should he run again, Ulrich would be unlikely to come as close to Williams in a one-on-one matchup in November, given the city's vast Democratic enrollment advantage, while Williams received three times as many votes as his closest Democratic rival, Mark-Viverito.
Here are the latest preliminary results from the New York City Board of Elections, including each candidate's party line and their share of the vote with nearly 97 percent of the ballots in shortly after 11 p.m. on Tuesday. 
Jumaane Williams (It's Time Let's Go): 33.22%
Eric Ulrich (Common Sense): 19.12%
Melissa Mark-Viverito (Fix the MTA): 10.96%
Michael Blake (For The People): 8.24%
Ydanis Rodriguez (Unite Immigrants): 6.02%
Dawn Smalls (No More Delays): 4.10%
Rafael Espinal Jr. (Livable City): 3.21%
Daniel O'Donnell (Equality For All): 2.85%
Ron Kim (No Amazon): 2.84%
Benjamin Yee (Community Strong): 2.58%
Nomiki Konst (Pay Folks More): 2.32%
Helal A. Sheikh (Friends of Helal): 1.29%
David Eisenbach (Stop REBNY): 0.79%
Manny Alicandro (Better Leaders): 0.75%
Anthony Tony Herbert (Residents First): 0.72%
Latrice Walker (Power Forward): 0.57%
Jared Rich (Jared Rich for NYC): 0.23%
With 98.01 percent of scanners reported.
Powered By
NEXT STORY: The next public advocate race has already begun