New York City
Public advocate candidates blitz de Blasio and Amazon, draw distinctions
Takeaways from the second official New York City public advocate debate ahead of the Feb. 26 special election.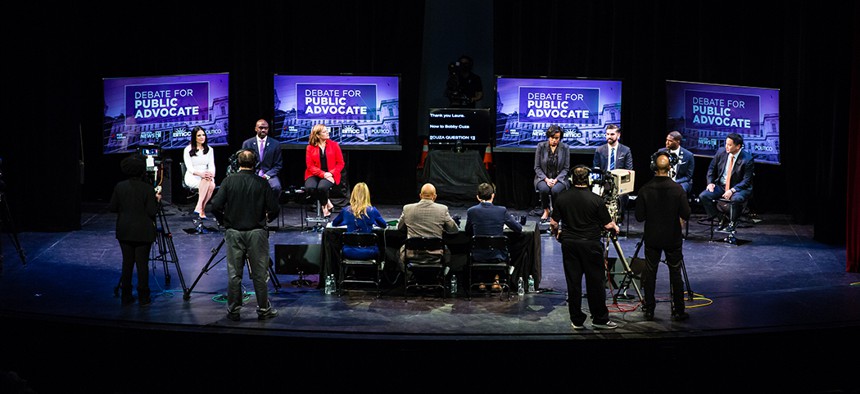 Seven candidates took part in the second official debate for New York City public advocate Wednesday night. It was a 90-minute slugfest dense with discussion, but the candidates had no shortage of criticism for the mayor – and each other.
Here are a few things we learned:
De Blasio is the opposition
The public advocate can, as debate moderator and NY1 political anchor Errol Louis described it, "partner with the mayor, or be a thorn in his side." The candidates on stage all expressed more interest in positioning themselves as thorns, repeatedly assailing New York City Mayor Bill de Blasio's record on the interconnected crises of housing and homelessness and his role in wooing Amazon. But the harshest sound bites came when co-moderator Laura Nahmias of Politico New York asked the candidates if de Blasio were qualified to run for president – an option the mayor notably has "not ruled out."
"He is not qualified to run for president. He should not run for president," Assemblyman Michael Blake responded bluntly. Assemblyman Ron Kim called the mayor "completely delusional." Former New York City Council Speaker Melissa Mark-Viverito, a former de Blasio ally, echoed her previous comments to New York magazine, saying de Blasio lacked focus. And New York City Councilman Jumaane Williams touted his classification in City & State as one of "de Blasio's enemies."
De Blasio has not endorsed in the public advocate race, and likely will not, but there are rumors abound about who the mayor is privately backing. The debate made it clear that none of the major candidates are buttering him up.
New York City Councilman Ruben Diaz Sr., who recently lost his committee chairmanship after making offensive comments about gay people, may have put it best:
During the Public Advocate Candidates's debate everyone ran away from mayor Bill DeBlasio faster than they ran away from me

— Rev Ruben Diaz (@revrubendiaz) February 21, 2019
Labor is a key
The debate began in an area of mayoral agreement, with candidate Nomiki Konst, a former journalist, giving verbal support to the IBEW Local 3 union members who have been on strike for nearly two years against Spectrum, the parent company of debate host NY1. De Blasio has, at times, avoided appearing on NY1 over the last few months in solidarity with the striking workers. Blake and Williams also mentioned the striking workers in their opening statements.
It was a reminder of the important role that labor will likely play on Tuesday, Feb. 26, as candidates struggle to get voters to the polls for a mid-winter special election. Blake earned a roar in the crowd when he mentioned DC37 Local 372, which had endorsed him, but labor endorsements have been relatively rare in the race. Some of the city''s most politically potent unions, like 1199 SEIU and 32BJ SEIU, haven't endorsed and aren't planning to do so.
Amazon is still a factor
As in the previous televised debate, all the candidates assailed the economic development deal that would have brought tech giant Amazon to Queens. De Blasio championed the since-cancelled deal, which promised at least 25,000 new jobs from Amazon alone, but the candidates all knocked the negotiations as being too secretive and the deal too generous, even if there was disagreement on stage about whether Amazon pulling out entirely was a positive result for New York.
"We shouldn't be competing with other cities and states to give away billions of dollars," said Kim, who is running on the "No Amazon" ballot line and has largely defined his candidacy by his consistent opposition to the deal. Dawn Smalls, by contrast, tried a more measured tone, claiming she was the only candidate on stage who never attended an anti-Amazon rally. But that didn't mean she supported the deal, as Smalls also noted she was "anti-two men going into a back room," referencing de Blasio and Gov. Andrew Cuomo's roles in negotiating with Amazon.
There are real differences among the candidates
Yes, it's tempting to write off the crowd of liberal Democrats on stage as all the same, given their almost universal agreement on issues like allowing immigrants who live in the country illegally to get driver's licenses and vote, or their universal condemnation of the Amazon deal. But the debate allowed for some nuance on certain topics like how to regulate the vacation rental platform Airbnb in New York, or whether candidates supported building more city-subsidized affordable apartments, even if the income bands to qualify for housing were higher than the neighborhood's median income. Yes, a televised debate isn't the ideal platform for digging into details – and voters didn't hear a thing from the 11 other candidates on the ballot who didn't qualify for the debate. But the candidates all offered differing visions for the city, and differing strategies for how to fix what they see as wrong. So voters should pay attention – after all, any one of them could be mayor one day.
Powered By
NEXT STORY: Who's leading in the NYC public advocate race?