Campaigns & Elections
The next public advocate race has already begun
New Yorkers may vote for public advocate four times in 2019.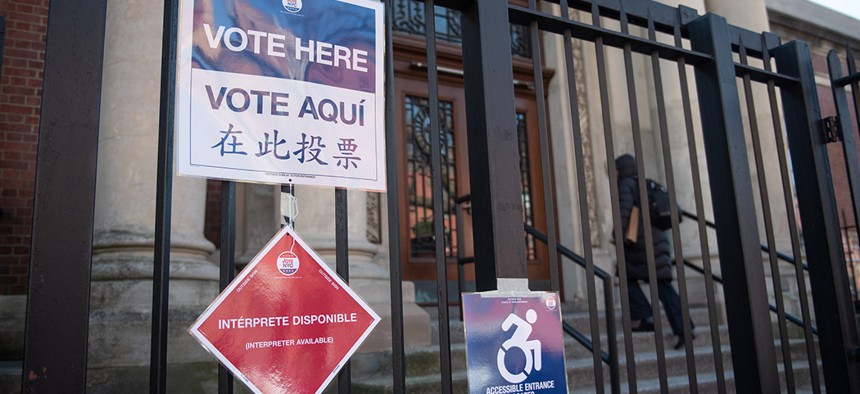 The next New York City public advocate elected on Tuesday will be the third person to hold this position in a single term, including New York City Council Speaker Corey Johnson, who temporarily took over as acting public advocate on Jan. 1 following Letitia James' swearing-in as attorney general of New York state.
But that's just the beginning of the multi-part replacement process for James.
This special election is just the first round in a series of elections lined up this year for the slot to be the people's representative. Tuesday's winner, from among a crowded field of 17 contenders, will fill the vacancy left by James at least until Dec. 31. He or she will have an incumbent's advantage, but will still have to compete to finish out the remainder of the term, in an election held on the normal calendar – a primary in June, with a possible runoff if no one clears 40 percent, and a general election in November. The competition starts as soon as this race ends. That means New Yorkers could vote for public advocate at least three times this year and, theoretically, as many as four if the partisan primaries lead to a runoff. (Had James not left office early, the public advocate office wouldn't have been open again until 2021.)
How will Tuesday's special election winner be determined? In the most straightforward way: The person with the most votes wins. This is the first-ever special election for the citywide office. There's no minimum percentage of votes necessary to be declared the winner. This is unlike a general election, or a crowded primary, in which a runoff election is held if no candidate receives 40 percent of the vote. In fact, this was James' path to the public advocate seat. In 2013, James, at the time a Brooklyn City Council member, won a primary runoff to become the Democratic nominee for the position. There are clear frontrunners in today's race, but in a scenario in which votes split evenly, a winner – and, should tragedy strike, the next mayor – could be chosen with less than 10 percent of voting New Yorkers' support.
Feb. 26, 2019, is both the date of the special election and the first day for hopefuls to start circulating petitions for the public advocate primary, which will be held in June. Anticipate a more contentious race this summer. The upcoming elections are partisan, so all 15 of the Democratic candidates who ran this time would be competing with one another for the same line on the ballot if they ran again. City Councilman Eric Ulrich (and the lesser-known candidate Manny Alicandro) could face new challengers if a Republican primary is held.
The general election will take place in November, and the winner will serve until Dec. 31, 2021, for the remainder of James' four-year term. And there's no guarantee that that person will be tonight's winner. There's at least one case in New York City's electoral history in which the winner of a special election did not go on to win the primary or the general election. When former Assembly Speaker Sheldon Silver's seat opened up following his 2015 conviction for corruption, Alice Cancel won the special election to replace him. However, she went on to lose the 2016 Democratic primary to Yuh-Line Niou (and then the general election while running on the Women's Equality Party line), never serving a full two-year term.
Should Ulrich win Tuesday, he'll be the first Republican elected in the position's history and set the stage for a more contentious primary among Democrats in June, as many candidates would likely see him as vulnerable in the November general election.
Should frontrunner Jumaane Williams become public advocate tonight, for his supporters, it'll be about time. Counting his 2017 run for New York City Council speaker and his 2018 campaign for the Democratic nomination for lieutenant governor, he's lost two elections in the past two years – three, if you count his being technically moved into a state Senate race as the Working Families Party nominee, to get him off the general election lieutenant governor ballot.