New York City
What to watch for in the public advocate debate
The New York City public advocate special election race has narrowed as candidates try to separate themselves in the first debate.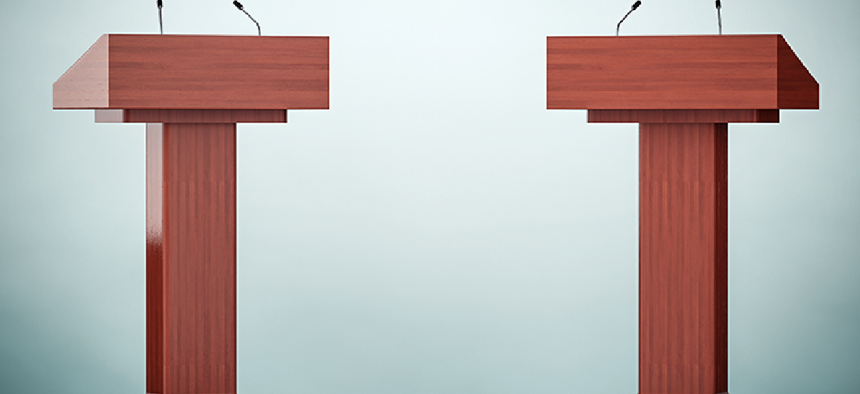 On Wednesday, 10 candidates will vie for voters' attention in a special election to decide who gets to hold a largely ceremonial office for less than a year. So why does the first of two debates for New York City public advocate matter? In part, because it may have a major influence on who becomes second-in-line to be mayor. With so many candidates in the race, no primary to select a Democratic nominee who can cruise through the general election, and no clear frontrunner in name recognition, the field is wide open.
When trying to stand out on such a crowded stage, the incentive may be for candidates to be aggressive and confrontational, to get voters take notice, as the unusually competitive election for citywide office edges toward its temporary conclusion. (Campaigning will restart only months later for a June primary and a November general election to serve through the remainder of what would have been now-state Attorney General Letitia James' full term).
The biggest loser in midtown's CUNY television studios tomorrow night may be Mayor Bill de Blasio, as candidates – who mostly are competing for the same liberal voters – will likely try to set themselves apart in the two-hour debate by being tough on the current mayoral administration.
The public advocate's power is actually fairly limited, so the race isn't really a big battle of ideas and policies. Basically the city's ombudsman, the public advocate churns out press releases attempting to hold City Hall and villains, such as the city's worst landlords, rhetorically accountable. It provides a useful platform for seeking higher office, which is why so many ambitious legislators and activists are now competing for it. The main qualification would seem to be who is best criticizing the mayor, hence why de Blasio is likely to be harshly critiqued throughout the evening.
New York City Councilman Eric Ulrich, as the lone Republican debate participant, has perhaps the strongest claim to being independent of de Blasio politically – but he is not well-positioned to convince New York's liberal-leaning voters that he is the best friend to the disempowered, such as the victims of police brutality or communities harmed by greedy developers.
In terms of name recognition, the frontrunners are Melissa Mark-Viverito, the former council speaker, and Jumaane Williams, the Brooklyn city councilman whose political stock rose after winning New York City - but falling short statewide - in the Democratic primary for lieutenant governor.
As for the issues, drink every time you hear a candidate say "Amazon" or "affordable housing" – you can expect to hear a lot of complaints about the deal to bring the former to Queens and about the lack of the latter. There's a good chance that a cannabis tax will come up, too, as Mark-Viverito advocates using pot legalization to pay for subway repairs, even though the public advocate will have no say over that policy, which is decided at the state level.
Here's the full list of contenders:
Assemblyman Michael Blake
City Councilman Rafael Espinal Jr.
Assemblyman Ron Kim
Activist Nomiki Konst
Former City Council Speaker Melissa Mark-Viverito
Assemblyman Daniel O'Donnell
City Councilman Ydanis Rodriguez
Attorney Dawn Smalls
City Councilman Eric Ulrich
City Councilman Jumaane Williams
The first debate will air on Spectrum News NY1 on Wednesday, Feb. 6, at 7 p.m. NY1 will also livestream the debate on the NY1 website and Facebook page.
Powered By
NEXT STORY: Democratic state legislators' constitutional moves