Andrew Cuomo
Why Cuomo is so furious at Long Island Senate Dems
Gov. Andrew Cuomo feels Long Island state Senate Democrats said nothing on behalf of the Amazon deal until it was too late.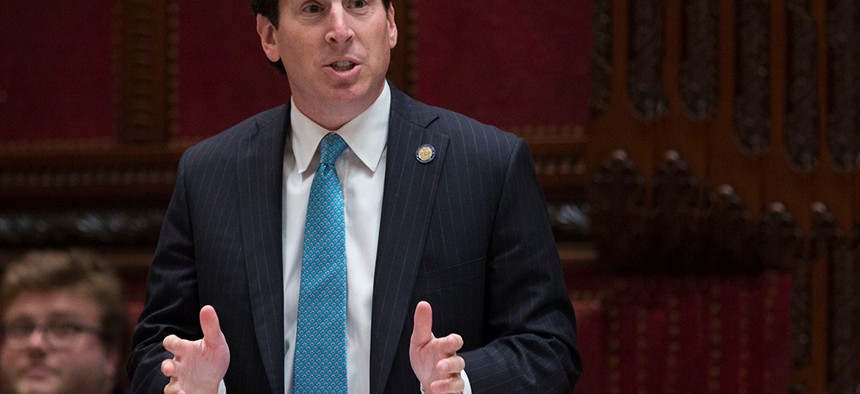 Gov. Andrew Cuomo is angry, and he has not been shy about letting people know.
Cuomo lashed out at state Senate Democrats this week following Amazon's announcement that it would no longer build a new headquarters in New York City. He called out the body as a whole in a statement saying it "should be held accountable" for losing Amazon. But he singled out state Sen. Michael Gianaris – a staunch opponent of the deal whose nomination to the pivotal Public Authorities Control Board was seen as a turning point for the deal going sour, and Senate Majority Leader Andrea Stewart-Cousins – who nominated Gianaris.
But Cuomo also, perhaps more perplexingly, targeted state Sen. Todd Kaminsky, a Long Island Democrat, saying that Long Island lost an enormous economic opportunity and that Kaminsky "cowered when he should have shown courage."
Kaminsky, as well as other long Island Democrats, supported the deal. And on the day the deal died, the lawmaker reportedly had concerns about the job loss. So, what was Cuomo thinking?
The governor's broadside against Kaminsky, issued Thursday night by Cuomo spokeswoman Dani Lever, appeared to be in response to a press release from Kaminsky after the news broke that Amazon backed out of its deal in which he said Long Island would welcome Amazon coming there instead. And Kaminsky did not come out as loudly or publicly as the deal's opponents before it fell apart. The sight of someone who Cuomo apparently felt did not work hard enough to keep the deal in place publicly posturing as pro-business was too much for the governor to bear.
Lever, in her statement about Kaminsky, said his invitation to Amazon was "disingenuous." In a recent speech on Long Island, which members of the Long Island delegation attended, Cuomo defended the Amazon deal and said that he "wouldn't want to be a senator running for re-election" if the deal fell through. Now that it has, he wanted to ensure that the Long Island Democrats are blamed for not doing more to support a deal that could have benefited their community. (Long Island Democratic freshman state Sen. Anna Kaplan issued a press release Friday bemoaning the celebrations of Amazon's loss, calling it "devastating." It was her first public statement on the matter aside from quotes in interviews.)
A source with knowledge of the governor's thinking, who requested anonymity to speak freely, said that – despite rumors that the governor may be purposefully trying to sow division among the Democratic conference – Cuomo was just genuinely angry and was lashing out. "This is a governor who feels he has been wronged, and that the state has been wronged," the source said. The source said that someone within the governor's office reached out to Kaminsky and other Long Island Democrats, asking for their public support, but that they decided, for the time being, to publicly defer to party leadership despite acknowledging the benefits of the deal for Long Island. The source added that Cuomo could punish the Long Island senators for staying on the sidelines during budget negotiations. Potential budgetary retribution could make the already vulnerable freshmen even more so if they don't deliver for their constituents in the way their Republican predecessors had.
Kaminsky could not be reached for comment by City & State, but he reportedly said that he found Cuomo's attacks on him "odd."
One Albany insider suggested that it is nonsense to believe that a press conference from a Long Island senator would have saved the deal from being scrapped and that tensions were simply running high on the day the news broke. The insider said that both sides lashed out and used strong language, but that by day two, emotions had calmed and there would not be lasting repercussions. However, the source with knowledge of Cuomo's thinking suggested Long Island Democrats could have curried the governor's favor by supporting him when he needed allies.
Some reporters on Twitter have suggested that Cuomo is trying to sow division within the Democratic conference by directly attacking Long Island in an effort to force its state senators to take a more assertively centrist position – and to create a New York City-suburban divide that could echo the bitter divisions between the former Independent Democratic Conference, which shared power with Republicans, and the mainline Democrats.
Multiple sources disputed this notion. However, the source with knowledge of Cuomo's thinking said that maintaining unity, or even keeping the Democrats on Long Island in power, is not a necessity for Cuomo to govern, as he has proven he can be successful with a united or divided legislature.
Multiple sources also suggested that the governor believed the whole debacle was a miscalculated attempt by Stewart-Cousins to protect Gianaris from a primary challenge from the left. Before the election of Rep. Alexandria Ocasio-Cortez, Gianaris had been a close ally of then-Rep. Joseph Crowley. But after Crowley's ouster, they said Gianaris moved sharply to the left. A source in state government who requested anonymity to speak freely claimed that after Stewart-Cousins told Amazon in a meeting that she did not think Gianaris' appointment would be approved by Cuomo, and that she planned to recommend someone else when he got turned down. But when asked for a name and a guarantee the replacement would be not a roadblock, she demurred.
According to this narrative, Stewart-Cousins was hoping to bolster Gianaris' anti-Amazon credibility while not actually stopping the project from going through.
Mike Murphy, a spokesman for Stewart-Cousins, said that no one other than Gianaris had been considered. He added that while she acknowledged that Cuomo could have chosen not to approve the appointment, she did not appoint Gianaris as part of some ploy to protect him while secretly considering someone else.
In the aftermath of the Amazon deal crumbling, Cuomo is a man who feels he has been wronged after trying to do what was best for the state. Likewise, some members of the state Senate feel that the governor sold out New Yorkers in an unfair deal to a huge corporation, who then backed out at the first sign of discontent. The ultimate political fallout is still to be seen. If Long Island memories are long, they may end up sharing Cuomo's vindictive feelings at the ballot box next year.