New York State
An Irish lament: The fading of Hibernian political power
New York has the most Irish-Americans of any major city in the country, but their political clout reached an unheralded nadir last year after state Senator Marty Golden and Representatives Joe Crowley and Dan Donovan were swept from power by challengers.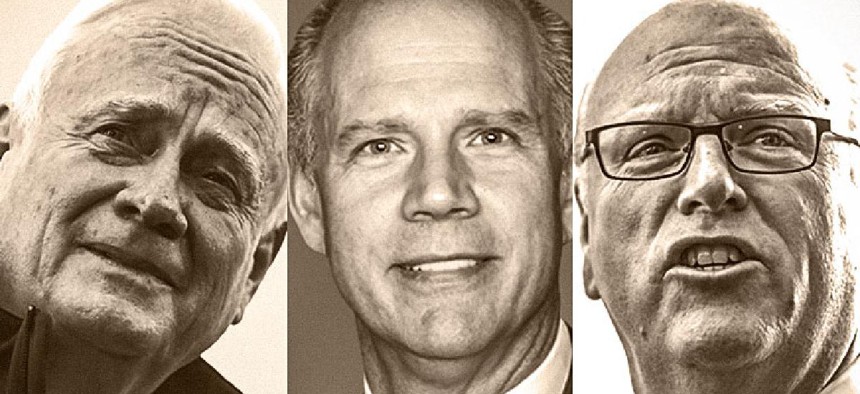 When hundreds of thousands of revelers flood Fifth Avenue to commemorate St. Patrick's Day on March 16, one could view the spectacle through emerald-tinted glasses of nostalgia.
New York has the most Irish-Americans of any major city in the country, but their political clout reached an unheralded nadir last year after state Sen. Marty Golden and Reps. Joe Crowley and Dan Donovan were swept from power by challengers half their age. The trio of lawmakers' losses were followed by the deaths this winter of two of the city's last Irish-American power brokers, former Brooklyn District Attorney Charles Hynes and former Hell's Kitchen Democratic District Leader Jimmy McManus, marking the passing of an epoch when the Irish once ruled the five boroughs.
For over a century, Irish-Americans were the backbone of New York City's political and civil service class. Candidates for judge, district attorney or state Assembly were chosen by Irish-dominated machines descended from Tammany Hall, and the police and fire departments were dominated by Irishmen from the commissioners down to the rank-and-file.
But demographic change has reduced the city's Irish political contingent to a shadow of its former self, as newer immigrant groups and a declining white share of the electorate – along, in some cases, with gentrification – push New York City politics leftward. In fact, the few remaining elected officials in the city with Irish heritage are as likely to be liberal representatives of gentrified Manhattan who grew up outside the city and moved in like any other young professional as they are to be natives to a historically Irish neighborhood.
Republican state Sen. Marty Golden's narrow 51-49 percent defeat to Democrat Andrew Gounardes was one of several seat flips last November that ushered in Democratic rule in Albany. Since 2003, Golden had represented a swath of southern Brooklyn white ethnic enclaves, such as Marine Park, Bensonhurst and Gerritsen Beach. But even these neighborhoods have changed. Golden's own Bay Ridge, which was 78 percent white in 2000, had become only 56 percent white by 2016. The newer immigrant groups from East Asia and the Middle East tend to be more Democratic than the Irish-American and Italian-American voters they are replacing. (One notable exception is right-leaning immigrants from the former Soviet Union.) Even the white candidates tend to hail from countries with more recent immigration surges, such as Greece or Albania. Gounardes, for example, is a 33-year-old Greek-American Democrat, and Bay Ridge voters backed him with 64 percent of the vote to Golden's 36 percent.
The winds of change were so strong in southern Brooklyn that they knocked Staten Island Republican Dan Donovan out of office as well. The 62-year-old half-Irish congressman was upset by Democrat Max Rose, a 32-year-old veteran of the war in Afghanistan, by a 53 to 47 percent margin. Rose, who grew up in Park Slope, Brooklyn, trounced the two-term incumbent by 8,700 votes in southern Brooklyn and edged him by 1,200 votes in Staten Island with support from the solidly blue (and racially diverse for Staten Island) North Shore.
But the clearest sign of a citywide Irish power outage was the stunning fall of House Democratic Caucus Chairman and Queens Democratic boss Joe Crowley to a 28-year-old first-time candidate in last June's congressional primary. Alexandria Ocasio-Cortez ousted the erstwhile rising star 57 to 43 percent thanks to especially heavy turnout in Astoria, Jackson Heights and Sunnyside – formerly Irish-Americans bastions that have become a polyethnic patch of recent immigrants from Asia, Latin America, Eastern Europe and young professionals priced out of Manhattan and the trendier parts of Brooklyn. On the campaign trail, Crowley acknowledged the changes but revealed how he had become out of touch with his district, pointing to a popular Mexican restaurant but butchering its pronunciation.
The results shocked Congress and the nation, but some Queens pols saw the upset coming after a 2010 redistricting added majority-Latino parts of the east Bronx to Crowley's district.
"We knew the handwriting was on the wall that he would eventually get a challenge," said New York Councilman Robert Holden, a Democrat from Maspeth, Queens.
Crowley voluntarily resigned as Queens Democratic chairman in February and Democratic district leaders replaced him a month later with Rep. Gregory Meeks, the first African-American to lead the party in the borough.
Crowley's abrupt downfall can be seen as the end of the line of a succession of Irish-American political bosses that stretches across boroughs and through time back to to the second Industrial Revolution. It took only a generation for Irish immigrants who fled their homeland in the mid-19th century during the Great Famine to gain a foothold in New York politics. By 1850, there were 130,000 Irish immigrants living in New York City, and a decade later there were 200,000, or one-quarter of the city's population. The new immigrants needed jobs and social services, which the city's Democratic political machine, known as Tammany Hall, provided in exchange for their votes.
After Boss Tweed's embezzlement arrest and conviction in 1872, John Kelly, an Irish-American, took over Tammany Hall, and the Irish remained the machine's base for decades thereafter. New York's most successful Irish-American politician was Democrat Alfred Smith, the trailblazing machine pol became the state's first Irish Catholic governor and the first Catholic to receive a major party nomination for president, in 1928.
The Irish were so prevalent in New York that they were also among the most successful anti-machine elected officials in town. William Russell Grace, a Democrat and independently wealthy entrepreneur who made his fortune shipping bat guano and other resources from South America, ran against Tammany Hall's failure to maintain the city's infrastructure and became the city's first Irish Catholic mayor in 1880, one of a dozen who would serve in City Hall over the century. Mayor Robert Wagner Jr., another Tammany product who was half-Irish, broke from Tammany Hall by 1961, in his third term, which led to the machine's eventual dissolution by the mid-1960s. Daniel Patrick Moynihan, an Irish-American raised in Hell's Kitchen, represented New York in the U.S. Senate for 24 years.
Between the 1960s and 1980s, Irish-Americans joined other whites in leaving the city in droves for the suburbs and other parts of the country. Historically Irish neighborhoods such as Wakefield in the Bronx and Bay Ridge and Marine Park in Brooklyn became predominantly African-American, Caribbean-American, Middle Eastern or Latino.
But Irish-American politicians continued to wield influence in City Hall and Albany from outer borough enclaves in which their families had settled for generations. Edward Flynn and Patrick Cunningham controlled the Bronx Democratic Party for more than a half century, helping bring the Democratic National Convention to New York in 1976 and 1980. Irishmen such as Tom Manton and Crowley played a prominent role in the Queens Democratic Party for a half century, anointing City Council and state Assembly speakers and assembling coalitions with other county delegations to back mayors and governors.
Their slippage has been gradual, and it didn't just come all at once this year. Marty Connor, a Brooklyn state senator since 1978, lost his seat to Daniel Squadron in a 2008 primary challenge. Hynes, the borough's district attorney since 1973, squandered his seat in a 2013 primary to Ken Thompson and failed a second time in the general election when he ran on the Republican and Conservative Party lines.
The traditional blue-collar Irish Democrat is under pressure from two sides: On the one hand, white Catholics have become more Republican, while Democrats have become less white and more liberal. So, for example, Councilwoman Elizabeth Crowley, the former Democratic boss' cousin, couldn't survive a general election challenge from Holden, who ran on the Republican, Conservative and Reform party lines after coming up short in the Democratic primary.
Today, a few young progressive Irish-Americans who grew up in Irish neighborhoods have recently won office by keeping up with their district's transformation. In the New York City Council, Justin Brannan represents Bay Ridge and Jimmy Van Bramer, who is part Irish, represents Queens' Sunnyside, Astoria and Long Island City. Robert Carroll, whose grandfather founded the Brooklyn St. Patrick's Day parade, represents Brooklyn's Windsor Terrace, Park Slope and Kensington in the state Assembly, while Brian Barnwell represents parts of Woodside, Sunnyside, Maspeth and Middle Village.
The slow exodus of tens of thousands of Irish Catholic families to New York's suburbs and exurbs has meant their power is now greater in Long Island, the northern suburbs and parts of upstate than it is in New York City. Republican Rep. Peter King, an outspoken proponent of Irish causes, was raised in Sunnyside, but he represents the South Shore of Long Island. State Senate Minority Leader John Flanagan is from Suffolk County. And Irish-Americans MaryEllen Odell and Laura Curran have found success as county executives in Putnam and Nassau counties.
In neighborhoods dominated by mostly white affluent professionals who come from all over the country, representatives may happen to be part Irish, including City Councilman Keith Powers from Manhattan's East Side and Council Speaker Corey Johnson, whose district includes Chelsea and the western half of Midtown.
Yet the Irish-American grip on New York City has loosened as its population growth stalled. Between the years of 2007 and 2017, the number of people with Irish ancestry in the city fell 14 percent, from 434,142 to 371,354, according to American Community Survey estimates. The percentage of New Yorkers with Irish ancestry made up a paltry 5 percent of the city's population in 2017, compared to 22 percent in 1900.
Irish Americans haven't left the halls of power entirely. The City Council's Irish Caucus and the American-Irish Legislators Society combined still count more than a dozen members from New York City. "Our presence in politics and government will always be there," said Staten Island Assemblyman and AILS president Michael Cusick, a Democrat.
Some lawmakers in Queens may be the last Irish-Americans to represent their neighborhoods. One of them is Daniel Dromm, the City Council's Irish Caucus chairman whose Heights-Elmhurst district contains a burgeoning South Asian and Central American population. Dromm, who is gay, has been able to build a career in politics by serving the needs of the city's most diverse neighborhoods and reaching out to LGBTQ voters, union members and the Democratic machine that was originally skeptical of him. "Even before I ran for the Council, it was hard for me to get my foot in the door in the Queens county organization as the first gay person (seeking support), but being Irish helped me with them more than being gay," Dromm said.
Van Bramer's northwest Queens district used to contain the city's most concentrated pocket of Irish-American voters, but he doesn't think of it as an Irish district anymore. "We have a lot of new immigrants in Sunnyside and Woodside, but we also have a lot of new residents moving in – some folks will call them hipsters or gentrifiers – a lot of new families, and a lot of newer arrivals don't even know necessarily or care that it was once a heavily Irish American neighborhood," Van Bramer said. "The younger generation is less wed to some of the identity politics of the past. Right now, in my district progressive ideas and policy positions matter a lot more than identity."
Correction: This article referred to Councilman Robert Holden as a Republican and wrote that he switched parties to join the GOP after losing the Democratic primary. Although he was elected on the Republican line, he is a Democrat who received the Republican nomination through a Wilson-Pakula authorization. 
Correction: This article originally incorrectly stated that Donald Manes was Irish. 
Correction: This article originally incorrectly stated that the St. Patrick's Day parade will be on March 17. Although St. Patrick's Day is on March 17, the parade will be held on Saturday, March 16. 
Powered By
NEXT STORY: Poll: Who will be NYC's next mayor?