New York State
New York law lets sexual harassers off the hook
Despite attempts to curtail harassment in the work place proving that you work in a hostile work environment can be difficult and as a result lets a lot of sexual harassers off the hook. But young lawmakers like state Senator Alessandra Biaggi are trying to change that.
"We are here today to examine the issue of sexual harassment here in Albany, in the public sector, and in the private sector across the state."
These simple words from state Sen. Alessandra Biaggi opened the state Legislature's first hearing on sexual harassment in 27 years. Just two months into her first term, Biaggi found herself presiding over this landmark hearing. She had prepared so much that she felt she may have been overprepared, to make sure she wouldn't let anyone down. Even so, Biaggi felt nervous as she began asking her first questions. But the moment passed quickly and she confidently plugged ahead. "I don't have time to be nervous," Biaggi recalled thinking. As a survivor of sexual abuse, she recognized the seriousness of the issue and the responsibility she had to the victims. "I have to do this."
It wasn't the only recent effort by state government to address sexual harassment. Last year, Gov. Andrew Cuomo introduced several measures to increase protections for victims of sexual harassment that passed as part of the state budget, touting them as the most comprehensive in the nation. The main changes required all employers in the state to institute a sexual harassment policy and provide all employees with sexual harassment training, either their own or following models created by the state, and forbid confidentiality agreements unless it is the preference of the accuser. Despite the reforms, many lawmakers and advocates agreed that state policies on sexual harassment remained woefully inadequate.
"The harassment we had experienced, we don't think the laws that passed last year would have changed any of that. And that's a problem." – Rita Pasarell, a co-founder of the Sexual Harassment Working Group
While Cuomo's proposals were not opposed by advocates, the consensus among advocates at the time was that the bills largely missed the most pressing issues for victims of sexual harassment. "Something that all of us in the (Sexual Harassment) Working Group thought was that those laws would not have improved our situations," Rita Pasarell, a co-founder of the Sexual Harassment Working Group, told City & State. Its members, Pasarell included, are former state legislative staffers who say they were victims of or have encountered sexual harassment or assault. "None of the harassment we had experienced, none of the problems in the investigative process that we experienced, we don't think the laws that passed last year would have changed any of that. And that's a problem."
Among advocates, there is widespread agreement that the first thing the state must do is change the burdensome standard by which sexual harassment claims are measured. While people are protected from sexual harassment under the federal Civil Rights Act and the state Human Rights Law as a form of discrimination, that harassment must be "severe or pervasive" in order for the behavior to fall under either law.
The standard was established by the U.S. Supreme Court in the 1986 case Meritor Savings Bank v. Vinson, in which a 19-year-old bank teller sued her employer for sexual harassment. This case marked the first time the court ruled that such harassment constituted discrimination on the basis of sex, and was therefore illegal under Title VII of the Civil Rights Act of 1964. The Equal Employment Opportunity Commission had previously issued guidelines in 1980 that Title VII included sexual harassment, but the 1986 decision codified those guidelines through precedent. "For sexual harassment to be actionable, it must be sufficiently severe or pervasive 'to alter the conditions of (the victim's) employment and create an abusive working environment,'" Justice William Rehnquist wrote in the majority opinion, thus creating a broad definition for courts to follow. Courts in New York have long deferred to that standard as well, creating state precedent.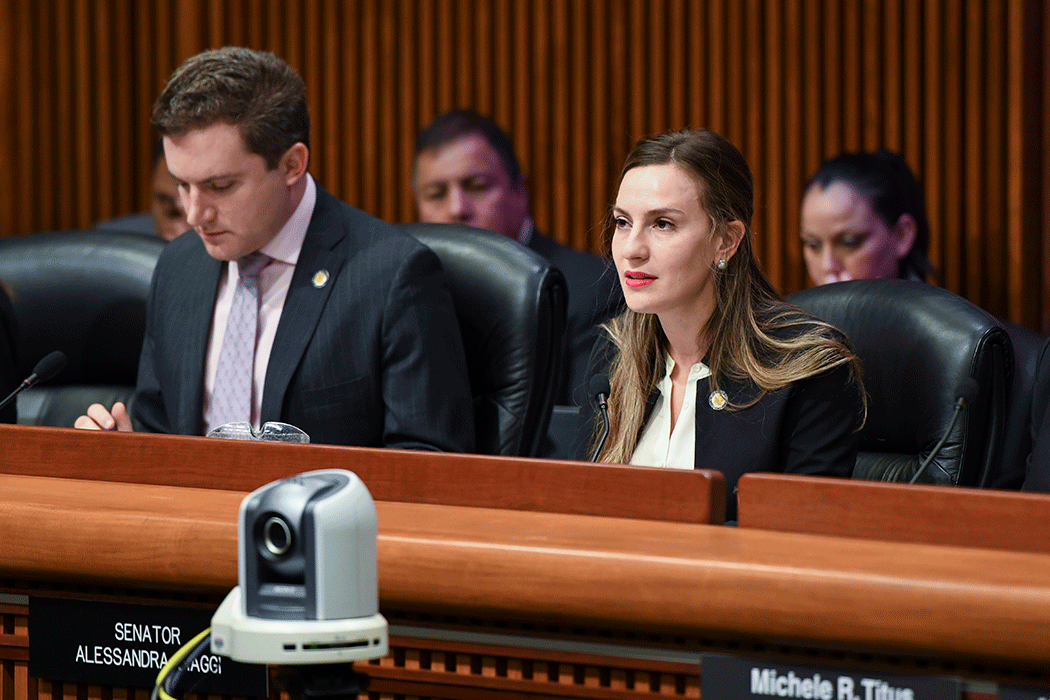 Imagine showing up to work only to have a co-worker tell you to get breast implants, touch your butt while telling you to "tighten up" and tell you not to adjust your exposed underwear because he was "enjoying himself." Or to be subjected to name-calling like "dumb blonde," repeated remarks about your appearance and being swatted on the butt with papers by a supervisor. Or even to have a supervisor pull your hair, rub lubricant on your arms and tell you to buy sexual paraphernalia.
"We as lawyers (have to) tell people that, as painful and humiliating whatever they faced was, it probably isn't going to succeed because of the 'severe or pervasive' standard." – Miriam Clark, president of the National Employment Lawyers Association's New York chapter
None of that behavior is hypothetical. Women described those and other actions taken against them in three separate sexual harassment cases in New York from 2012, 2015 and 2016. And in each one, the court ruled the behavior did not meet the severe or pervasive standard and, under the law, did not constitute a hostile work environment.
"These standards are so ridiculously high," said Miriam Clark, president of the National Employment Lawyers Association's New York chapter. "We as lawyers are often in the position of having to tell people that, as painful and humiliating whatever they faced was, it probably isn't going to succeed because of the severe or pervasive standard."
RELATED: 3 horrifying cases that didn't meet the standard
Currently, several pieces of legislation in Albany would eliminate this standard. State Sen. Andrew Gounardes and Assemblywoman Nily Rozic introduced one bill shortly before the sexual harassment hearing. Biaggi and Assemblywoman Aravella Simotas introduced similar legislation shortly after the hearing that the lawyers association helped draft. Cuomo also introduced a measure as part of his latest executive budget to eliminate the standard and lessen the burden on accusers. However, the Senate rejected Cuomo's proposal in its budget resolution, stating sexual harassment legislation should pass outside of the budget to allow for robust discussion.
None of the proposals would introduce a specific new standard into law; they would simply add language to the state Human Rights Law that the law applies to discriminatory harassment regardless of how severe or pervasive it is. They do, however, include language that allows employers to defend themselves in court if they can prove the behavior did not rise above "petty slights" or "trivial" inconveniences. "The statutory change is to move it from 'severe or pervasive' to a 'less well' standard," Simotas said of the effect of the language change while warning against any language that would inadvertently narrow protections. "So if you are treating somebody less well in their workplace than another person based on a protected class, then you are discriminating against them." The Gounardes and Rozic bill would, however, explicitly add sexual harassment to the Human Rights Law as unlawful discriminatory behavior, adding to statute what has already been established through the courts.
RELATED: All the bills that aim to adress harassment
Both the Gounardes and Rozic bill as well as the one from Biaggi and Simotas would eliminate what is known as the Faragher/Ellerth defense – named after the two U.S. Supreme Court cases that set the precedent – an aspect not included as part of Cuomo's budget proposal. The defense allows employers to use a delay in reporting or a failure to follow a particular reporting procedure to avoid liability for a supervisor's actions, or as a basis to deny claims of sexual harassment. The Biaggi and Simotas bill also includes provisions related to the allotment of punitive damages, which is currently not allowed under state law. Another key difference is that the Biaggi and Simotas bill would apply to all discriminatory behavior, while the Gounardes and Rozic bill specifically targets sexual harassment and sex-based discrimination only.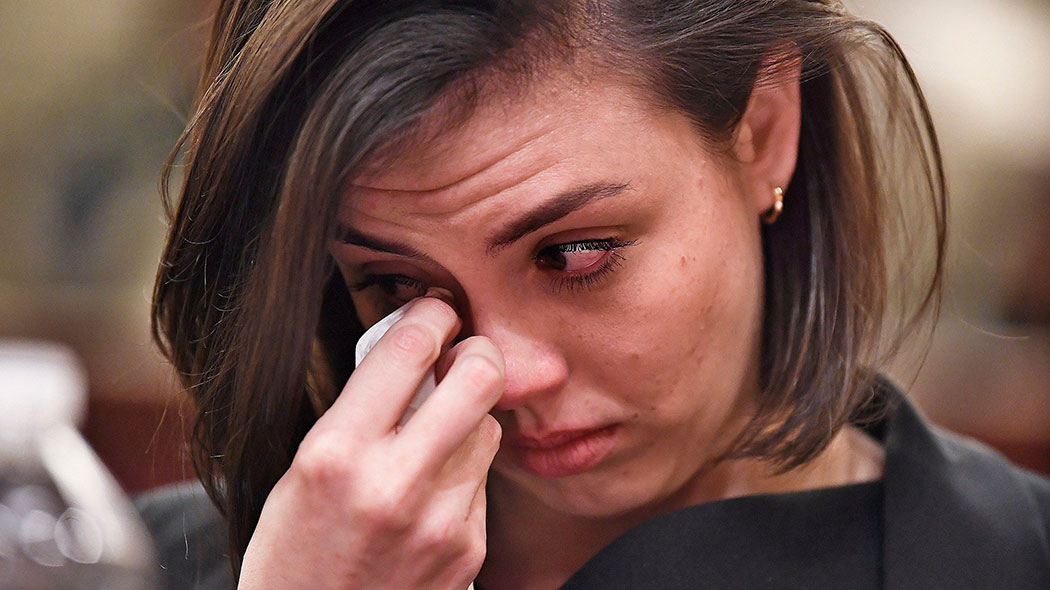 The definition of sexual harassment and the high burden of proof that falls on accusers obviously plays heavily not only in potential court cases, but in the reporting process people can go through with the state. Any changes to the severe or pervasive standard would entail changes in how those cases handled, a prospect that has largely not been addressed yet. At the state level, employees can file a sexual harassment complaint with the state Division of Human Rights. "They'll do an investigation, they'll find probable cause or not probable cause, they'll have a hearing, and that is all extrajudicial," Clark said. "It is underfunded and no one (in government) pays much attention to it, and most lawyers don't go there."
"(The state Joint Commission on Public Ethics) testified that it's totally legitimate to ask complainants about their prior sexual history and really interrogate them on that." – state Sen. Andrew Gounardes
Pasarell added that based on conversations that the Sexual Harassment Working Group has had, the Division of Human Rights is often not an effective route for victims, who may not know the agency is an option.
At last month's sexual harassment hearing, lawmakers did not hear oral testimony from the division since its commissioner was not available on short notice. But they did hear from the state Joint Commission on Public Ethics, which investigates and holds hearings on claims made against state government employees in a method comparable to how the Division of Human Rights investigates and holds hearings on sexual harassment and other discrimination complaints. Many were disturbed by what they heard. "At one point, they testified that it's totally legitimate to ask complainants about their prior sexual history and really interrogate them on that," Gounardes told City & State, expressing concern about a culture of victim shaming. Biaggi raised a similar concern. "The questions that they asked (the accusers) ... indicated to me that not only are they ill-equipped, but the people who are there, who are claiming to be experts on this thing, are not trauma-informed," she said, adding that she had not been aware of the level of what she called the commission's "incompetence" in handling sexual harassment claims.
"We need to travel into uncomfortable territory and do it as often as possible." – state Sen. Alessandra Biaggi
While not every criticism of the commission could apply to the state Division of Human Rights, the two agencies share similar investigative powers when a person files a complaint. Shortcomings in how the Joint Commission on Public Ethics handles those investigations and hearings might naturally raise questions about the division's process for complainants. The agency's written testimony offered little insight into its process beyond how many complaints it received and how many were found to have probable cause, describing its methods as "efficient and effective investigation and adjudication." In 2017, the Division of Human Rights found that 143 out of 578 complaints had probable cause and referred the cases to a public hearing, noting that the number of complaints had increased during the #MeToo era. The absence of oral testimony from the division, and testimony from victims who had filed with the agency, leaves many unknowns about the impact of past and potential changes. "Last month's hearing made it clear as day that we need systematic reforms with the (Division of) Human Rights," Simotas told City & State. "And we need to make sure the (Division of) Human Rights is more supportive to victims of this conduct."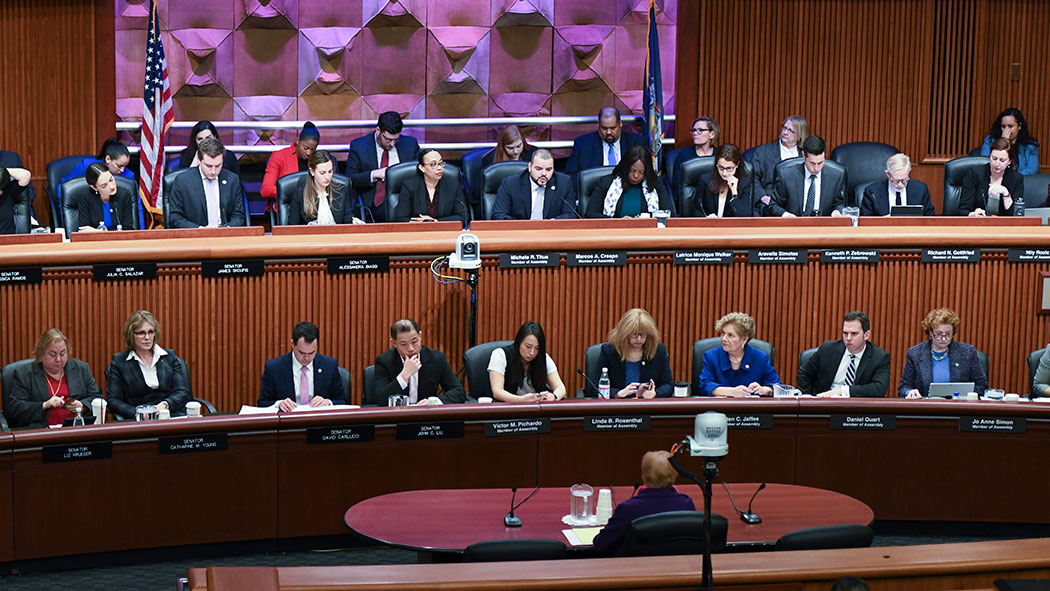 On May 9, 2018, advocates and lawmakers packed into the New York City Hall rotunda, the crowd extending up the rounding staircases. They came to celebrate a landmark package of 11 bills, each of which would offer new protections for victims of workplace sexual harassment, that Mayor Bill de Blasio would soon sign. "I'm proud to say with this legislation, New York City government is standing up, and we're saying very, very clearly where we stand, what we believe, that we will not tolerate harassment or abuse of any kind," de Blasio said.
Many advocates have pointed to the protections established in New York City that day as a good starting point for the state Legislature. Along with eliminating the severe or pervasive standard for cases before the city Commission on Human Rights or city courts, the new laws also expanded protections against gender-based harassment to all employers, regardless of size, and extended the statute of limitations for filing a gender-based sexual harassment claim from one year to three years. And though these laws passed last year, lawmakers are already looking at new ways to make them stronger.
Soon after de Blasio signed the bills into law, City Councilwoman Helen Rosenthal introduced legislation aimed at making it easier for a victim of harassment to prove their employer retaliated against them for reporting harassment or other discriminatory behavior. Under current law, the burden of proof lies completely on the accuser to show that a demotion, firing or other form of negative action taken was done so illegally as retribution. Rosenthal's bill would shift some of that burden to the employer by requiring them to show good cause for the action. While she said that she is working with business interests to minimize any concerns they may have, Rosenthal asserted that this would not be overly burdensome to any employer that keeps good records. "It's such a struggle, certainly in sexual harassment, but also in terms of racial discrimination, it's so hard to prove it happened, so shifting the burden, I think, makes sense," Rosenthal told City & State. She added that other municipalities like Seattle have already enacted similar laws.
Rosenthal also said that as the city nears the one-year anniversary of the enactment of the sexual harassment package, the City Council will be able to assess data collected by the Department of Citywide Administrative Services under new reporting measures for city agencies and government offices that will be able to better inform the next steps for lawmakers to continue strengthening protections for victims of sexual harassment.
However, regardless of the various ways the legal standards or definitions of sexual harassment may change, the group Girls for Gender Equity, which focuses on sexual harassment and sexual assault among young people and students, asserts new policies should address how sexual harassment is broadly understood, beginning with young people. Ashley Sawyer, the organization's director of policy and government relations, said that steps to ensure victims are able to seek justice – and perpetrators are punished – are positive, but do little to prevent the behavior. Sawyer said a cultural shift must occur by teaching children about consent, sexual harassment and power dynamics beginning at a young age. "Students don't even often have the language to define it," Sawyer said. "I think there are very few conversations happening that help people understand that, and I think that is the work to help young people feel safe and to prevent adults from experiencing sexual violence." Sawyer said the state should pass comprehensive sex education policy so that young people can be taught about sexual harassment and assault. The Assembly currently has a bill that would create an educational program in schools to prevent sexual harassment, but it does not have a corresponding bill in the state Senate.
The state Legislature has yet to introduce new sexual harassment bills based on testimony from last month's hearing, but Biaggi told City & State that her staff is working on an internal report. She added that she and other lawmakers are committed to holding more hearings, which Assembly Speaker Carl Heastie and state Senate Majority Leader Andrea Stewart-Cousins also support.
"In order for us to do our jobs," Biaggi said, "we need to travel into uncomfortable territory and do it often and as often as possible … to be able to inform us to make policies and laws that protect the people in the state of New York."
Powered By
NEXT STORY: Crossing Andrew Cuomo's red lines