Andrew Cuomo
The high-profile bills stuck in legislative limbo
Despite the amount of celebrated legislation passed this month, several high-profile bills have yet to be signed into law by New York Gov. Andrew Cuomo.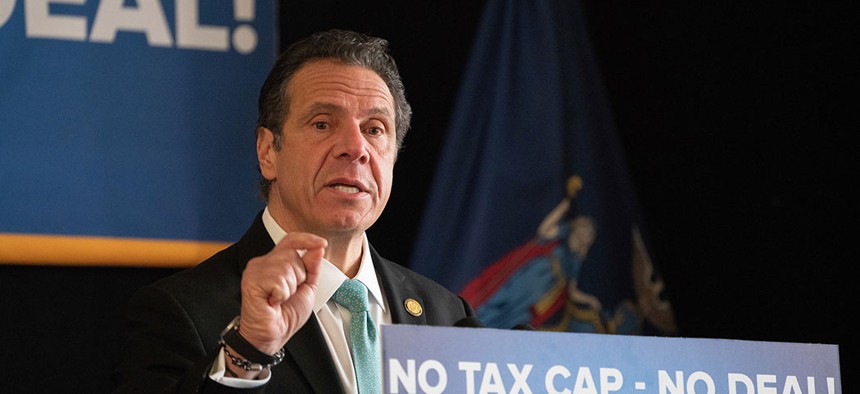 Despite the headlines celebrating their passage by the state Legislature over the past two months, several high-profile bills have not been signed into law – and it's making some advocates nervous.
In-state tuition remains inaccessible for a quarter-million students who are undocumented immigrants. Public school teachers' evaluations remain tethered to student test scores. Numerous gun-control measures remain on hold. "Revenge porn" has yet to become a crime and speed cameras outside public schools in New York City and Buffalo still lack legislative authorization. Bills on all of these topics have passed the state Legislature this year, but lawmakers have yet to deliver them to Gov. Andrew Cuomo for his signature.
In a year when new Democratic majorities have passed high-profile legislation at a fast pace, only about half of them have actually become law. Though some of these bills passed more than two months ago, lawmakers say they are not concerned about the delay in moving them to the legislative finish line.
Some of the bills are reportedly being held up to work out technicalities in the language. Others are waiting on funding through the upcoming state budget. Lawmakers suggested that most are simply on hold so that they, Cuomo and activists can stage a signing ceremony with all the pomp they think the bills deserve.
The Legislature's own guide to the bill-passing process omits mention of this legislative limbo – but Albany insiders say there is nothing unusual about it. "The delivery of bills can take as long as the rest of the year," said Richard Brodsky, a former assemblyman. Sometimes they're still negotiating ...there's nothing unusual at all about it."
Waiting on bills on increases Cuomo's leverage in both the legislative process and the budget process, according to John Kaehny, executive director of Reinvent Albany. "The reality is, the longer he waits on a bill that's controversial or he maybe opposes, the more he can make the legislators squirm and maybe extract something in return for agreeing not to veto something," Kaehny said.
The governor could technically substitute his own proposals in the state budget for what lawmakers have already passed, but a spokesman for Cuomo said that is not why the governor has not wanted to sign the bills. Some, but not necessarily all, of them have "technical issues," the spokesman said, and the budget process will resolve fiscal issues associated with the DREAM Act. Both he and a spokesman for Democratic state senators declined to comment on the specific issues holding up each bill.
The Reproductive Health Act shows how fast the legislative process can work – at least when lawmakers and Cuomo want it to. The bill, which expanded abortion rights in state law, went from legislative committees to Cuomo's desk within a day. It was an issue that many Democratic lawmakers campaigned on, and Cuomo had been a proponent of the legislation since he unsuccessfully tried to get it passed as part of his 10-point Women's Equality Agenda back in 2013.
Voting reforms, the Gender Expression Non-Discrimination Act, the Child Victims Act, and a ban on gay conversion therapy also become law early in the the legislative session. It remains unclear how other bills that have already been signed into law despite their own fiscal implications or possible technical problems, such as a bill that authorized early voting in New York without the funding to pay for it.
Lawmakers say they are unaware of any technical issues with their bills, except for the "overly broad" language that the Times Union reports is holding up the DREAM Act. While state Sen. Luis Sepúlveda said that he is "100 percent confident" that Cuomo will eventually sign the law, activists have expressed impatience. Natalia Aristizabal, co-director of organizing at Make the Road New York, disputed reports that the bill was being held up because it would expand access to state financial aid programs to foreign students, noting that the legislative language included residency requirements. "I don't know if the governor is getting cold feet about this bill," she said. "I don't really understand what is happening." Sepúlveda did not respond to a request for comment.
Other lawmakers reached by City & State expressed confidence that whatever the reasons for the delay in enacting their bills, they remain confident that Cuomo would eventually sign them.
"We think the bill is in good shape and we expect the governor will sign it shortly after the budget is done," state Sen. Brian Kavanaugh said of his Voter-Friendly Ballot Act that passed several weeks ago. He added that signing the bill into law now versus after the budget would have little real-world impact because it would not go into effect until later in the year.
Delays in other bills, however, would have more immediate consequences. A bill that passed a month ago would have made "revenge porn" a crime within 60 days. Another bill passed in January would extend the amount of time allowed for background checks on gun purchases 45 days after getting Cuomo's signature. "I know that it eventually will be sent," said Assemblywoman Amy Paulin, who sponsored the background check legislation.
Supporters of other legislation to expand the use of speed cameras outside schools in New York City and Buffalo – which would respectively take effect 60 and 30 days after they become law – and several gun control measures expressed similar confidence that the day would come when Cuomo gives the word that he is ready to receive their legislation.
Freshman Assemblywoman Judy Griffin said that delaying implementation of a bill that would limit guns in schools is worth the wait, givens its personal and political significance. She sponsored the bill along with her former mentor, state Sen. Todd Kaminsky, and she received a standing ovation when it passed the Assembly in January in recognition of her first bill to pass the chamber. It's just one of many gun-control measures awaiting delivery to the governor, which also include a municipal gun buyback program, a "bump stock" ban, and a bill expanding access to out-of-state mental health records of firearm license applicants.
If the governor wants to wait on these bills so as many advocates and elected officials as possible can attend multiple signing ceremonies sometime in the coming months, that's fine by Griffin. "This gun legislation is so important, so I think it would have been anticlimactic to sign it all in one day," she said. "Each time we do it, there are so many people that are happy and relieved."
Powered By
NEXT STORY: The downstate-upstate divide – budget edition