New York State
An overview of Cuomo and de Blasio's out-of-state travels
City & State put together a comprehensive list of all of Governor Andrew Cuomo and New York City Mayor Bill de Blasio's out-of-state travels over the past five years.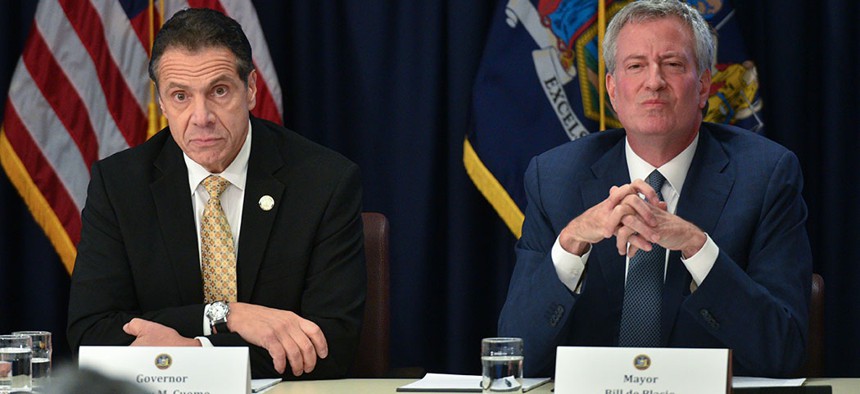 In December, The New York Times referred to New York City Mayor Bill de Blasio as the "vanishing mayor" because of the mayor's plummeting City Hall attendance record. De Blasio has frequently traveled out of state during the past five years to visit family in Connecticut, take overseas vacations, and to fulfill his desire to be seen as a national progressive leader and a viable 2020 presidential candidate.
From 2014 to 2018, the mayor traveled out of state an average of 41 days per year, which included an average of 18 days for vacation each year, according to his public schedule.
He has made several visits over the past year to key early presidential primary states like Iowa and South Carolina as well as hobnobbing with politicos in Washington, D.C.
George Arzt, the former press secretary for Mayor Ed Koch and president of George Arzt Communications, said the mayor seems to be on the presidential campaign circuit.
"These are primary states and are hallmarks of a candidate with a hankering for the national limelight, either to be a player on the national stage in hopes gaining influence within the party or to get on the national ticket," he said.
By contrast, Gov. Andrew Cuomo has been much more of a homebody. Now in his ninth year of office, Cuomo has been out of the state for a total of just 33 days, according to his public daily schedule.
His rare out-of-state trips often consist of singular days in Washington, D.C., for conferences and meetings, or for short overseas trips.
Although the bulk of the mayor's travels have been frowned upon in the local tabloids, including a trip de Blasio took with U.S. Sen. Bernie Sanders to Vermont, it's the governor's public schedules that rarely face criticism and lack more transparency.
Cuomo's itineraries have read "no public schedule" for as many as 103 days in a year, obscuring any potential trips or political activity.
"Cuomo plays it close to the vest," Arzt said. "He's more of a mystery in trying to determine what his future political plans are from his sked. From Bill De Blasio's sked, you definitely can see his determination to be national player."
Here's a recap of the two New York politicians' out-of-state travels over the past five years.
Number of days out of state
De Blasio
2014: 33 days out of state, 14 of those days for vacation
Number of days in Washington, D.C.: 7
Number of days in Italy: 6
Number of days in Puerto Rico: 3
2015: 45 days out of state, 19 of those days for vacation
Number of days in Southwestern U.S.: 9
Number of days in Connecticut: 8
Number of days in Puerto Rico: 6
2016: 49 days out of state, 29 of those days for vacation
Number of days in Italy: 8
Number of days in Iowa: 5
Number of days in Philadelphia: 5
2017: 39 days out of state, 18 of those days for vacation
Number of days in Connecticut: 9
Number of days in Washington, D.C.: 5
Number of days in Germany: 4
2018: 40 days out of state, 13 of those days for vacation
Number of days in Washington, D.C.: 6
Number of days in Puerto Rico: 4
Number of days in South Carolina: 3
2019*: 18 days out of state, 3 of those for a partial family vacation
Number of days in Washington, D.C.: 5
Number of days in South Carolina: 3
Number of days in Nevada: 3
Number of days in Iowa: 2
Cuomo
2014: 3 days out of state
Number of days in Israel: 2
Number of days in Germany: 1
2015: 5 days out of state
Number of days in Cuba: 2
Number of days in Boston: 1
2016: 7 days out of state
Number of days in Philadelphia: 4
Number of days in Washington, D.C.: 3
2017: 6 days out of state
Number of days in Washington, D.C.: 3
Number of days in Puerto Rico: 1
2018: 3 days out of state
Number of days in Washington, D.C.: 1
Number of days in Puerto Rico: 1
2019*: 5 days out of state
Number of days in Washington, D.C.: 3
Number of days in Florida: 2
* 2019 data current as of May 15
Powered By
NEXT STORY: Stringer stumps for abortion funding