Corey Johnson
Corey Johnson nabs first endorsement in NYC mayoral race
New York City Councilman Danny Dromm is making an early endorsement of Council Speaker Corey Johnson for mayor, although the primary election isn't expected until 2021.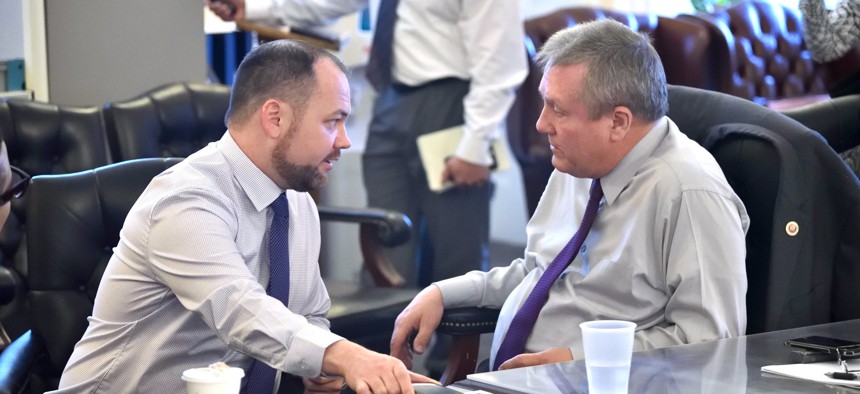 New York City Mayor Bill de Blasio may be running for president, but it's the city's other top leader who has earned his first hometown endorsement.
New York City Councilman Danny Dromm is endorsing New York City Council Speaker Corey Johnson for mayor.
"I couldn't be prouder to support Corey and his potential mayoral candidacy" Dromm wrote in a fundraising email shared exclusively with City & State before being sent out on Friday. "I'm ready to send a message to all the young queer people in this city: you have nothing to fear by living openly, and there is no need to curtail your ambitions because of who you love."
Both Johnson and Dromm are gay. Johnson would be the first openly gay mayor in New York City history. Dromm's appeal is tied to Friday's International Day Against Homophobia, Transphobia and Biphobia.
Dromm, who has represented neighborhoods in Western Queens since his election to the City Council in 2009, will host a fundraiser for Johnson in Jackson Heights on Thursday, May 30. Further details weren't immediately provided.
Dromm's early endorsement is just another sign that the mayoral race is heating up in New York City. De Blasio will be term-limited out of office at the end of 2021, but his announcement of a presidential run – and the incredibly slim proposition that he might win – seems to have the city thinking about the next mayor. Johnson gave a formal campaign-style speech unveiling a criminal justice plan that had reporters asking about a mayoral bid.
Dromm is thought to be the first elected official to make a formal endorsement in the race, more than two years before the next expected mayoral primary. This is despite the fact that Johnson has not officially declared he will run for mayor, although he has formed an exploratory committee. Along with Johnson, Brooklyn Borough President Eric Adams, Bronx Borough President Ruben Diaz Jr. and New York City Comptroller Scott Stringer are ramping up mayoral runs. But with mayor-mania sweeping the city, more candidates may join the all-male field.
Powered By
NEXT STORY: Bill de Blasio's presidential announcement video, annotated