New York State
New York's Game of Thrones
In honor of the forthcoming "Game of Thrones" series finale, we've identified which figures from contemporary New York politics best embody the major characters – from Daenerys Targaryen to Jon Snow.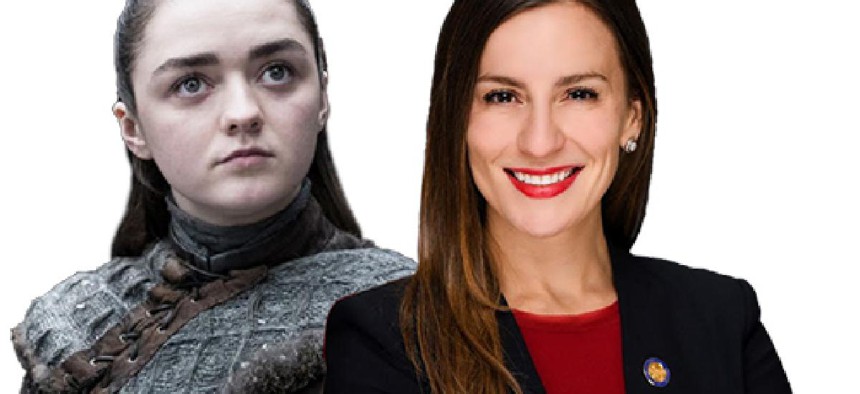 HBO's "Game of Thrones," now in its last season, is the most popular TV drama about politics since "The West Wing," and – in its own weird dragon- and magic-filled way – it's even more realistic. While there are no elections in Westeros, the imaginary land where the show takes place, it is a dissection of power and how it's used: military and diplomatic strategy, alliances and compromise. In honor of the forthcoming series finale, we've identified which figures from contemporary New York politics best embody the major characters.
Daenerys Targaryen = Rep. Alexandria Ocasio-Cortez
Young, telegenic and ambitious, she started with nothing but a belief in herself. Her progressive message won her fast-growing power and a cadre of adoring followers, and every rival who underestimated her has lived to regret it.
Courtesy HBO; Lev Radin

Jon Snow = New York City Mayor Bill de Blasio
Earnest and well-intentioned – but polarizing among the rank and file – he's prone to strategic miscalculations and ineffective leadership.
Joffrey Baratheon = President Donald Trump
The impetuous, vindictive, spoiled scion of a wealthy landowning family, this blond bully is a boastful coward who avoids fighting in wars but mocks the bravery of those who did. In power, he is enabled by cadre of amoral courtiers.
Courtesy HBO; Joseph Sohm

Sansa Stark = former U.S. Sen. Hillary Clinton
She learned through serial mistreatment at the hands of cynical men to be a savvy, skeptical and hardheaded official, always pointing out the practical challenges to her allies' idealistic vision.
Littlefinger = Gov. Andrew Cuomo
He pursues his interests with shrewd detachment, playing rivals off one another and always putting himself at the center of negotiations.
Courtesy HBO; New York Senate

Arya Stark = state Sen. Alessandra Biaggi
This pint-sized young badass packs a powerful punch, and takes out older men on a crusade to restore her family's honor.
Cersei Lannister = former New York City Council Speaker Christine Quinn
Tough and cunning – critics say ruthless and intimidating – she knows how to use power.
Courtesy HBO; U.S. Senate

Lord Varys = U.S. Sen. Charles Schumer
A cautious, pragmatic operator, he prizes stability and would rather make a deal than go to war.
Samwell Tarly = state Comptroller Thomas DiNapoli
He keeps an eye on the books. It's not a glamorous job, but someone has to do it.
Courtesy HBO; Debby Wong/Shutterstock

Ser Brienne of Tarth = State Attorney General Letitia James
A tall, powerful woman, she made history when she shattered the glass ceiling.
Lord Walder Frey = state Sen. Simcha Felder
Never concerned with anything larger than what will get the best deal for him and his minions, he sells his allegiance to the highest bidder – but he pays the price when the team he betrayed comes roaring back.
Theon Greyjoy = former state Attorney General Eric Schneiderman
At first he seemed like a good guy, then he became a bad guy. After that didn't turn out so well for him, he apologized and tried to rehabilitate his image.
Tyrion Lannister = former Gov. Eliot Spitzer
He's the smartest guy in the room, and he knows it. Besides arrogance, his weakness is a fondness for prostitutes.
Margaery Tyrell = U.S. Sen. Kirsten Gillibrand
She has a knack for connecting with the public, but she's willing to shift her allegiances depending on what will advance her ambitions.
Tywin Lannister = Assembly Speaker Carl Heastie
As a pillar of the establishment, he has a bigger influence behind the scenes than in front of the cameras.
Stannis Baratheon = Zephyr Teachout
A determined foe of the brat on the throne, this honorable, aspiring leader has a loyal following but never wins.
Renly Baratheon = New York City Council Speaker Corey Johnson
The charismatic, bearded young dynamo isn't waiting his turn.
Lord Roose Bolton = former state Sen. Jeff Klein
A disloyal lieutenant who switches sides to aggrandize his power, only to end up vanquished by a young upstart.
The High Sparrow = Cardinal Timothy Dolan
The local leader of a socially conservative religion, he enjoys significant political influence and a wide following among the public. He's been known to feud with the secular political leadership when he thinks it's contradicting the church's morality or harming the church's interests.
Beric Dondarrion = Anthony Weiner
He keeps coming back from the dead – and then dying again.
Powered By
NEXT STORY: Rental protections, budget disagreements and a billion-dollar loser