New York City
The New York City neighborhood names that failed or prevailed
New York magazine's food vertical received some heat on Twitter after it published a guide to a "micro-neighborhood" it dubbed "Stuyshwick." Here are some of the New York City neighborhood abbreviations that did and didn't stick over the years, and some that landed in between.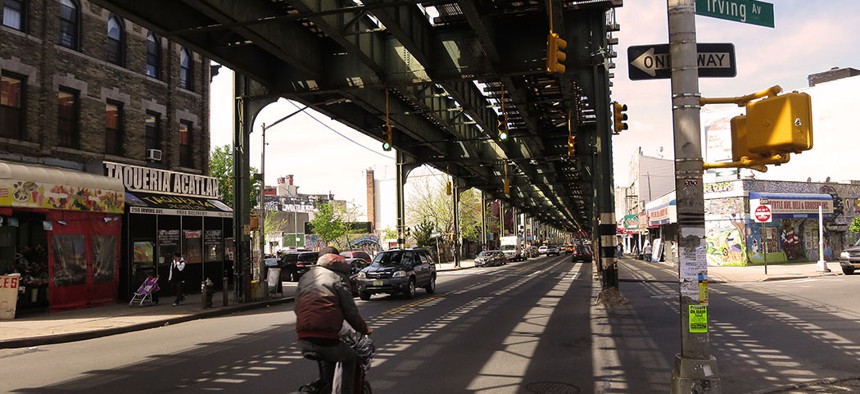 Grub Street, New York magazine's food vertical, received some heat on Twitter Thursday morning after it published a guide to a new New York City "micro-neighborhood" shamelessly dubbed "Stuyshwick." As you may have gathered from its name, Stuyshwick is the area where the Bedford Stuyvesant and Bushwick neighborhoods meet.
The name "Stuyswhick" emerged on numerous "local blogs," according to Grub Street, although Brooklyn magazine wrote in 2013 that the name was likely the creation of "soulless realtors."
Online, some residents bemoaned Grub Street's guide and expressed anxiety over the possibility of the neighborhood's apparent rebranding leading to gentrification – as if it weren't already underway and the internet scolds weren't themselves most likely a part of it.
this is easily one of the gayest parts of brooklyn and literally where i have readings with my friends, where my friends dj, throw weird dance parties, and it's still affordable thinking about it being gentrified even further makes me incredibly sad

— muna mire (@Muna_Mire) May 30, 2019
this is where I live, a place no one has ever referred to as Stuyshwick https://t.co/4zwsLnmNO1

— to the tune of tick tock by kesha (@HoorayitsJeff) May 30, 2019
New York City's neighborhoods' names have evolved frequently throughout history. In recent years, realtors, developers and the yuppie interlopers behind the aforementioned "local blogs" have tried to rename neighborhoods – often with irritating abbreviations –  in an attempt to better market them. Everyone wins, except for anyone who already lived in or near the neighborhood.
This has become such a frequent occurrence that lawmakers have begun to introduce bills to stymie the creation of fabricated neighborhood names and districts to hinder the rising rents and displacement caused by gentrification. In 2011, after the real estate agency Corcoran tried and failed to rename western Crown Heights "ProCro" – the hope was to sprinkle some of neighboring Prospect Heights' newfound cache on it – then-Assemblyman Hakeem Jeffries introduced a bill to ban the creation of false neighborhood names and boundaries, according to a 2011 Real Deal article. "The practice of creating neighborhood names out of thin air has gotten out of control, and too often is being used as a weapon to promote gentrification," Jeffries told The Real Deal. "[The city] will not remain a world-class location unless moderate-income families are allowed to remain."
In 2017, state Sen. Brian Benjamin proposed the Neighborhood Integrity Act, a bill which stipulates that all "traditionally named neighborhoods" can only be renamed with mayoral consent and a majority approval from the New York City Council. Neither of the bills were ever passed.
It's probably safe to assume, given the immediate backlash Stuyshwick received, that its new name won't be taking off and it will soon be joining the ranks of other unsuccessful attempts to rename New York City areas.
For the purpose of this story, we're choosing to direct our focus solely on goofy neighborhood abbreviations and acronyms, rather than all the made-up names that are meant to sound more genteel. At "Hudson Square" sounds like a real place, even if it isn't. Many of the new abbreviations sound silly and are unfitting for a city as revered and feared as New York.
The exception, where even native New Yorkers adopt the new terms, are neighborhood descriptors like Dumbo or SoHo, which serve the legitimate purpose of identifying areas that seemed to linger in a sort of gray zone, without well-established names or many residents until recently.
Here are some of the New York City neighborhood names that did and didn't stick over the years, and the names that landed somewhere in between:
Names that didn't stick
BoCoCa (Boerum Hill, Cobble Hill, Carroll Gardens)
Since 2004, BoCoCa has been lingering as a possible catch-all for the small, adjacent neighborhoods neighborhoods clustered just south of Brooklyn Heights. But as Gothamist astutely said in 2011, "nobody who actually lives here knows what a BoCoCa is." A failure by all accounts. It's especially ironic because, before gentrification, none of those neighborhood names existed and the whole area did have a convenient name: South Brooklyn.
RAMBO (Right Around the Manhattan Bridge Overpass)
Ambitious developers, hoping to attract buyers by creating a playful name similar to the area's neighboring community Dumbo, according to the Financial Times, learned the hard way that no one wants to live in a place named after a Sylvester Stallone character.
ProCro (Prospect Heights and Crown Heights)
A name so heinous it literally inspired legislation to prevent similar neighborhoods from being named likewise.
SoBro (South Bronx)
The New York Times reported in 2005 on "a crop of newcomers, many of them refugees from the rising rents of Williamsburg and the East Village," who had arrived in the South Bronx. "Some," the paper solemnly intoned, "now even call the area SoBro." Some, perhaps, but not many. Who wants to live in a neighborhood that conjures up images of bros flexing and headbutting each other?
SpaHa (Spanish Harlem)
This new nickname was largely repudiated by New Yorkers and seen as a sign of gentrification encroaching on locals. And in 2014, film director and New York City-native Spike Lee famously went on a rant against gentrification, insinuating that the renaming of neighborhoods — citing SpaHa, specifically — has a negative impact on longstanding city communities.
MePa (Meat Packing)
AmNewYork reported developers and real estate agents' attempt at renaming the Meat Packing district in 2017, using the laughable "MePa" as an example of city residents' growing resistance to "cheesy" neighborhood rebranding tactics. Nothing like some good old fashioned rebranding to try to distance a neighborhood from its carnivorous start. One can only imagine what Upton Sinclair would have thought about MePa.
SoHa (South Harlem)
Harlem residents were understandably outraged at the first mention of SoHa, a new name for the trendiest part of the historically African-American neighborhood, per a 2017 report from The New York Times. As a member of the local community board told DnaInfo, "it's like trying to take the black out of Harlem." Rep. Adriano Espaillat, who hails from the Washington Heights, to the north, publicly decried developers' attempt to rename the area and introduced legislation to Congress that, according to Espaillat, would preserve the neighborhood's name and "keep Harlem Harlem.''
Parkwanus (Park Slope/Gowanus)
Don't you find it confusing that western Park Slope and eastern Gowanus share a border? Do you feel the need to make a portmanteau to describe the area that falls just on either of side it? No? Well, in that case, you're like everyone who ever has grown up there – and unlike some bloggers who showed up and decided to do something stupid. Luckily, they were voted down.
DoBro (Downtown Brooklyn)
As sleek high rise apartments have recently crept up there (including one that has the gall to call itself AVA DoBro), the real estate community and perhaps some of the rich people they seek to attract to Downtown Brooklyn have taken to sometimes calling the area DoBro. Publications like TimeOut and Commercial Observer have also taken to impudently using that bro-y moniker. No one from Brooklyn ever has, or ever will, however.
Names that stuck
SoHo (South of Houston St.)
This is the original descriptor-abbreviation neighborhood name. After artists moved into empty factories and warehouses in Lower Manhattan in the 1970s, the New York City Department of City Planning rezoned the area south of Greenwich Village to allow for residences and christened the area SoHo. The rest – from the galleries of the 1980s to the Prada store today – is history. It's the success everyone is trying to emulate every time they invent a new name like this today.
TriBeCa (Triangle Below Canal St)
This chic downtown neighborhood was gifted its name by two unknown artists who lived in the area during the 1970s, according to Forbes, originally applying to a single triangular street located between Church street and Broadway. As TriBeCa has gained more cultural clout over the years its boundaries have continued to grow, luring in wealthy buyers looking to live a lifestyle influenced by the artists of yesteryear — who undoubtedly could no longer be afford to live there today.
Bed Stuy (Bedford Stuyvesant)
Born out of ease, this area's nickname developed naturally over time, because really, Bedford Stuyvesant is quite a mouthful.
DUMBO (Down Under the Manhattan Bridge Overpass)
The waterfront Brooklyn neighborhood between the Brooklyn and Manhattan bridges was an industrial area, with a small population and no name besides "Two Bridges," and "Fulton Landing" the northern end. The area was christened Dumbo by artists moving there in the 1970s, who thought the edgy name would thwart developers and keep prices low. But as apartment prices in this coveted Brooklyn area continue to rise it's clear this plan went somewhat awry.
Names that kinda stuck
NoLIta (North of Little Italy)
This charming little neighborhood, now known to be a great destination for shopping and dining out, appears to have been designated as NoLIta as far back as 2006. Native New Yorkers may look askance at inventing a name based on its relationship to a neighborhood – Little Italy – which doesn't even exist any more. But it does come in handy once every ten years when you need to describe a location that's east of SoHo and west of the Lower East Side.
FiDi (Financial District)
Sure, it's easier to say FiDi than Financial District, but since when does anyone from New York even say Financial District instead of just Wall Street?
NoMad (North of Madison)
The name has been used sporadically over the past two decades, according to The New York Times, and despite it does giving off some serious caveman vibes, it's one of the least maddening neighborhood nicknames.
NoHo
If you're on the corner of Lafayette and Bond, in Manhattan, where are you? If you answered "the Village" because you're just north of Houston Street, you're probably an average New Yorker who doesn't parse these distinctions too finely. If you're a New York Times reporter, however, you'd say you're in "NoHo." See, it's just north of Houston Street, just west of the East Village but east of the Villagey-Village, and characterized by similar cast iron buildings as its more famous neighbor to the south. Whatever.