New York City
Five things to watch for in the Queens district attorney race
Queens Democrats will be heading to the polls Tuesday to vote in the most closely watched district attorney race in the borough in generations. Could it be the death knell of the Queens machine? That's one of City & State's five things to watch as the returns come in.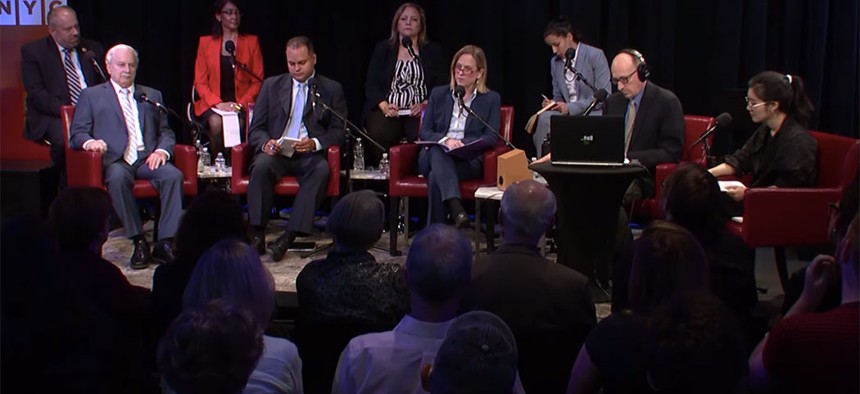 Queens Democrats will be heading to the polls Tuesday to vote in the most closely watched district attorney race in the borough in generations – or maybe ever.
Thanks to its interweaving narratives of criminal justice reform and the progressive movement versus the Democratic establishment, the race is getting national attention and campaign donations are coming in from around the country. Half a year of furious campaigning will come to an end when the polls close at 9 p.m. on Tuesday night. Here are five things to watch as the returns come in.
Is it a two-person race?
There will be seven candidates on the ballot, but most of the attention has been focused on two of them, Queens Borough President Melinda Katz and Tiffany Cabán, a Manhattan public defender. Katz has been an elected official for two decades and has the backing of most of the so-called Democratic establishment, including the Queens County Democratic Party, Gov. Andrew Cuomo and major unions such as New York Hotel Trades Council. In a typical race, that would make her a shoo-in. But this year is different, because Cabán has been running an energetic campaign with the backing of some key progressive groups and iindividuals, including the Working Families Party, the Democratic Socialists of America and Rep. Alexandria Ocasio-Cortez. 
The biggest challenge to this two-candidate dichotomy is Greg Lasak, a former judge in Queens Supreme Court. Relative to Katz and Cabán, Lasak is running on a moderate platform. He got the endorsement of the the New York Post and the Daily News, as well as some of the law enforcement unions. 
Also in the race are Mina Malik, a former deputy attorney general for Washington, D.C, Betty Lugo, an attorney in private practice, and Jose Nieves, former deputy chief attorney general in the New York state Attorney General's office. Another candidate, New York City Councilman Rory Lancman, suspended his campaign Friday and endorsed Katz, but his name will still appear on the ballot.
Who wins Southeast Queens?
The voter-rich, predominantly black neighborhoods of Southeast Queens are the main battlegrounds in the election, and both Cabán and Katz have been making numerous appearances there in the race's final weekend. Katz has the endorsement of almost every elected official representing the area and is hoping to run up the score there, but things are getting tense between her campaign and Cabán's. After Cabán released a video of her playing pickup basketball in South Jamaica, the Katz campaign accused her in an ad of pandering to black voters. Cabán supporters then accused Katz herself of racism for that line of thinking.
Lancman, too, emphasized the importance of Southeast Queens in his announcement endorsing Katz. Lancman felt like he would have won a solid portion of voters from Southeast Queens who would otherwise be backing Katz. The Queens Eagle reported that Lancman said he was dropping out of the race because he didn't want to cause a split in the neighborhoods, which he said would amount to "effectively diluting the community most impacted by the decisions our next DA must make."
However, as Parkside Group consultant Harry Giannoulis told City & State last week, Southeast Queens now makes up a smaller percentage of the borough-wide electorate than it once did.
Could this be the Queens machine's death knell?
When Lancman dropped out, some saw the invisible hand of the Queens County Democratic Party, sometimes referred to as the "Queens machine," pulling the strings, perhaps by offering Lancman an inducement to clear the field for Katz. Lancman denied any dealmaking, but the unified support for Katz suggests the machine hasn't sputtered out yet, despite former party boss Joseph Crowley's loss to Ocasio-Cortez in his 2018 congressional primary. The new county boss, Rep. Greg Meeks, has thrown his full support behind Katz. A win for her would restore some semblance of politics-as-usual to the borough. But a loss – particularly a loss to Cabán – would emphasize the county party's weakness. It surely would lead to even more young, first-time candidates running for office and more elected officials throwing caution to the wind and endorsing insurgents. 
Which is more important, more donors or more money?
Like Ocasio-Cortez, gubernatorial candidate Cynthia Nixon and presidential candidate Bernie Sanders before her, Cabán is relying primarily on small-dollar, individual donations. She also has earned a number of large-dollar contributions from wealthy donors outside the borough, as Crain's New York has catalogued. Cabán has far more donors than any of the other candidates, and more donors who live in Queens, which her supporters are pointing to as a telling metric. 
But Katz has raised far more money in the campaign overall than Cabán, thanks in part to major donations from the long list of labor unions that are supporting her. And that money can be used for direct mail, TV ads, field consultants and other things that help candidates win elections. 
How many people will vote?
Queens has 2.4 million residents and 766,000 active, registered Democrats. The Advance Group consultant Scott Levenson told City & State he expected somewhere around 100,000 votes on Tuesday. That would be about 13% turnout, well above the 9% of active, registered voters who came out for the New York City public advocate special election in February. Conventional wisdom holds that Ocasio-Cortez benefited from low voter turnout in her June congressional primary. We'll soon know if Cabán will also win thanks to the same factors, or whether the two-term borough president Katz will win Queens once again.
Powered By
NEXT STORY: New York's LGBTQ milestones since Stonewall