New York City
Could Cardi B sway the 2020 presidential election?
The outspoken Bronx native joins forces with Bernie Sanders.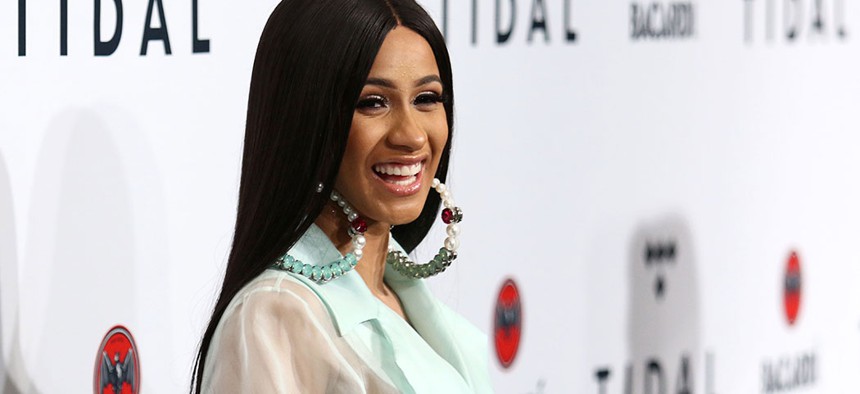 U.S. Sen. Bernie Sanders sat down with an influential thinker and political science expert from the Bronx today, to talk economics, social justice, and getting young people involved in politics. 
It was Cardi B.
Today @iamcardib and I finally met. We had a great conversation about the future of America.

And let me tell you: Cardi B is right.

Together, we'll get millions of young people involved in the political process and transform this country. Stay tuned for our video coming soon! pic.twitter.com/L9mQ8InMZu

— Bernie Sanders (@BernieSanders) July 30, 2019
The outspoken rapper and Bronx native also gave her Instagram followers a chance to ask Sanders a question: "A couple of weeks ago I asked my followers if you had the opportunity to have a question answered by a democratic candidate what would it be ? (sic) I got a lot of submission and selected the most popular questions to get answered."
This seemingly mismatched relationship may come as a surprise to some, but for fans, it will come as no surprise, as she frequently discusses her political stances and shares her support for Sanders on Instagram Live. Just a few weeks ago, Cardi B expressed sadness over how "we let him (Sanders) down in 2016."
I been reading about Bernie Sanders and I'm really sad how we let him down in 2016 This man been fighting for equal rights,HUMAN rights for such along time.Seeing this country become a better place been really his passion for a long time not a new front for a campaign.

— iamcardib (@iamcardib) July 16, 2019
In April, Cardi B also told Variety that she would be supporting Sanders in 2020.
Cardi B says she's rooting for Bernie Sanders in the 2020 election (Watch) pic.twitter.com/WDwXhP69fA

— Variety (@Variety) April 13, 2019
And it appears the feeling is mutual. On July 25, during an appearance on "Jimmy Kimmel Live," Sanders praised the rapper and spoke about their newfound relationship. "We have talked on the phone on several occasions," Sanders told host Kimmel. "She is really smart, and she is deeply concerned about what's happening in this country."
"She comes from a humble background," Sanders continued. "She knows what it's like to live in poverty, to struggle, and she wants to make sure we can improve life for working people, and I'm delighted that she's a supporter."
This isn't the first time Cardi B has endorsed a prominent left-wing New Yorker for office. In 2018, she endorsed Cynthia Nixon for governor (and showed support for then-New York City Councilman Jumaane Williams), urging New Yorkers to hit the polls. (It was suggested at the time that her endorsement was an attempt to ruffle the feathers of fellow New York native and rap rival Nicki Minaj, who had endorsed Gov. Andrew Cuomo for re-election.)
Cardi B is also known for her love of political science and has a near-encyclopedic knowledge of U.S. presidents, which she revealed in a 2018 GQ profile. In that interview, she spoke affectionately about President Franklin D. Roosevelt and his implementation of programs such as Social Security, which caught Sanders' eye.
Sanders responded to a quote from the GQ profile on Twitter, saying that "Cardi B is right." He followed up with a video championing Social Security and thanking the rapper for bringing up the subject.
Cardi B is right. If we are really going to make America great we need to strengthen Social Security so that seniors are able to retire with the dignity they deserve. https://t.co/B8cOkoOdLc

— Bernie Sanders (@SenSanders) April 18, 2018
Thanks to @iamcardib for calling attention to the importance of Social Security. pic.twitter.com/bJdt9Oxzzf

— Bernie Sanders (@SenSanders) April 18, 2018
Should Sanders win the presidential election, Cardi B could have a prominent role in the festivities. During an episode of Pod Save America that aired on July 26, Sanders was asked if the rapper would make an appearance at his inauguration, to which he replied: "We're putting together a committee to take a look at that."
Powered By
NEXT STORY: A tale of two mayors: Hizzoner vs. Mayor Pete