New York State
Gillibrand faces backlash over Al Franken (again)
The New Yorker does a deep dive on one #MeToo allegation.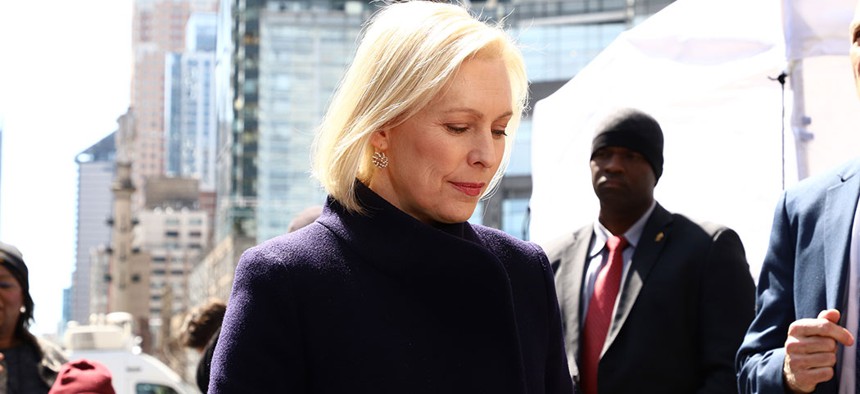 U.S. Sen. Kirsten Gillibrand continues to be haunted by her decision to demand former U.S. Sen. Al Franken's resignation – as The New Yorker tries to undo some of the consequences of the #MeToo movement it helped start.
Franken's fall from grace is being rehashed after The New Yorker published a robust article Monday detailing how his resignation came to be.
In 2017, in the early days of the #MeToo movement, conservative radio talk show personality Leeann Tweeden alleged in a blog post that Franken had aggressively kissed her without her consent in a comedic sketch while they were on a USO Tour in 2006. She also alleged that he groped her while she was sleeping and shared a photo documenting the incident. Following Tweeden's accusation, several women shared similar stories of the then-senator acting in ways they felt to be sexually inappropriate.
Following a Politico report in 2017, in which a seventh woman accused Franken of sexual impropriety, Gillibrand's staff alerted Franken that she would be demanding his resignation, The New Yorker recounts. The two senators never spoke one-on-one. Gillibrand – who has a long history of calling out sexual assault in military settings – took to Facebook to demand his resignation, then moments later appeared at a pre-planned press conference to announce her sponsorship of a "new bill that banned mandatory arbitration of sexual-harassment claims" – without mention that Franken had helped develop the legislation. However, the article also notes that it was U.S. Senate Majority Leader Chuck Schumer that gave Franken the final push to resign. 
The New Yorker's Jane Mayer attempts to defend Franken by pointing out some inconsistencies in Tweeden's allegations against him: interviewing actresses who had been on USO tours with Franken, performed the same sketch as Tweeden did with Franken, and told the magazine he had not been inappropriate with them, along with the accounts of others who had been on the 2006 USO tour and vouched for Franken's innocence. Additionally, multiple women who had worked with Franken over the years similarly affirmed Franken's professionalism and his devotion to his wife. 
One paragraph makes mention of Tweeden's photos in men's magazines such as Playboy and FHM, and her affiliation with conservative outlets and their knowledge of her Franken story before her allegation was made public – neither of which clarify whether or not Franken had acted inappropriately with her. 
Several U.S. senators told The New Yorker that they wished they had not called for Franken's resignation, but Gillibrand remained adamant that she would have reacted in the same manner today. "The women who came forward felt it was sexual harassment," Gillibrand told The New Yorker. "So it was."
Now Gillibrand is being singled out for calling for Franken's resignation two years ago on Twitter, with some saying she jumped on the #MeToo bandwagon too quickly. 
Thank you for this thorough investigation, Jane Mayer.

Those who railroaded Al Franken out of the Senate should hold their heads down in shame. He deserved due process.

Not that Kirsten Gillibrand ever had a good day on the 2020 campaign trail, but this day will be even worse. pic.twitter.com/NYBvk5EJVW

— Russell Drew (@RussOnPolitics) July 22, 2019
Congrats on ruining #AlFranken and his political career...and he was actually a fantastic politician

If that's your key achievement and representative of the 'fights' that no one else will fight, I'd say youre shameful and I will applaud the day you leave office, you hack!

— JG (@JGoodzzz) July 22, 2019
This article made me cry.@alfranken is a good person.
It's why from the beginning of the race I've been no on @SenGillibrand.
He would have been a brilliant Senator for years and years, and he was thrown out like trash.#AlFranken https://t.co/cSCWlP7OSN

— Lydia Holm, MD (@MommyFourBoys) July 22, 2019
However, others defended Gillibrand's actions, calling out those criticizing the senator for speaking up for victims of sexual harassment.
the only thing these Franken pieces amount to is blaming a woman for the actions of a man. They are literally just an excuse to go after Senator Gillibrand for voicing her concern and sticking to her convictions.

Al Franken could put an end to this shit but he doesn't. https://t.co/d3ioty4jkb

— "Celia" (@_celia_bedelia_) July 22, 2019
Franken is the victim and @SenGillibrand is the villain?! Kirsten spoke up for the victims, as she has her entire career. That's not opportunistic, it's consistent. https://t.co/27NydurxUU

— alyssa "activist witches 2020" mastromonaco (@AlyssaMastro44) July 22, 2019
One key takeaway from the @JaneMayerNYer story is that if you're mad about how things went down with Franken, it wasn't really @SenGillibrand who did it. Yes, she went first publicly, but it was Schumer who effectively forced Franken out. So put credit/blame where it's due. pic.twitter.com/9GRnrSqXJ8

— Ryan Grim (@ryangrim) July 22, 2019
Gillibrand and the other female Dem Senators were being told, after 7 accusations, by a trusted top Senate staffer, that it was all true. And attacked as hypocrites, since Gillibrand had led on sexual assault admirably in the past. Is she really the villain here?

— John Neffinger (@Neffinger) July 22, 2019
The fact that people actually blame @SenGillibrand for Franken's fate rather than Franken himself pretty much tells you everything you need to know about how women are treated in this country. pic.twitter.com/MeWd7bz2pv

— Jess Coleman (@jesskcoleman) July 22, 2019
Powered By
NEXT STORY: MTA reorganization, Manhattan blackout and uproar over Pantaleo