Ruben Diaz Jr.
NYC mayoral candidates pick up the fundraising pace
The top candidates in the 2021 New York City mayoral race are picking up the pace of their fundraising, with both City Comptroller Scott Stringer and Bronx Borough President Ruben Diaz Jr. reporting more money in contributions this period than the last one.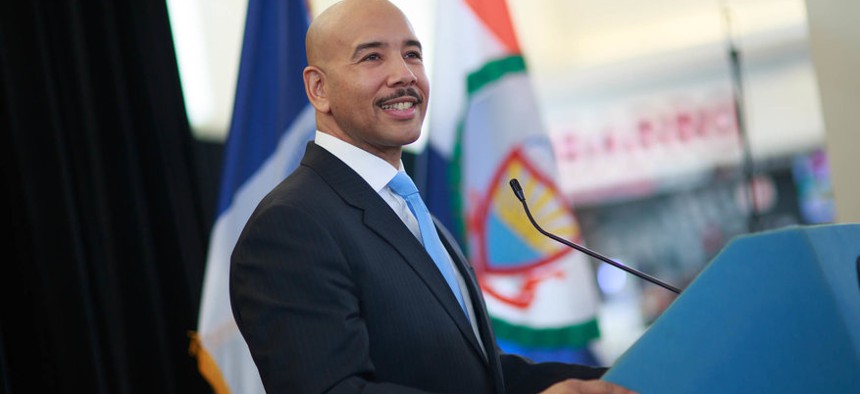 The top candidates in the 2021 New York City mayoral race are picking up the pace of their fundraising, with Brooklyn Borough President Eric Adams raising the most money in the last six months while City Comptroller Scott Stringer continues to lead the pack in total money on hand. Bronx Borough President Ruben Diaz Jr. and New York City Council Speaker Corey Johnson, though behind the top candidates in total fundraising, also kept pace this period.
All candidates running for city office are required to file campaign finance disclosure statements before Tuesday, July 16. The most recent filing covers a six-month period from Jan. 12 to July 11. 
Diaz raised about $250,000 this period, which will leave him with just under $1 million in his 2021campaign account, Diaz's finance director, Kristie Stiles, told City & State. Diaz also has nearly $400,000 in older campaign accounts, some of which will likely be transferred over and used for his 2021 mayoral campaign.
That's an improvement for Diaz over the previous six months, when he had raised about $180,000 from donors. 
Stiles said that Diaz's quarter of a million dollars in donations this period came as a result of two major fundraisers, as well as some smaller events and low-dollar grassroots donors.
Still, Diaz's numbers may be considered underwhelming, given that he can accept larger donations than some of his opponents. Mayoral candidates have the choice of opting into one of two public financing systems this cycle. Diaz and Adams are expected to choose the older system, which allows maximum donations of $5,100. But donations up to $175 will be matched with public money at a 6-to-1 rate. 
Stringer and Johnson are expected to choose the newer system, which allows maximum donations of $2,000, but the first $250 will be matched 8-to-1. Johnson has further limited himself, pledging to not accept any donations about $250. 
No matter which system candidates choose, public funding won't be hitting their bank accounts until at least 2021. The hotly anticipated Democratic primary, where the next mayor is likely to be determined, is expected to be in June 2021.
Stringer also improved on his haul, raising $313,087 – an improvement over his $181,000 last period. That brings Stringer's total cash on hand to $2.59 million. That's more than any of the other top candidates, though more than half of that was transferred into his account from previous races. 
Stringer's finance director, Emily Bernstein, said the money this period came from 1,520 separate donations and 90% of them – 1367 donations – were of $250 or less. In an email to reporters, Bernstein said that when matching funds are factored in, Stringer's total looks more like $4.75 million. 
"We're incredibly humbled by the support we've received, and we're excited to build on our momentum," Bernstein said.
Johnson, who only began fundraising this period, kept up with the other candidates despite his self-imposed limit, raising $375,000 in the last six months. He now has about $432,000 in his campaign account, thanks in part to the nearly $90,000 he transferred from an earlier campaign account. Johnson also had the most individual donors of any of the candidates in the past six months, with 2,600.
Adams was the top fundraiser this period, bringing in $512,000. Adams has been a fundraising juggernaut, and actually raised more in the six months before that, $766,000. All told, Adams has $2.29 million in his campaign account.
Another potential mayoral candidate, former New York City Council Speaker Christine Quinn, didn't report any donations. However, the CEO of Win, a homeless services agency, is reportedly mulling a run. She didn't have any contributions, but she did spend big on political consultants in the last six months. Quinn spent $35,500 with SKDKnickerbocker, which worked on her unsuccessful 2013 mayoral campaign, and another $22,500 on fundraising consultants Annie Weir & Co., a firm run by Quinn's former campaign finance director. Quinn's spending doesn't represent any change, though – she's been paying both firms similar amounts going back at least three years.
Powered By
NEXT STORY: Cuomo's never-ending civil war