New York City
O'Neill: Pantaleo verdict coming in August
The police commissioner also slammed the new criminal justice laws.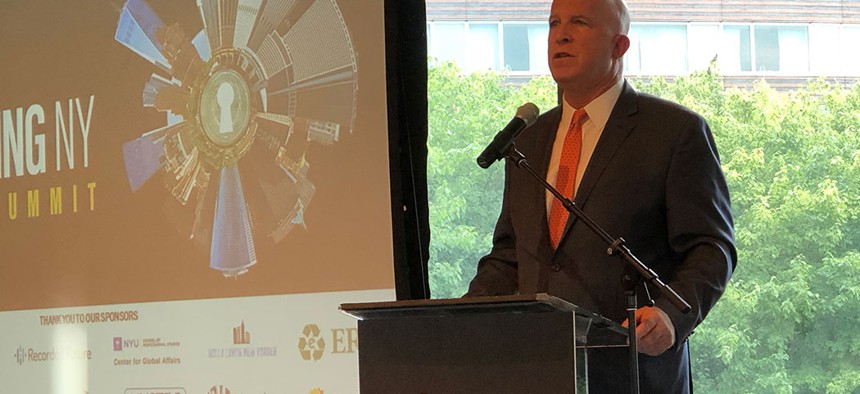 An NYPD judge's ruling in the departmental trial against Daniel Pantaleo will come in "the next couple of weeks," Police Commissioner James O'Neill said Wednesday. But the commissioner told City & State he couldn't be more specific about the timing. "Got to respect the process," he said.
O'Neill's comments echoed those made by his boss, New York City Mayor Bill de Blasio, who said on "The Brian Lehrer Show" on July 19 that "we're going to respect that process," and "there will be closure in August."
Pantaleo stood trial over three weeks in May and June this year after he was accused of putting Staten Islander Eric Garner in a chokehold that led to his death in July 2014. An internal trial ended nearly two months ago, on June 6. The administrative law judge who heard the case, NYPD Deputy Commissioner of Trials Rosemarie Maldonado, will soon make her ruling, but it'll effectively be a recommendation, since O'Neill gets to make the final decision. Because of the rules guiding departmental trials, the most severe punishment Pantaleo could receive is getting fired – something that police reform advocates, including Garner's mother Gwen Carr, have been demanding for years. 
O'Neill's comments came at City & State's Protecting New York Summit at the Museum of Jewish Heritage in Battery Park City. O'Neill spoke for about 20 minutes, touching on a variety of topics affecting the department, including a handful of incidents of New Yorkers throwing buckets of water on police officers that were caught on tape. O'Neill has been sparring with critics like the Sergeants Benevolent Association that blame the commissioner for the public displays of disrespect. But O'Neill again tried to tamp down the uproar Wednesday, seeming to suggest that the union should stop playing the victim. Disrespecting police officers is "never acceptable," O'Neill said, but "cops aren't victims. We're here to prevent people from becoming victims. We're here to help victims." 
O'Neill also took the opportunity to once again raise concerns about the upcoming implementation of new state laws governing bail and discovery in criminal court cases. The crime rate continues to go down, but there's no guarantee that'll continue, O'Neill said. And the new laws, "that's going to give us some challenges coming on Jan. 1."
O'Neill's comments echoed his May op-ed and earlier concerns about the law not allowing judges enough discretion in remanding people accused of crimes. On Wednesday, as before, O'Neill insisted that he supported the goal of the reforms, if not the specifics. "I'm in favor of bail reform! There's no reason for anyone to stay in jail on a minor charge because they can't afford $500, $1000, $2000 bail," he said. "But I am looking to make sure we have the ability to keep people in pre-trial that are dangerous and have proven themselves to be dangerous."
Powered By
NEXT STORY: Could Cabán still beat Katz?