New York City
What's going on with Andy Byford?
Governor Andrew Cuomo recruited Andy Byford to fix the subway system – and against all odds, he seems to have risen to the task. But according to recent reports, Cuomo seems to want to reward that success with a big, fat demotion.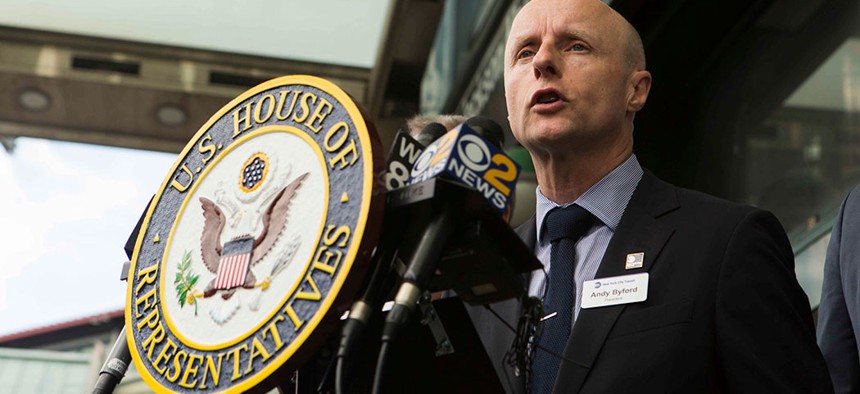 New Yorkers flocking to the Pride March on Sunday were pleasantly surprised to find the subways running smoothly, the Daily News reports. This follows other recent reports of improved service from the beleaguered and often criticized MTA, including the transit agency patting itself on the back this spring for its best subway service in years. And by all reports, the man responsible – New York City Transit President Andy Byford – will be rewarded with a big, fat demotion.
Gov. Andrew Cuomo recruited Byford in early 2018 to fix the subway system – and against all odds, Byford seems to have risen to the task. But the two have tussled for credit over the system's improved performance. In April this year, Cuomo hired a third-party consulting firm to figure out how the MTA should be restructured for efficiency and cost cutting. The plan is to be submitted by July 31, according to Politico New York. But on Sunday, the Daily News reported that Cuomo may be using the reorganization to seriously reduce Byford's role at the agency.
The Daily News reported the plan will strike a major blow to Byford's ability to improve the subway and its aging signal system by stripping his control of major construction projects. Instead, these projects would be overseen by the head of the MTA's Capital Construction Department, Janno Leiber. It won't just be New York City Transit, either; NY1 reports that the plan would strip every MTA agency, like Long Island Rail Road, of authority over major construction projects in a "power grab" by Cuomo. If these changes go into effect, Byford would no longer control Fast Forward, his plan to revamp the subway system over the next 10 years. It's unclear whether Byford losing control of Fast Forward means that it would be scrapped altogether. 
The plan also reportedly calls for splitting up New York City Transit, which runs the city's subways and buses, into two separate agencies. This change would leave Byford only in charge of the subways, further limiting his influence.
The New York Times reported back in April that Byford had had enough of Cuomo's shenanigans, and was thinking of quitting, but Byford told Gothmamist in June that he was "not going anywhere – not this week, not this month, not this year." In a City & State poll last month asking readers whether Byford should resign and how it would affect the MTA, a vast majority of readers said he shouldn't – and that the agency would be worse off if he did. Time will tell whether Cuomo's latest plans will nudge Byford over the edge.
Powered By
NEXT STORY: Where the New York GOP stands on Donald Trump