Cabán concedes to Katz in Queens DA race
Tiffany Cabán conceded defeat in the Democratic primary for Queens district attorney, paving the way for the establishment-backed Borough President Melinda Katz to be the party nominee and likely victory in November.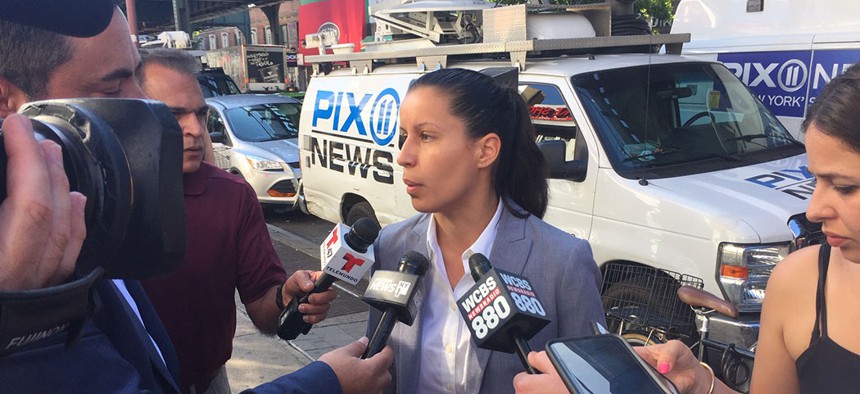 In the end, lightning did not strike Queens twice.
Tiffany Cabán, the queer, Latina, democratic socialist, public defender running for Queens district attorney had been working for months to capture the same leftist electoral energy that propelled Rep. Alexandria Ocasio-Cortez to victory over the incumbent Joe Crowley in 2018. But Cabán's campaign came to an end Tuesday night as she conceded the Democratic primary to Melinda Katz, effectively guaranteeing the Queens borough president would be the next district attorney.
Cabán's concession at an Astoria bar came six weeks to the day after she declared victory over Katz on election night, June 25, with a margin of just 1,090 votes out of more than 85,000 counted in the preliminary tally. But one week after that, Katz herself declared victory after winning a huge percentage of the absentee and affidavit ballots. The Board of Elections called a recount, which Katz won, but the campaigns both took the issue to court. But Cabán's path to victory seemed increasingly unlikely after a few days in court, leading to her concession. 
As a boroughwide elected official, Katz was the early favorite in the race, and earned the endorsements of much of the Queens political establishment. Katz called for an overhaul of the district attorney's office, but Cabán's comparatively progressive, anti-establishment campaign energized supporters and led the first-time candidate to within 55 votes of Katz. 
Despite the loss, Cabán struck a victorious tone Wednesday, tweeting that her campaign "completely transformed the conversation around criminal justice reform in this city," and promising that the criminal justice reform movement would continue.
Katz's campaign declared victory once again Tuesday night, and likely not for the last time, with the general election still to come.
"I want to thank Tiffany Cabán for bringing closure to this long and hard-fought race," Katz said in an emailed statement. "Too often, the process of primary campaigns obscures the vast commonalities we share as Democrats and reformers. We all want a safe Queens where everyone is treated equally."
Bill Lipton, the state director of the Working Families Party, which had been a major backed of Cabán's campaign, congratulated Katz but also cast doubt on the election process that elected her and pledged to hold her accountable as district attorney.
"Tiffany Caban transformed the debate on criminal justice reform, not just in Queens but across the city and country as well," Lipton said in a statement. "She proved that progressive campaigns and the progressive movement can succeed across a borough as big and diverse as Queens, and that voters want fundamental changes to our justice system.  We hope more courageous candidates like Tiffany run for office everywhere. This race also exposed how broken our election system remains. Let's be clear: eligible Queens voters were disenfranchised by the mistakes and incompetence of the BOE. We must enact reforms to ensure that every vote is counted."