New York State
Gillibrand drops out, de Blasio soldiers on
Rounding up the week's political news.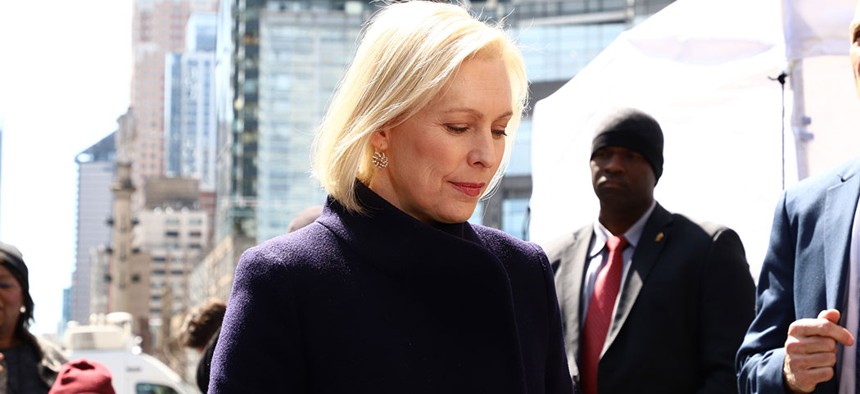 Gov. Andrew Cuomo unveiled the second and final span of the Kosciuszko Bridge – not just a sparkling new structure that will help with traffic, but one finished well ahead of schedule, too. Unfortunately, not every infrastructure project can be so lucky – just look at the still incomplete Second Avenue Subway, which was originally conceived of decades ago.
A mysterious tweet over the weekend from a noted New Yorker – President Donald Trump – suggested that the feds may step in to speed up the process. But Cuomo hasn't heard any sort of update about the help, so maybe the president was just feeling a little homesick while abroad for the G7 Summit.
Gillibrand out, de Blasio soldiers on
After failing to qualify for the third round of Democratic presidential primary debates, U.S. Sen. Kirsten Gillibrand has ended her campaign, following Washington Gov. Jay Inslee, Rep. Seth Moulton and former Colorado Gov. John Hickenlooper to the exits. Gillibrand plans to endorse a fellow Democrat, but has not made a decision yet. Despite a national appearance in a CNN town hall, New York City Mayor Bill de Blasio also failed to make the next debate, which will only have 10 candidates this time. De Blasio, who has been polling at or close to 0%, made a desperate plea to the ultra-Orthodox Jewish community for small donations in the hopes of making the debate, but only managed to get 670 donors, far short of his goal of 10,000 contributors. Yet the perennial underdog is still seeking a breakthrough moment to resuscitate his campaign.
Scrapping gifted and talented programs?
An advisory board empaneled by de Blasio to address segregation in New York City schools issued a report with a bold recommendation: scrap the city's gifted and talented programs, on the grounds that they perpetuate inequality. Most of those programs begin in kindergarten, and students take a test at age 4 to qualify, shaping a child's academic path with a single test. The advisory board also recommended getting rid of most screened public schools, proposing instead a new admissions process for public schools, and using magnet schools and enrichment programs to replace gifted and talented programs. The call to eliminate gifted and talented programs was criticized by some, including New York City Council Speaker Corey Johnson, but some education experts applauded the proposal. De Blasio will make the final decision, but has not yet indicated his position.
De Blasio proposes rules on building hotels
Not long after the New York Hotel and Motel Trades Council became the first – and so far only – union to endorse and contribute to de Blasio's quixotic presidential campaign, the mayor has begun pushing for one of the union's biggest priorities. De Blasio has asked the city Department of City Planning to come up with a proposal for a new special permit for hotel development, a move that could restrict new construction – and indirectly put the HTC in a stronger position to help ensure that new hotels employ unionized workers.
Marijuana laws take effect
A new law decriminalizing recreational marijuana and further decriminalizing possession went into effect on Wednesday. It also will expunge nearly 160,000 marijuana-related convictions for offenses that are now decriminalized, a process that automatically began when the law took effect. Under the new rules, the possession of up to two ounces of marijuana is no longer a criminal offense, and those caught carrying or smoking it will instead be fined up to $50 for less than an ounce and up to $200 for one to two ounces.
Outside income for state lawmakers OK'ed
State legislators get to have their cake and eat it too. A judge ruled that state lawmakers get to keep earning unlimited outside income and still receive a $50,000 raise over the course of the three years. A state pay raise commission had originally recommended the raise be tied to a cap on the amount of money lawmakers could earn on the side, but the judge said the commission had exceeded its mandate. The ruling is at odds with a separate decision this summer in a different lawsuit, which found that lawmakers could keep the first portion of the raise they already received, but struck down upcoming raises as well as the ban on outside income. The two decisions will likely be reconciled during the appeals process.
Powered By
NEXT STORY: Who guessed when Kirsten Gillibrand would drop out?