NYPD
Judge says fire Pantaleo, de Blasio's debate and Cabán goes to court
NYPD Officer Daniel Pantaleo's firing was recommended by a Judge for the death of Eric Garner, New York City Mayor Bill de Blasio had a disappointing second debate and Tiffany Cabán heads to court over the Queens DA recount in This Week's Headlines.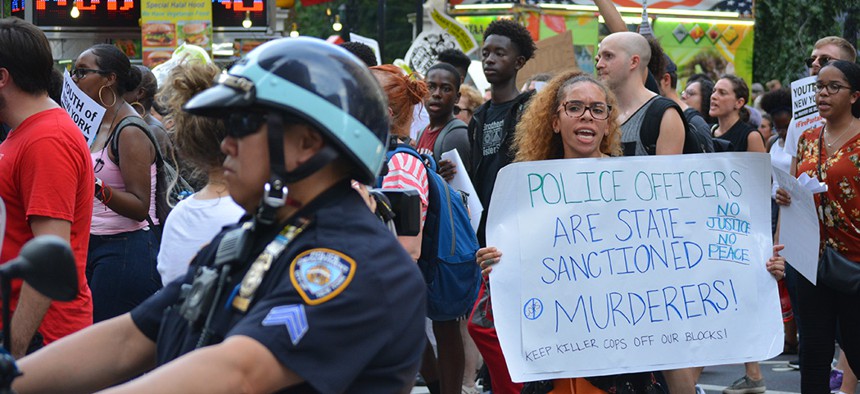 In the second Democratic presidential primary debate, U.S. Sen. Kirsten Gillibrand of New York said her first act as president would be to "Clorox the Oval Office." The zinger was one of her only bright spots on stage, and was one of the most memorable lines of the night. Clorox would also be helpful to clean Jeffrey Epstein's baby ranch in New Mexico, where he reportedly tried to impregnate 20 women at a time in order to seed humanity with his DNA, not unlike Genghis Khan. 
NYPD judge: fire Pantaleo
NYPD Officer Daniel Pantaleo, who performed the chokehold on Eric Garner that led to his death in 2014, should be fired as a result, a police judge said in a recommendation on Friday, according to reports. The incident, in which Garner was videotaped repeatedly saying "I can't breathe" while Pantaleo held him down, was one of several that helped spur the Black Lives Matter movement. It's now up to NYPD Commissioner James O'Neill to decide whether to follow through on the recommendation, and he has 10 business days to make a final decision. 
De Blasio's troubles in Detroit
New York City Mayor Bill de Blasio's hometown woes followed him to the presidential debate in Detroit, with protesters yelling "Fire Pantaleo" – referring to the NYPD officer Daniel Pantaleo involved in Eric Garner's 2014 chokehold death. When asked why he hasn't fired Pantaleo, de Blasio claimed the Department of Justice didn't let the city launch its disciplinary process and suggested former Vice President Joe Biden should have pushed the DOJ to act. Asked about thelead paint scandalat the city's public housing, de Blasio said that the city is working to eliminate lead poisoning, but left out how his administration lied about inspections. The mayor also used the debate to roll out a new tax plan, which he said is to "tax the hell" out of the rich, and attacked Biden for President Barack Obama's record on deporting immigrants. Some observers thought de Blasio had the worst performance of the night.
Cuomo signs slew of bills
Keeping a steady stream of news during the slow month of July, Gov. Andrew Cuomo signed into law a number of high-profile bills that passed earlier in the year. Among them were several gun safety bills, from banning 3D printed guns to preventing teachers from carrying weapons in the classroom to outlawing bump stocks. Cuomo also signed laws decriminalizing recreational marijuana use and allowing candidates to use campaign funds for child care costs.
Trump's tax returns 
President Donald Trump is suing New York over a new law that could enable Congress to gain access to the president's state tax returns. The judge initially directed lawyers for both sides to come up with some sort of compromise so as to avoid a ruling in the case, but the effort was unsuccessful. New York has agreed not to hand over any tax information until the case is settled, granted that it be moved from a Washington, D.C., court to one in New York. The judge is expected to comply. 
Cabán goes to court
Although Queens Borough President Melinda Katz has now officially been declared the winner in the borough's Democratic primary for district attorney, the fight is not quite over. The campaign of progressive insurgent Tiffany Cabán is challenging the validity of dozens of additional votes. A judge will consider opening 28 ballots that have previously been thrown out, but the Cabán campaign plans to argue that more should be considered.
Shooting in Brooklyn
A mass shooting at a Brooklyn block party left one person dead and 11 injured last weekend in an incident that police believe was gang-related. Residents in Brownsville were celebrating Old Timers Week, a tradition that dates back over 50 years in which current and former residents come together at the end of July. Despite a history of gang activity in the neighborhood, the party usually centered around an area considered safe ground.
More lawsuits for Charter
Two more now former on-air journalists from NY1 have filed a lawsuit against Charter Communications, alleging they were fired for getting pregnant. Thalia Perez, who was fired while she was pregnant, and Michelle Greenstein, who was let go soon after returning from maternity leave, claim they were also denied opportunities prior to their firings. This comes after five current anchors sued the cable provider for alleged age and sex discrimination. A company spokesperson said the latest lawsuit has "no merit."
Powered By
NEXT STORY: The wild beasts of New York City