New York State
Pantaleo fired, public financing and a pizzeria saved
Rounding up the week's political news.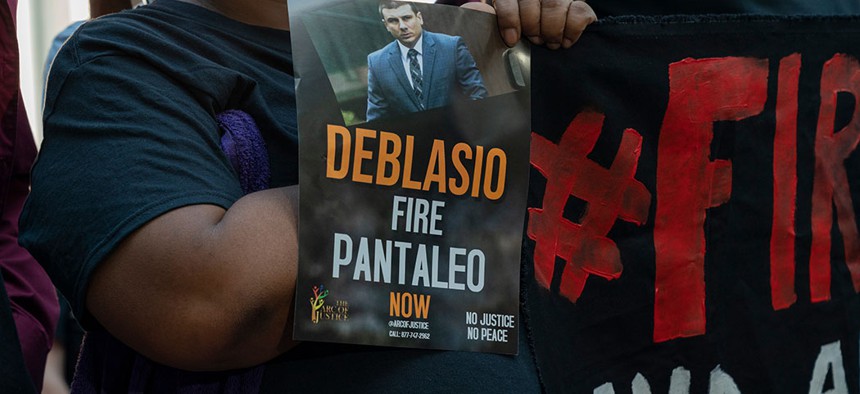 It was a dark two days for pizza connoisseurs. Famed Brooklyn establishment Di Fara Pizza faced an uncertain future when the state seized the restaurant for failing to pay $167,000 in taxes. Upon hearing the news, New York City Mayor Bill de Blasio vowed to do whatever he could to fire up those pizza ovens again, but Gov. Andrew Cuomo wasted no time throwing cold water on the idea.
The mayor has no control over state taxes, Cuomo pointed out, adding that de Blasio is free to spend $200,000 on pizza if he wants to. Luckily for pizza lovers, Di Fara reopened it doors and its owners are working with the state to resolve the tax issue.
Pantaleo fired 
New York City Police Department Commissioner James O'Neill fired Officer Daniel Pantaleo for Pantaleo's role in the chokehold death of Eric Garner. Over five years ago, Pantaleo was attempting to arrest Garner for selling loose cigarettes when he put his arm around Garner's neck in what was determined to be a prohibited chokehold, which led to his death. The encounter was caught on video – including Garner repeatedly saying, "I can't breathe" – and helped spur the Black Lives Matter movement. Pantaleo's dismissal was decried by New York City Police Benevolent Association President Patrick Lynch as an unfair attack on police, while Garner's family and other advocates said the decision does not end their fight for justice and called for trials for the other officers involved. NYPD Sgt. Kizzy Adonis, Pantaleo's supervisor, was scheduled for an administrative trial later this year, but in a deal with the department, she was only docked 20 vacation days.
Public financing and fusion voting
A state commission held its first meeting on the public financing of state elections. The commission will explore the creation of a matching fund system for candidates, similar to the one in New York City. For every dollar a participating candidate receives from an individual donor up to a set amount, the government could match that amount with a certain multiplier. The commission could also eliminate fusion voting. Third parties like the Conservative Party and the Working Families Party, which use fusion voting to cross-endorse major-party candidates, defend the practice, which enables them to maintain power and influence the policy positions of candidates in a two-party system. Commissioners approved a resolution to vote on the proposals as a single piece of legislation.
Student test scores
Standardized test scores are out, and students across the state did slightly better than they did last year, but the majority of students still failed the tests. On the English exam, 45.4% passed, which was only 0.2% higher than last year. For math, 46.7% passed, a 2.2% increase compared to last year. New York City fared a little better than the state as a whole in English, and is about even in math, although it too couldn't crack the 50% passing mark and saw only modest improvements. Just over 47% of students passed the English test and about 46% passed the math exam. This also marks the first year that children enrolled in Mayor Bill de Blasio's universal pre-K program took the state tests, and this year's cohort performed slightly better than last year's.
License plate 'money grab'
Gov. Andrew Cuomo announced that New Yorkers will get to vote on five license plate designs to determine which one the state will introduce as its official license plate starting next year. But buried in the announcement was the requirement that anyone with a license plate older than 10 years must upgrade to the new plates and will have to pay a $25 fee to do so. Drivers will also have to pay $20 if they want to keep the same plate number. Republicans, Democrats and at least one editorial board decried the move as a "money grab" and "a new $75 million tax on the middle class," while lawmakers began exploring ways to get around the fees.
Vaccination injunction rejected
Anti-vaxxers seeking to repeal a new state law that ends the religious exemption from vaccines lost their first battle in federal court. The judge denied a request for a temporary injunction that would permit children with disabilities to attend school without receiving vaccines. The ruling is a setback for Robert F. Kennedy Jr., an attorney on the case, and the plaintiffs, as the law will remain in effect as the school year gets underway. The court battle to overturn the law is ongoing.
Bye-bye to floating billboards 
Cuomo signed a bill banning floating digital billboards in the East and Hudson rivers after they began to crop up several months ago to the displeasure of many New Yorkers. Companies can still display their advertisements on the New Jersey side of the Hudson, and have already begun looking for loopholes in the law that can keep the electronic signs afloat.
Powered By
NEXT STORY: David Koch's influence in New York politics